The sixth largest cryptocurrency, XRP, might be on the cusp of a major move, technical and fundamental factors might suggest.
At the time of writing, XRP was up 1.78% in the last 24 hours at $0.38. The token pales in daily and weekly gains compared to the majority of the cryptocurrencies in the top 10.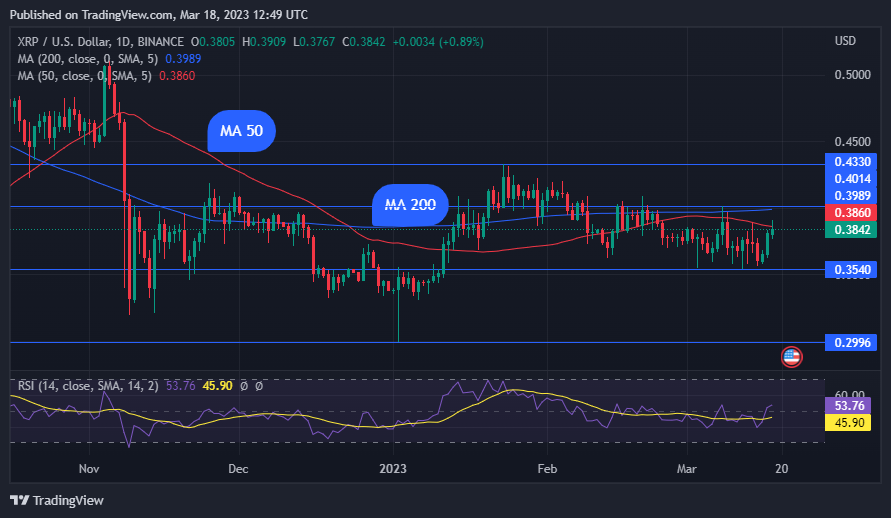 Bitcoin and Ethereum, for instance, are up 36.17% and 26.15% in the past seven days, while XRP is only up 5.22% weekly.
Here are possible triggers for XRP price:
Technical triggers
The RSI, which provides short-term buy and sell signals, might suggest that the XRP price is currently at a crossroads.
The daily RSI is slightly above the neutral 50 level, which suggests a balance between bulls and bears. Either the bulls or the bears must now relinquish their positions at the heart of this struggle.
On the upside, XRP confronts a key barrier at $0.399, or the daily MA 200, which has hampered its price since Feb. 20.
A solid move above this key barrier might propel XRP as high as $0.433 or even $0.50. That said, a failure to breach the $0.399 mark might result in range trading for the XRP price before a significant move.
On the other hand, support seems to be building in the $0.355 range to prevent possible declines.
Fundamental triggers
According to data posted by the XRP validator website, XRPL is seeing a nice increase in the number of new accounts created daily. A total of 2,078 new XRPL addresses were created on March 13, which remains the biggest increase since early January.
In November 2022, shortly after the FTX collapse, XRPL saw the largest number of new accounts created within the space of 12 months. All this might suggest that interest remains in XRP and XRP Ledger.
The XRP community is also optimistic that the Ripple lawsuit would be resolved favorably, which, according to projections, might happen in the first half of 2023.