Online commenters have criticized a woman who told her sister-in-law to "trim it down" with her multiple texts because they overwhelm her and she struggles to reply.
The post was shared last month on the U.K.-based forum Mumsnet under the username Nosulk. The poster said she received a text message from the woman, whom she has been good friends with. The woman asked her to not introduce multiple topics during their conversations because she couldn't keep up.
The poster wrote: "For context, the messages in question were all responses to her day, eg maybe 5 different messages asking how she'd been, asking after her [children], and commenting on how intense her schedule was. These were literally responses back to her messages to me!"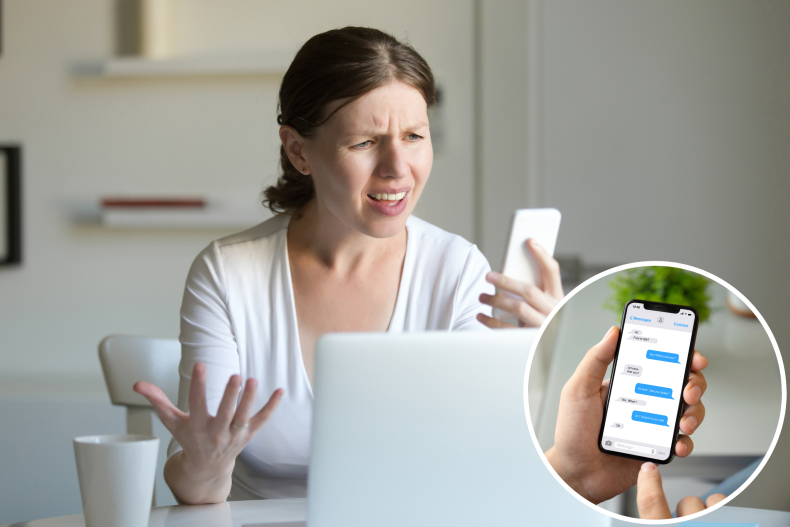 Americans sent roughly 2 trillion messages in 2021, down from the 2020 peak during the COVID-19 pandemic, when they sent over 2.2 trillion texts, according to Statista.
The poster told the woman she would try, but she wasn't happy with her answer and told her they needed to meet in person because the situation had been going on for too long. The poster suggested that they should "pause here" until they find a solution.
She asked: "Why do I feel like I've been told off by my boss?"
In a comment, she added: "I have respected her boundary – just said there is not an obligation to reply but equally I will try. Have said I may slip up so probably best we leave our comms for [face to face] now – I just don't know how to do it!!"
Marni Goldman, a certified life coach and author of True to Myself, told Newsweek that the woman's message could not have been any clearer and that too many texts at once are overwhelming and can cause sensory overload.
"As a friend, why didn't she say, 'I'm so sorry, thank you for bringing that to my attention, I won't do that again.' This shouldn't even be a discussion. I have a feeling it goes a little deeper.
"When discussed, her response was she would try? It would be a struggle? That is wrong on every level. It's time to stop allowing this type of unnecessary stress infest your body. Stay strong! Remember, if it cost you your peace, it's too expensive!" Goldman said.
Most of the 327 users who answered Mumsnet's Am I Being Unreasonable poll, 61 percent, said that the poster was not being unreasonable and that the woman was controlling.
One user, NoSquirrels, commented: "Hopefully she's going to tell you in person that she's just trying to manage symptoms she's finding tricky; that it's not you it's her. But yeah, I'd be a bit weirded out/borderline offended by that message!"
Changingplace asked: "Were your 5 messages in response to 5 different things she'd asked you? If so, how did she expect you to reply? Only pick one thing you're going to reply to?"
On the other hand, Nimbostratus100 said: "She is trying to tell you that you are overwhelming her and she can't cope with it."
Another user, WandaWonder, commented: "I would answer one text later in the day. I am sure you will then get 'why are you not contacting me enough'…. I don't get her but no I would not be offended, that word gets too much use."
Rogue1001MNer added: "Personally, I'd send her nothing but emojis from now on."
Whyisitsososohard wrote: "Yeah I'd feel a bit weird about someone feeling they got to control how I communicate with them. It feels bossy. It also feels like she's thinking a lot about herself and her needs and not making you feel bad."
Whyisitsososohard continued: "As she seems to think it's ok to say what she wants I'd be tempted to come back at her and say her message tone was rude…. I'm massively pro adaptations and access but this feels very self-involved."
Newsweek was not able to verify the details of the case.
Are you and your friend stuck in an argument? Let us know via life@newsweek.com. We can ask experts for advice, and your story could be featured in Newsweek.