Even before the first vote was counted in the 2020 presidential election, Donald Trump embarked on a crusade to undermine public confidence in the outcome, continually asserting, without basis or fact, that Democrats were out to "steal" the election. His rhetoric ratcheted up post-Election Day as it became clearer and clearer that he had lost to Joe Biden. His lawyers mounted legal challenges that were, to say the least, wildly unsuccessful. Not surprisingly though, Trump and his lawyers did have a friendly platform to spread their false election claims—virtually without challenge: Fox News.
Among the many false claims made by Trump lawyers Rudy Giuliani and Sidney Powell were allegations that a voting technology company, Dominion Voting Systems, was involved in election fraud, had developed an algorithm that rigged vote counts, was originally founded in Venezuela to rig elections for Hugo Chavez and paid kickbacks to government officials. These allegations were aired repeatedly on Fox programs.
For its part, Dominion pushed back hard. Recently revealed documents suggest that Dominion contacted Fox executives and hosts literally thousands of times over a three-month period to advise them that what was being broadcast about the company was false, all to no avail.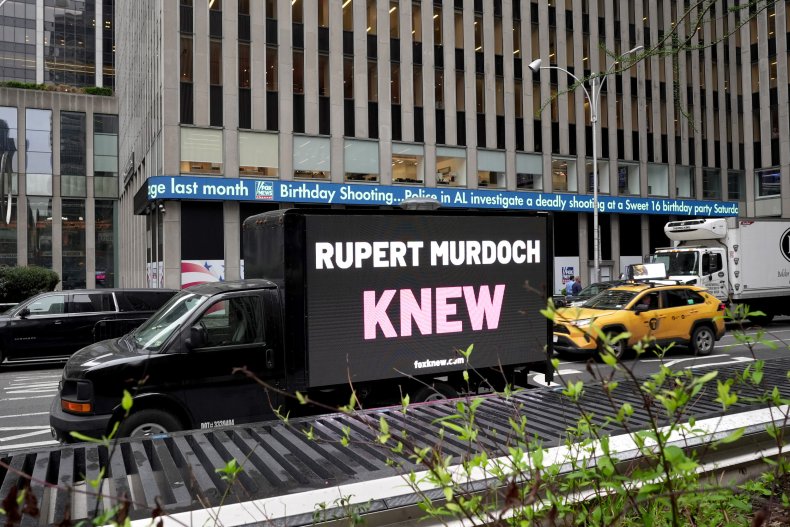 In March 2021, Dominion filed a defamation lawsuit in Delaware alleging that on 20 occasions, between early November 2020 and late January 2021, Fox harmed Dominion's reputation to the tune of $1.6 billion by broadcasting these false allegations. Beginning tomorrow (unless a settlement is reached), after hundreds of hours of depositions and thousands of pages of documents, including text messages and e-mails by and from Fox hosts and executives, Dominion will get its day in court.
Fox has denied any liability, stating that the lawsuit is a "political crusade in search of a windfall" and is waving the flag of our nation's "cherished First Amendment rights" that the lawsuit supposedly places at risk. Of course, that is pretty much the standard defense raised in all defamation suits by public officials or entities since 1964 when the Supreme Court decided New York Times vs. Sullivan, ruling that First Amendment protections limit the ability of public officials to sue for defamation.
These protections have been extended to cases where the plaintiff is an entity like Dominion and require that plaintiffs prove not only that the defendant published a false and defamatory statement, but that they did so with "actual malice" which the court recognized as statements that the defendant knew were false or with recklessly disregard of the truth.
Over the years this additional hurdle for public official plaintiffs has protected what the Court said was "….a profound national commitment to the principle that debate on public issues should be uninhibited, robust, and wide-open, and that it may well include vehement, caustic, and sometimes unpleasantly sharp attacks on government and public officials." But the protections are not an impenetrable fortress, and Dominion has taken up the challenge. From what we have seen thus far, it seems Dominion is well on its way to meeting this burden.
Dominion has already cleared some initial hurdles thanks to several favorable court rulings. Specifically, the presiding trial judge has already ruled as a matter of law that the statements broadcast by Fox regarding Dominion were false and defamatory, writing that the evidence proves that it's "CRYSTAL clear that none of the statements relating to Dominion about the 2020 election are true." In addition, the court ruled that Fox will not be able to argue that it was simply covering the news nor that the claims of election fraud somehow reflected only the opinions of their hosts and guests.
It will thus be left to the jury to decide if Fox knew or should have known that the claims were false, and if so, what monetary damages should be awarded. While we are not privy to all the evidence that has been produced, various pleadings filed by Dominion paint a compelling picture of how it plans to clear the remaining hurdles.
Dominion intends to prove actual malice by Fox and will do so as one would expect—through private and public statements by Fox's own executives, its hosts, and producers, which directly questioned and challenged Trump and his lawyers' election fraud claims, describing them as "slim" and "crazy". We know that Rupert Murdoch described Trump as "increasingly mad", and his son Lachlan, head of Fox's parent company warned Fox News CEO Suzanne Scott that Fox needed to be careful in covering a Trump rally after two Fox News correspondents called Trump's fraud claims "unfounded." In other communications it's clear that Fox executives and hosts panicked over the possibility of losing hard core Trump supporters, and thus viewers and revenue, if they countered the false Trump narratives. Evidence suggests that Fox actually stopped fact checking as it would run contrary to what their viewers wanted to hear and contrary to the political outcome that Fox had promoted. In other words, Fox's desire to maintain ratings and revenues, as well as promote a political agenda, "Trumped" any regard for truth and facts. Count on many more of these private communications in the course of the trial.
We have not yet seen all the evidence that will ultimately be placed before the jury, so anything can still happen. In addition, there are other outstanding legal issues that both sides must address. Ultimately, if the case is not settled, I expect it to wind up in the Supreme Court regardless of outcome. But from what has been made public thus far, it appears to me that Fox is in trouble; that they have hidden behind, and to some extent, exploited, the protections provided in the Sullivan case to the point that if their conduct does not prove actual malice then nothing can. Which leads me to my final point…
Since 1964, media companies and how the public gets their news have dramatically changed in ways never contemplated by the Sullivan court. Opinions and propaganda are often indistinguishable from facts. This is dangerous for democracy. For First Amendment protections to endure, news organizations and all others who wish to avail themselves of those protections must be held accountable for spreading false and damaging information. The Dominion case against Fox will hopefully provide that opportunity.
A renowned prosecutor, Doug Jones shocked the political establishment in 2017 by winning a special election to fill a U.S. Senate seat in Alabama—the first Democrat to do so in 25 years in the state.
The views expressed in this article are the writer's own.