Former President Donald Trump may have only been mocking Joe Biden's administration in a Fox News interview this week when he hinted at a U.S. role in the Nord Stream gas pipeline explosions in September 2022.
But Trump's categorical claim "it wasn't" Russia—as well as his prior relationship with President Vladimir Putin—begs the question over what another Trump presidency might mean for U.S. support for Kyiv and President Volodymyr Zelensky against Moscow's aggression.
With Trump the GOP frontrunner for 2024 according to polls, some experts have told Newsweek that were he to win again, there is uncertainty over whether the U.S. could continue its support for Kyiv and what it might mean for the war that he said "would never have happened" if he had remained president. Other analysts are confident that regardless of who is in the White House, U.S. backing for Kyiv will not change.
But there is no shortage of "what ifs" in the 2024 U.S. presidential race. These include whether Trump will even be the GOP nominee, the number of felony counts he faces by Election Day and how much of an issue the price tag of U.S. military support for Kyiv will be on the campaign trail.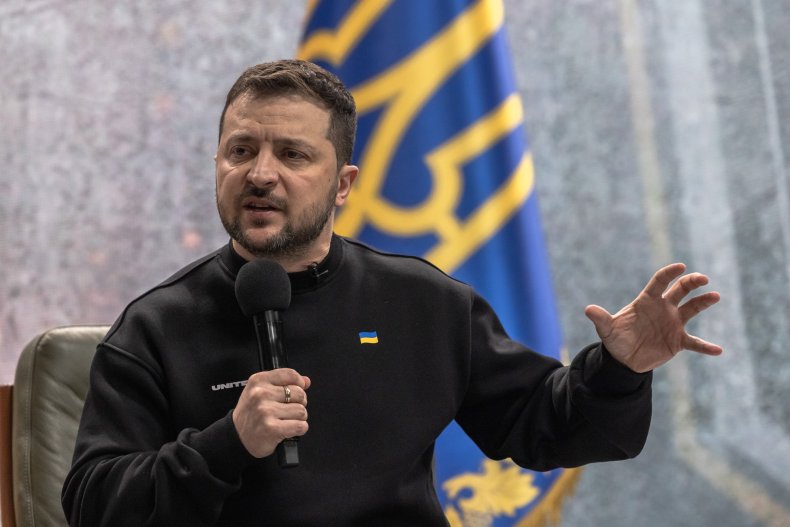 "If Trump returns to the White House, it will be a disaster for Zelensky and Ukraine," said Emil Nagengast, politics professor at Juniata College in Huntingdon, Pennsylvania.
He said it was notable how in the press conference Trump held with Putin in Helsinki on July 16, 2018, the then U.S. president declared his trust in his Russian counterpart was greater than his faith in the FBI and the CIA regarding claims of Moscow's interference in the 2016 election.
Trump and Zelensky also have the baggage of the recorded phone call in September 2019 when the Ukrainian leader refused Trump's request to investigate Joe Biden's son Hunter, which led to the former president's first impeachment. "Trump took this personally and I have no doubt that he is eager to get revenge on Zelensky," Nagengast told Newsweek.
A 'Complete Reversal'?
"If Trump wins the 2024 election, he will take great pleasure in ending the tight relationship with Ukraine that Biden has made the centerpiece of his foreign policy," Nagengast added, which would be akin to Trump's reversal of policies of his predecessor Barack Obama.
"The election of Trump would very likely result in a complete reversal of the Biden administration's approach to the Russo-Ukrainian war—with predictably catastrophic consequences for Kyiv's military fortunes," said Andrew Latham, international relations professor at Macalester College, Saint Paul, Minnesota.
He told Newsweek that if Trump had won in 2020, he would not have condemned Russia the same way as Biden had. "Rather, it is likely that he would have turned something of a blind eye to the whole affair," he said.
He said Trump would likely bring this mentality to the table if he were elected again in 2024 and downscale U.S. military support, while trying to convince Putin and pressure Zelensky to accept a deal with Russia in possession of at least Crimea and the Donbas region.
"His advisers might argue against taking such precipitous action, but Trump has a well-known history of either ignoring his advisers or firing them if they disagree with him too publicly," Latham said.
"That is not a position Ukraine is willing to embrace at present, but diminishing support could push them towards that, as would a U.S. president who would be more willing to meet with both sides to negotiate," added Eric Martin, from Bucknell University in Lewisburg, Pennsylvania, who has studied the evolution of Ukrainian civil society since the war began.
A Trump presidency in 2024 could narrow longer-term options for U.S. diplomatic and financial support for Kyiv, according to Minerva University social sciences assistant professor, Nick Kenney.
"I think that Moscow would look favorably on Trump's reelection, especially regarding the diplomatic option," Kenney told Newsweek. "Ukraine will feel pressure to accomplish more on the battlefield as fast as possible, if Trump is elected, because the glide path on continuing U.S. support is likely to fall faster under Trump and his Republican allies in Congress."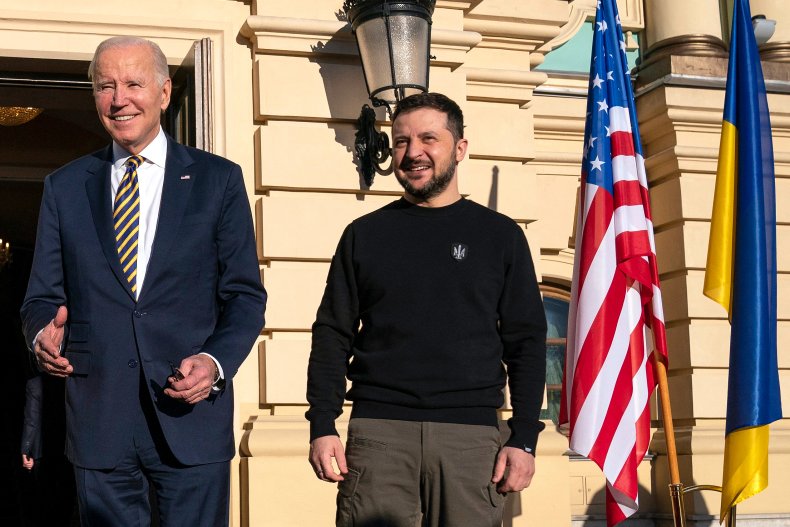 Ukraine's attention-grabbing gains in the war, such as in Kherson and Kharkiv, have dovetailed with diplomatic and PR efforts to keep them in tune with the impact they have on their allies. "The recent leak of classified documents has clarified Ukraine's coordination with the U.S. in this regard," said Jeffrey Martinson, politics associate professor at Meredith College, in Raleigh, North Carolina.
"The prospect of a return to power of Trumpists, or at least American First supporters, in Congress led to the expediting of U.S. aid authorization in the waning months of 2022," he said. "I don't believe that Ukraine would stop fighting, but the loss of U.S. support would definitely turn the tables in favor of Russia."
A lack of assurance of American support might force Ukraine into "more uncertain, perhaps desperate, measures," he added. "In times of conflict, every shred of confidence is needed in order to take the huge risks.
"These might include more targeted assassinations and perhaps even the use of indiscriminate terrorist attacks."
Randall Stone, political science professor at the New York State's University of Rochester, also believes that a Trump victory next year could put an expiration date on American support.
"The careful diplomacy that Biden has used to build a coalition of support for Ukraine would unravel," he told Newsweek. "Uncertainty would increase, making miscalculations more likely on all sides, which would increase the probability of a direct confrontation between the United States and Russia."
Trump has demonstrated a level of comfort with Putin, at times speaking of him approvingly and touting their working relationship. But his administration more or less continued existing U.S. policies of military, security, and financial assistance to Ukraine in place since 2014.
The recent leak of apparently highly classified U.S. intelligence has also painted a far more nuanced view of the Ukrainians' military capabilities and the near future of the war than the Biden administration's more optimistic public pronouncements.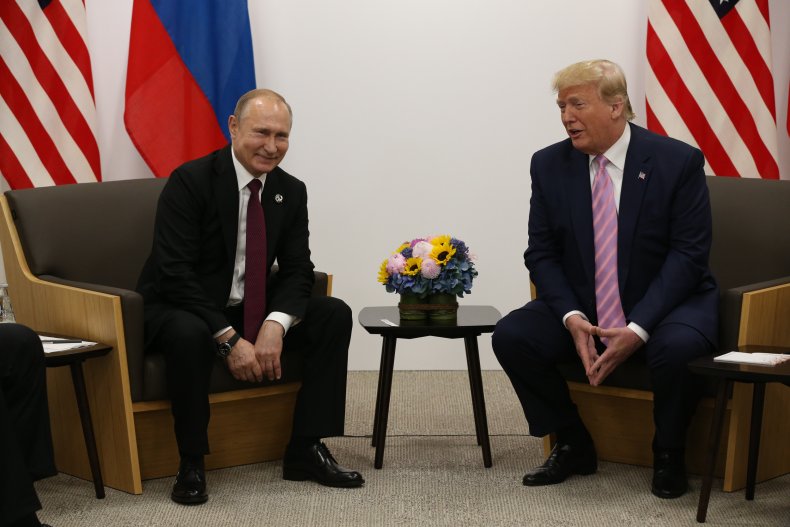 Republicans Are Still Committed to Ukraine
However, Trump might face an uphill battle if he wants to shift the Biden administration's backing for Ukraine. While he sought to develop ties with Russia during his presidency, Trump faced confrontation from the U.S. foreign policy establishment, the leadership of both parties and intelligence agencies.
These groups are now even more consolidated in their opposition to Russia and their support for Ukraine, said Alan Cafruny, international relations professor at Hamilton College, New York.
"If Trump did return for a second term and sought to reduce the U.S. commitment to Ukraine, he would receive only very limited support from MAGA Republicans but intense opposition from the rest of the American political establishment," Cafruny said.
A Yahoo News/YouGov poll in February showed most Trump voters supported decreasing U.S. aid to Ukraine. However, amid the handful of isolationist Republicans questioning the cost of the war, there is still considerable bipartisan support in Congress for funding Kyiv's fight.
"I believe Trump will stay the course of supporting Ukraine with military aid," said Gary Rose, political science professor at Sacred Heart University in Fairfield, Connecticut.
"I seriously doubt that President Trump would want to go down in history as the American President who let a fledgling democracy, whose president has become a legend, fall to a Russian tyrant," he told Newsweek.
In addition, relations are so low between Washington and Moscow that even Trump's boasts about his relationship with Putin may not be enough to make a difference.
"The personal relationships between American presidents and Putin are certainly important," said George Beebe, a former director of Russia analysis at the CIA and a former staff adviser to Vice President Dick Cheney on Russian affairs. He is now director of grand strategy at the Quincy Institute for Responsible Statecraft think tank.
"But the trust between Putin and any American president is completely shattered. At this point. Putin does not trust America to live up to any promises," he said. "The problem with Trump is not so much that Putin didn't trust Trump personally. He believed that there were quite significant areas of resistance inside Trump's own White House administration to his approach to Russia. I think he had very little faith that Trump could deliver on any promises that might have been made.
"I don't think Putin had any faith that Trump was in any position to strike bargains with Russia."
Nord Stream 2
Trump's interview with Fox host Tucker Carlson saw him trying to portray the Biden administration as having interests in disrupting operations on the Baltic Sea pipelines, in which Washington, Kyiv and Moscow have all denied involvement.
In September 2022, damage was found on the Nord Stream 1 and 2 natural gas pipelines that link Russia and Europe under the Baltic Sea. A Swedish investigation found evidence of detonations, pointing to sabotage. (Nord Stream 2 was not yet in service).
But it was the Trump administration that put sanctions targeting the completion of the Nord Stream 2 conduit that would have transported gas from Russia to Germany. The Biden administration was criticized for waiving those sanctions on the company behind the pipeline, Nord Stream 2 AG, of which the parent company is Russian state-owned gas giant Gazprom.
"Trump's been vindicated for his sanctions on North Stream—remember it was Trump, who dropped the powerful hammer of U.S. sanctions on Russia for its dangerous natural gas pipeline to Germany," said Peter Doran, adjunct senior fellow at the Foundation for Defense of Democracies (FDD).
"He did so by ignoring the howls of protest by the German government and the Dutch government," he told Newsweek.
"That's an example of the good, but at the same time, Trump did not show that same zeal for sanctioning Russia when it came to its war for Ukraine, or the Kremlin's attempts to interfere in America's elections."
Doran believes that even if Trump, or another Republican candidate were to take the White House in 2024, there would be a continuation of the U.S. sanctions regime on Russia and attempts to contain Putin's ambitions. "Trump 2.0 will look a lot like Trump 1.0 and it's going to be very mixed bag on Russia."