The Kremlin declined to comment on Donald Trump's arrest, citing that they do not believe they are entitled to interfere in another country's affairs.
However, analysts believe there may be other reasons behind Moscow's silence, such as Russian President Vladimir Putin preferring Trump as the American leader over President Joe Biden and not wanting the legal precedent of Trump's case to apply to Russia.
Despite claiming otherwise, Putin has publicly commented on other U.S. affairs, such as the Black Lives Matter protests and the U.S. Capitol riot.
The Kremlin on Wednesday declined to comment on former President Donald Trump's arrest, but some analysts believe there's more behind the silence than the stated reason of not meddling in another country's affairs.
"We do not consider ourselves entitled to interfere in any way in the internal affairs of the United States," Kremlin spokesperson Dmitry Peskov said, according to the Russian state media outlet Tass. "We believe that the United States is not entitled to interfering in our affairs, either. Therefore, we would not like to comment on this."
Peskov's comments came in response to a question about the Tuesday arraignment of Trump, who has continued to make positive statements about Russian President Vladimir Putin, even after the start of the war in Ukraine on February 24, 2022.
Trump was charged Tuesday with 34 felony counts of falsifying business records following an investigation by Manhattan District Attorney Alvin Bragg's office related to an alleged hush money payment made by Trump to former adult film star Stormy Daniels before the 2016 election. Trump pleaded not guilty to the charges and has denied an affair with Daniels as well as any wrongdoing in the case.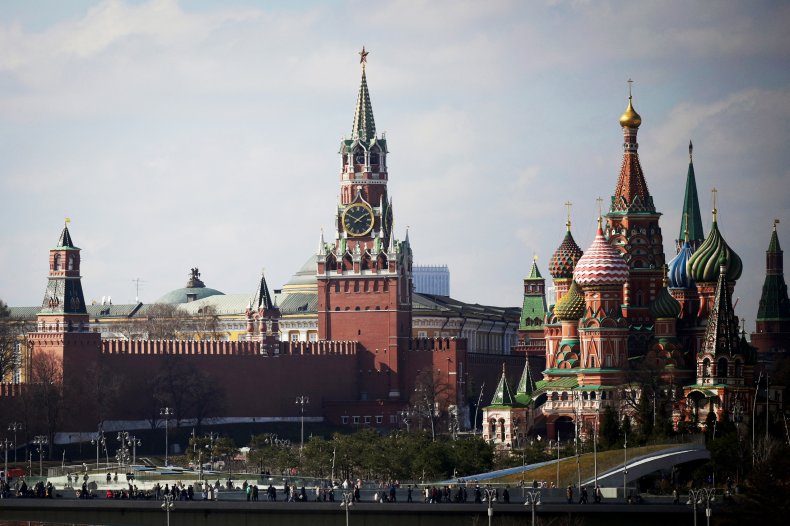 Despite Peskov's comments suggesting otherwise, George Mason University Schar School of Policy and Government professor Mark N. Katz told Newsweek that the Kremlin has commented on other nations' internal affairs.
"Ever since Soviet days, Moscow has self-righteously claimed that, unlike Washington, it does not interfere in the internal affairs of other countries, even though Moscow actually has," Katz said.
"By not commenting on Trump's difficulties, I suspect Moscow may be seeking to elicit reciprocal treatment from pro-Trump Republicans in particular not to 'interfere' in Russia's internal affairs by criticizing Putin."
There have been recent examples of Russian officials commenting on American issues. Putin spoke about two of the biggest news stories in the United States of the past few years during a 2021 news conference when he referenced the Black Lives Matter protests and the January 6, 2021, riot at the U.S. Capitol.
When asked by a reporter at a Geneva conference on June 16, 2021, about Russian crackdowns on political dissent, Putin said Russia was trying to avoid what he called the "disorder, disruption, violations of the law, etc." that the U.S. experienced during the protests that occurred after the 2020 death of George Floyd while in police custody in Minneapolis.
The Russian leader then seemingly questioned the need for the arrests of January 6 rioters, saying the people charged had come to the U.S. Capitol only with "political demands" and were treated as "domestic terrorists."
Katz said that "Moscow may also be trying to do now is model the sort of respectful behavior between Russian and American leaders that it would like from Washington."
"In the history of the United States and Russia," Jason Jay Smart, who has advised multiple political campaigns in Europe, told Newsweek, "typically when they attack each other, what happens is the United States will talk from the official level. The president will attack and the State Department will attack.
"On the Russian side, they typically do not do that. Instead, Russia has state-sponsored TV stations carry out its message about Trump, in the same way that typically the office of the president of Russia does not attack [President Joe] Biden directly. They allow the TV stations to talk about how maybe he has Alzheimer's, he's too old, etc. These things don't typically come from the Kremlin itself. They rely on the state-sponsored TV stations to do that so they can publicly maintain a degree of impartiality."
Along with Russian media speculating about Biden's health, examples can be seen following the 2020 presidential election in the U.S. Even after Biden was declared the winner and other world leaders congratulated him on the victory, the Kremlin declined to comment. Peskov told reporters at the time that Russia was awaiting Trump's legal actions before recognizing a winner.
Meanwhile, Russian propagandists like Vladimir Solovyov spoke on national television after Biden was declared victorious about the "total lack of trust" in the American electoral system. Olga Skabeyeva, another Russian state TV host, questioned the legitimacy of the election by saying journalists had decided the victor.
David Silbey, an associate professor of history at Cornell University and director of teaching and learning at Cornell in Washington, told Newsweek that the Kremlin's silence could be indicative of not only how Putin might prefer Trump over Biden but also how he doesn't want the legal precedent set by Trump's case to apply to his country.
"I don't think Putin commenting on this helps with the narratives he likes to spin about the United States—that Trump is a strong leader and a friend to Russia, and that the U.S. is overridden by chaos and disorder," Silbey said.
"Instead, there's a message here that no one is above the law in the U.S., and Putin really doesn't want to highlight that for the Russians. It makes Trump look weak."
Newsweek reached out to the Russian Ministry of Foreign Affairs via email for comment.