President Biden has thus far declined to comment on Tuesday's arraignment of Donald Trump in New York, with the former president pleading not guilty to 34 felony charges.
Trump has been accused of falsifying business records in order to cover up payments of hush money to Stormy Daniels, a former adult film star. Daniels allegedly received $130,000 ahead of the 2016 presidential election, in exchange for her silence over an alleged affair with the New York business tycoon a decade earlier. Trump has denied having a sexual relationship with Daniels, along with any financial wrongdoing.
In November, Trump announced he is running for president again, with polling indicating he currently has a strong lead amongst Republican voters. As such, the upcoming court case could have a major impact on the 2024 presidential election.
Biden declined to give his opinion on the case when questioned on Tuesday by White House press corps reporters, responding: "No comment." When asked on the same day by a reporter if the indictment was "politically divisive," Biden smirked but stayed silent.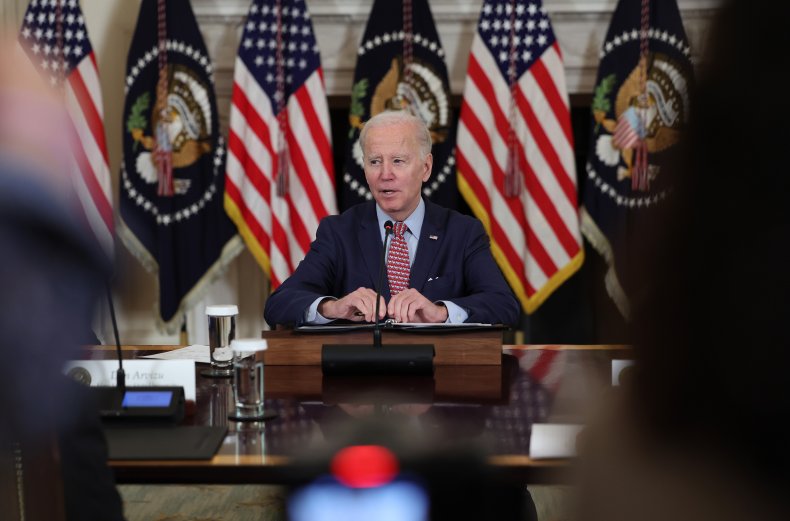 After joking that she "loved" questions about Trump, White House press secretary Karine Jean-Pierre also chose not to speak on the subject.
"So first, I have to say this. It's an ongoing case, so we're just not going to comment on the case specifically itself," Jean-Pierre told reporters on Tuesday. "The president is going to focus on the American people like he does every day. This is not something that is a focus for him."
Jean-Pierre later added that Americans should "feel reassured," that the White House doesn't want to discuss an ongoing case."
Thomas Gift, founding director of University College London's Center on US Politics, told Newsweek that refusing to discuss the case is the "only smart tactic" for Biden.
"Biden has nothing to gain, but much to lose, by commenting on the Trump prosecution. If he even remotely hinted at Trump's guilt, he'd be accused of pressing his thumb on the judicial scales and using his power to influence the trial," Gift said.
"Nothing would give Trump more satisfaction, since he could use it as apparent evidence that he's the victim of a top-down Democratic hit job. For Biden, 'no comment' is the only smart tactic right now."
Speaking from his Mar-a-Lago resort in Florida, after his court appearance, Trump claimed the United States is "going to hell."
"The only crime that I have committed is to fearlessly defend our nation from those who seek to destroy it," Trump added.
Several hundred demonstrators, including House Republicans Marjorie Taylor Greene and George Santos, attended a rally in support of Trump outside the Manhattan Criminal Court on Tuesday.
They were met with anti-Trump protesters, with NBC's Ben Collins reporting the ex-president's supporters were "deeply outnumbered," and Greene's speech was largely drowned out by jeering and whistles.
The Georgia congresswoman later accused the counter-protesters of "coming to commit assault that can cause audible damage to everyone's ears," on Twitter.
She added: "If counter protestors are violating freedom of speech and committing assault, they should be arrested."
Newsweek reached out to the White House via email for comment.