Democratic Senator Dianne Feinstein of California is facing calls to resign and Senate Leader Chuck Schumer has agreed to temporarily replace her on the powerful Judiciary committee due to her current health absence.
California Governor Gavin Newsom, who would appoint Feinstein's replacement if she resigns, has previously indicated he would appoint a Black woman to the Senate if given the chance.
But because a number of candidates have already jumped into the 2024 Senate race, picking one of the current candidates could give them an upper hand in the general election.
Under mounting pressure to resign, Congress' oldest member, Democratic Senator Dianne Feinstein of California, has asked Senate Leader Chuck Schumer to temporarily replace her on the powerful Judiciary Committee.
Since Wednesday evening—when the senator announced she'd be away from the Senate for longer than anticipated due to "complications" with her shingles diagnosis—Democrats have renewed their calls for Feinstein to step down, arguing that her absence from Congress has resulted in a delay in judicial nominations.
Confirming as many of President Joe Biden's judges has been a top priority for Democrats, who are seeking to counter the conservative judges that former President Donald Trump has stacked the courts with. Feinstein's presence in the Senate Judiciary Committee is especially critical since the panel does not have the majority needed to advance judicial nominees without her.
Should Feinstein cave to the calls from some members of her own party to resign before her term ends next year, the vacancy will be left to California Governor Gavin Newsom to fill. Newsom has previously indicated that he'd be prepared to send a Black woman to the Senate given the chance since Vice President Kamala Harris' move to the White House left the chamber with no Black women.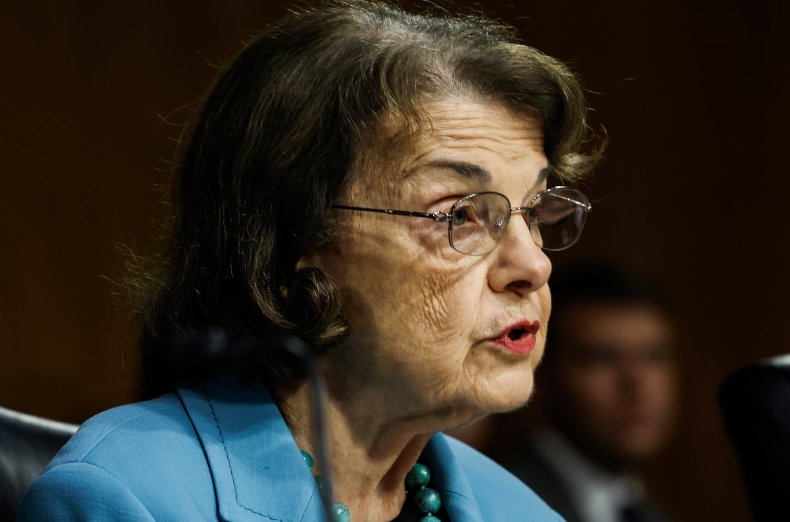 However, Newsom's task will be more politically challenging than it was when he made that vow in 2021. Because Feinstein has already announced her retirement, a number of Senate hopefuls have begun jumping into the contest to fill the 89-year-old's seat. So, if the governor appoints one of the Democratic candidates, that could give them an upper hand in the general election next year.
Who Might Newsom Pick to Fill Feinstein's Seat in Congress?
"The competition for Feinstein's seat is already well underway," political consultant Jay Townsend told Newsweek. "The smart thing for the Governor to do is appoint a caretaker to hold the seat and allow the candidates to have a free and fair fight. If he tips the scales and tries to anoint one of the current candidates, it would do more harm than good."
There are currently three high-profile Democrats officially running for California's Senate seat: Representative Adam Schiff, a moderate candidate, and Representatives Katie Porter and Barbara Lee, who are viewed as more progressive choices. Only Lee would fit Newsom's previously-stated requirements.
Lee, the first Black woman to hold a seat in Congress, had been shortlisted alongside then-Representative Karen Bass for a Senate appointment in 2021 when Newsom said he'd choose a Black woman.
Since Bass was elected to lead the nation's second-largest city as the mayor of Los Angeles last year, Lee is an even more obvious choice for Newsom.
"If Feinstein resigns before her term ends—which seems increasingly likely because of her health challenges—Barbara Lee is the front runner for Newsom's nomination given his 2021 commitment to nominate a Black woman for the Senate," Democratic pollster Carly Cooperman told Newsweek.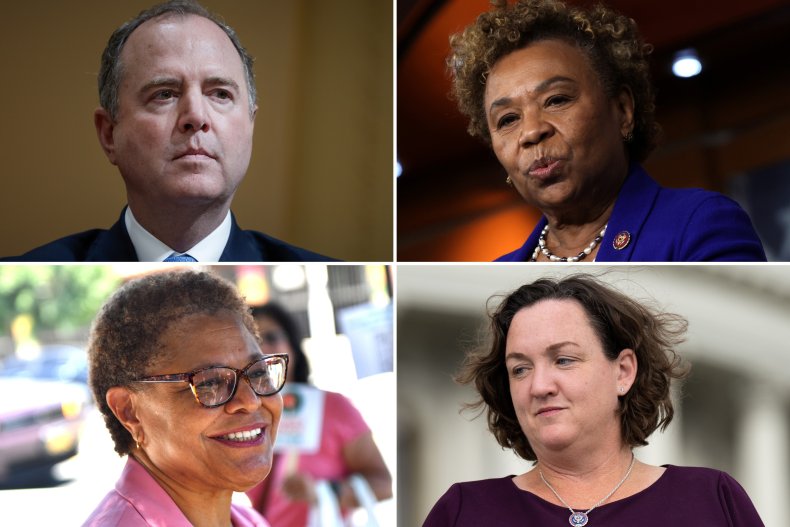 But as Townsend pointed out, Cooperman agreed that choosing Lee would give her "a decisive advantage of incumbency going into the 2024 election."
Cooperman said it's possible that given the current state of affairs, Newsom may choose to modify his position on who he would nominate in an effort to avoid interfering with the election. But that could also face blowback since his decision to nominate then-Secretary of State Alex Padilla to fill Harris' seat had been met with some criticisms from those who felt let down by Newsom.
"It was definitely a blow to the Black community," Taisha Brown, the former head of California Democratic Party's Black Caucus, told The Hill in 2021. "The fallout was rough for some people."
Cooperman and Townsend both said it would be wise for Newsom to avoid weighing in on who he might nominate, with Townsend adding that the governor could "create considerable rancor inside Democratic circles in California" if he were to give one of the three Democratic candidates a boost.
Newsweek reached out to Newsom for comment.