Three FBI agents have had their security clearances revoked over their positions on the January 6, 2021, riot at the U.S. Capitol, according to a letter to House Judiciary Committee chair Jim Jordan.
The letter sent by FBI acting Assistant Director Christopher Dunham said agents Marcus Allen, Stephen Friend and Brett Gloss had all been suspended while their cases were reviewed, The New York Times and The Washington Post reported.
The news emerged a day before Allen and Friend were set to testify to the committee as part of its investigation into what it has described as a "weaponization" of law enforcement against conservatives.
In the 28 months since the January 6 attack, more than 1,033 people have been arrested over their alleged involvement, the Department of Justice said in a May 6 update, with around 570 people pleading guilty to various federal charges. Seventy-eight people have been found guilty at trial.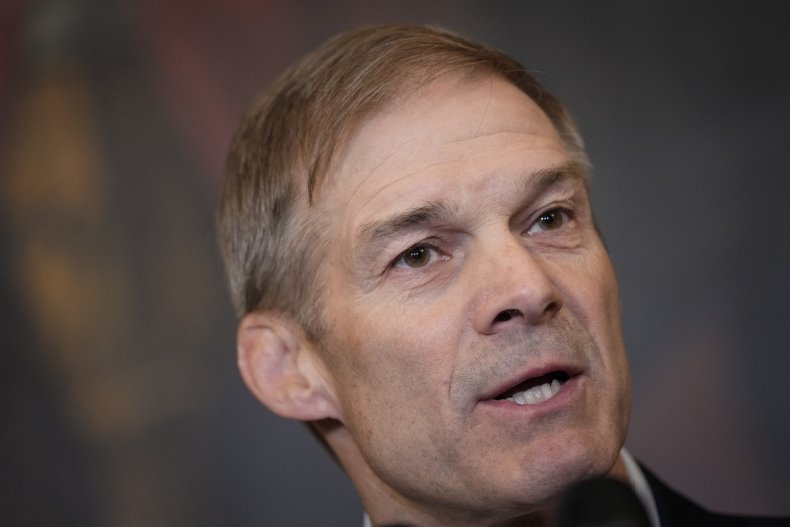 Among those charged include 103 accused of entering a restricted area with a dangerous or deadly weapon and 346 alleged to have assaulted, resisted, or impeded officers that day.
Gloss's security clearance had been revoked two weeks prior after the FBI found that he had entered a restricted area of the Capitol on January 6 and expressed support for the rioters, The New York Times reported on Wednesday.
Allen's clearance was suspended on January 19 last year and rescinded on May 3 this year, The Washington Post said, after the FBI had discovered what the letter reportedly described as a "sympathy for persons or organizations that advocate, threaten or use force or violence." He is currently suspended without pay.
Friend's clearance was withdrawn on Tuesday after refusing to be part of a SWAT team seeking to arrest a January 6 suspect last summer, arguing to supervisors that he saw it as an excessive use of force, according to The New York Times.
In response, the House Judiciary Committee and Select Subcommittee on Weaponization of the Federal Government said the FBI had "retaliated against brave whistleblowers who have come forward to expose the abuses they have witnessed" at the agency.
Russell Dye, a spokesperson for Jordan, told news outlets that the letter was "a last minute Hail Mary" and "a desperate attempt to salvage their reputation."
Newsweek reached out to the FBI via email for comment.
Marcus Allen
Allen's prepared opening statement for his testimony, obtained by Just The News, said he had served as a U.S. Marine between 2000 and 2005, being deployed to Kuwait and then serving two tours in Iraq. Allen said he was awarded two medals for his service before joining the FBI at its Charlotte, North Carolina field office in 2019.
"As the holder of a Top Secret security clearance since 2001, I have been trusted with the nation's greatest secrets," he wrote.
In his remarks, Allen denied being in Washington, D.C. at the time of the riot and condemned "all criminal activity that occurred." He said he was "retaliated against" because he offered information "that questioned the official narrative of the events of January 6."
The House Judiciary Committee described Allen as a staff operations specialist while at the bureau.
Stephen Friend
Friend, a former special agent, is also slated to give witness testimony to the Judiciary Committee on Thursday.
In remarks addressed to the committee, Friend said he is now a senior fellow for the Center for Renewing America, an organization started in 2021 by Russell Vought, director of the Office of Management and Budget under Donald Trump.
Friend said he had spent eight and a half years at the FBI, investigating around 200 violent crimes, and served five years as part of an FBI SWAT team.
He alleged that after raising concerns about the way the FBI was handling its January 6 investigation, "at each level of my chain of command, leadership cautioned that despite my exemplary work performance, whistleblowing placed my otherwise bright future with the FBI at risk."
The Center for Renewing America said prior to joining the FBI in 2014, Friend had worked as a patrolman and narcotics agent in Savannah, Georgia, before working for the bureau in Nebraska and, later, Daytona Beach, Florida.
He has a book, True Blue: My Journey from Beat Cop to Suspended FBI Whistleblower, expected to be released on June 13. Friend earned a bachelor's degree in accounting from the University of Notre Dame in 2007.
Brett Gloss
As the most recent FBI agent to have their security clearance revoked over January 6, there is limited information about Gloss.
The letter said he had not been charged with any crimes but had been found to have offered "false and/or misleading information" about what he witnessed on January 6, according to The New York Times.