Yevgeny Prigozhin, the leader of the Wagner Group, announced that his mercenaries had transferred flanks near the Ukrainian city of Bakhmut to the Russian Defense Ministry.
The Wagner Group has played a major role in Russia's attempts to seize the embattled city.
Ukrainian President Volodymyr Zelensky last week suggested he might order a military withdrawal from Bakhmut if his troops were in danger of being encircled by Russian forces.
Yevgeny Prigozhin, the founder and leader of the Wagner Group, said on Tuesday that his mercenary troops had transferred flanks near Bakhmut to the Russian Defense Ministry.
In a video posted on the Telegram channel for his Concord Press Service, Prigozhin said Wagner forces had "handed over" the left and right flanks near the embattled city to Russia's armed forces. He specifically mentioned the involvement of Russian President Vladimir Putin's airborne forces.
The Wagner mercenary group has played a major role in Russia's attempts to seize the Bakhmut from Ukraine. Prigozhin has at times publicly criticized Russia's Defense Ministry for not supplying his troops with more ammunition and support, but he has recently confined his messaging to claims of military success in the city. On April 2, Prigozhin went so far as to announce that his soldiers had raised the Russian flag over Bakhmut's City Hall, but Ukraine denied Russia had seized control of the city.
In his Tuesday message, Prigozhin indicated he was leaving the formal Russian military in a good tactical position in Bakhmut.
"As far as I know, they have everything they need to organize their defense and counterattacks, if necessary," Prigozhin said, according to a translation by The Kyiv Independent, an online newspaper.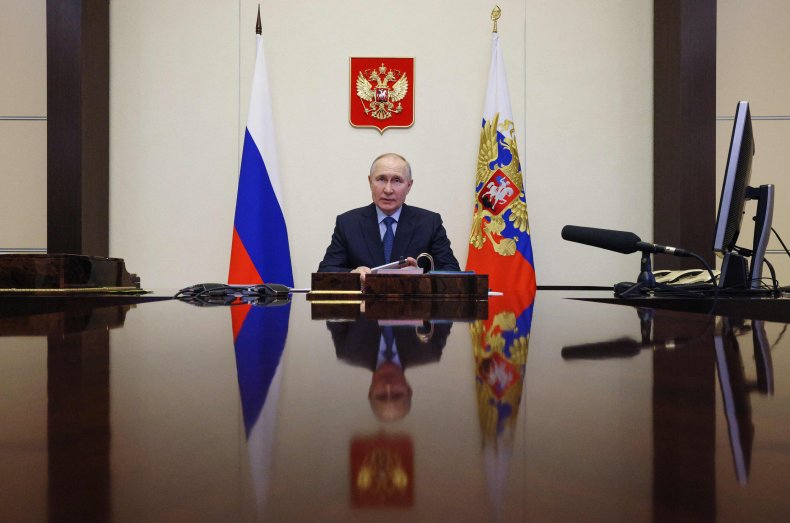 Prigozhin has a history of mixed messaging in regard to Bakhmut. Despite his seeming declaration of victory on April 2, he wrote on Telegram days later that Ukrainian forces were not retreating from the city and added that a Russian offensive seemed "out of question."
"It should be clearly said that the enemy is not going anywhere. They have organized defense inside the city, first by the railway, then in the area of high-rise buildings in the western district of the city," Prigozhin said on April 6.
Jason Jay Smart, a political analyst who has advised multiple campaigns in Europe, told Newsweek that Tuesday's announcement is "just a reflection of the fact that the Wagner Group is quickly being stomped out by the Russian army."
"Wagner is simply running out of people. The Russian military is far larger," Smart said. "Wagner's been diminished probably tenfold from what it was just a couple of months ago. And so it would seem that at this point Prigozhin is no longer able to run the operation by himself. He has to rely on the much larger and well-armed Russian army in order to complete the mission."
The Institute for the Study of War (ISW), a think tank, reported on March 30 that Ian Stubbs, the senior military adviser to the United Kingdom's mission to the Organization for Security and Co-operation in Europe, said that 30,000 Russian military and Wagner troops had died or been injured in the Bakhmut area since the battle began there in July 2022.
The ISW added that "Wagner's significant losses will likely threaten its ability to maintain its influential role among Russian forces fighting in Ukraine."
Despite reports of Wagner's losses, Ukrainian President Volodymyr Zelensky suggested last week he might order a Bakhmut withdrawal if his troops found themselves in danger of being encircled by Russian forces.
"For me, the most important is not to lose our soldiers, and of course if there is a moment of even hotter events and the danger we could lose our personnel because of encirclement—of course the corresponding correct decisions will be taken by generals there," Zelensky said during a news conference in Poland.
Newsweek reached out via email to the Russian Ministry of Foreign Affairs for comment.