A video shows the moment a volunteer cop collapsed to the ground while he was repeatedly stung by a swarm of bees.
On May 15, a swarm of bees attacked residents living in Encino, Los Angeles. The volunteer with the Los Angeles Police Department had been in the area responding to a call when the bees started surrounding him, Los Angeles news station KABC reported.
In video footage shared to Twitter, the cop can be seen attempting to enter a car as the bees continue to swarm. However, he then abandons this idea as the swarm of bees gets more intense.
He can then be seen trying to swat the bees away. In doing so, he falls to the ground. The bees continue to sting the man before he attempts to stand up.
The man remained conscious and was taken to a nearby hospital for his injuries.
The bees also attacked another resident, who was also taken to a local hospital.
"Wishing him a speedy and full recovery. We thank him for volunteering to protect and serve. All of our LAPD volunteers are invaluable," the LAPD said on Twitter, sharing a video of the attack.
A professional bee remover, Izak Kharrazi, later arrived at the scene to remove the bees. When he arrived, he realized there were "hundreds" of bees in the area, NBC4 reported.
While working to remove the bees, he found a hive under the roof of a nearby home.
"I do have a license to kill or save them, whichever it is. And this one, because of the situation and the emergency, I had to spray them and kill them," Kharrazi told the news outlet at the time.
It is not clear why the bees were displaying this angry behavior. The insects only usually sting when they feel provoked or threatened.
Bee venom contains multiple proteins, enzymes, and peptides. Once introduced to the body, it targets the immune system.
One bee sting will not usually have a severe effect on the body. Those who are allergic to bee stings can die just from one sting, however.
But multiple stings can be life-threatening, if enough are sustained. A person can survive 10 bee stings per pound of their body weight, according to the USDA. The most stings an adult should be able to endure is around 1,000.
If a person is stung more than a dozen times or so, they will start feeling the effects. A person stung by bees too many times may become nauseous. Other symptoms include diarrhea and vomiting.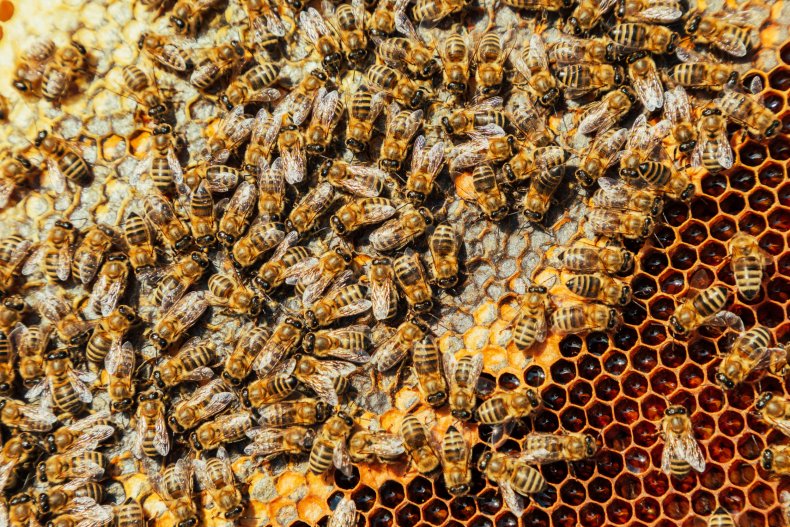 Do you have an animal or nature story to share with Newsweek? Do you have a question about bees? Let us know via nature@newsweek.com.