A 16-year-old girl from South Florida was able to wrangle an 11-foot python that had found its way into a neighbor's yard, as documented in a video on Instagram.
The incident took place Monday evening in Pembroke Pines, Florida, just north of Miami. The teen, Onya Lee-Golightly, was alerted to the presence of the reptile in her family's neighborhood after her father shared an alert from their community's Ring app group. As a reptile enthusiast, the girl decided to see if she could lend a hand to her neighbors and set off with her father.
Arriving at the scene, Lee-Golightly determined that they were dealing with a python, and while long at 11 feet in length, it was within the average range of 10-16 feet for the species. Explaining the situation in a preamble before the video, Daniel Golightly, the girl's father, said that she settled on a simple strategy: "I should probably just grab it from the head."
In the clip, Lee-Golightly quickly grasps the python beneath its head, at which point it begins to coil around her arm. She and her father then begin lifting it up and moving it toward a bag to remove it from the yard. Daniel said in the video that the animal managed to coil around his arm at one point as well.
"It wrapped around my arm and let me tell you, the pressure was unlike anything I've felt," the father explained.
Speaking with Scripps News about the incident, the girl said that she and her father managed to wrestle the python off her arm and into the bag in about 8 minutes. Her father made particular note of the fact that she was more concerned about not hurting the animal while handling it than about her own safety.
"I've never in my life seen a young 16-year-old girl do something like this in my life," her father added.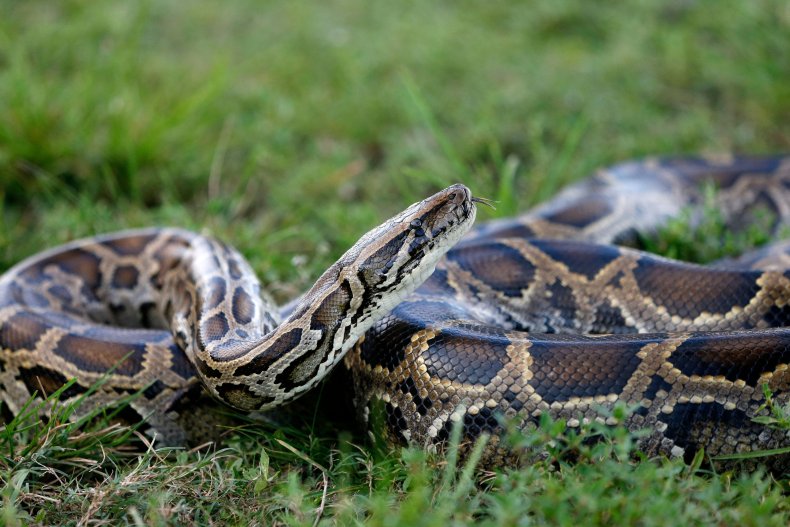 The teen maintains both a YouTube channel and an Instagram page, "Onya's Animal Adventures," to document her interactions with animals. In keeping with her concern for the python's wellbeing, she told Scripps News that one of her main goals with the project is "to help people overcome their fears with misunderstood animals."
Estimates put the population of pythons in Florida at least 30,000 and as many as 300,000, though the number has notably increased recently. According to a paper from the U.S. Geological Survey (USGS) last month, the state's python population has exploded, and experts remain unsure as to what the cause might be. The paper called the situation "one of the most intractable" wildlife management issues in the world. The species is considered to be "invasive" to Florida.
Newsweek reached out to the Florida Fish and Wildlife Conservation Commission for comment via email.