A video of conservative radio host Glenn Beck ranting about "corruption" in the federal government was posted to Twitter this week, gaining 1.4 million views as of Saturday afternoon.
In a nearly 6-minute video that was posted on Friday, Beck expressed his frustration as he claimed there is "corruption" in the justice system, the media, the Clinton Foundation, the Biden administration, and aid provided to Ukraine by the United States, along with other issues.
"I don't know about you, but I'm tired. I am worn out. I am fed up. I've had enough. I am tired of exposing corruption, doing our homework, going overseas, and having documents translated to make sure they're exactly right, presenting the evidence," Beck said. "We know what's happening except then once we expose it, nothing happens. Nobody goes to jail. Nobody pays for a damn thing anymore."
Twitter user @ImMeme0 who posted the video called Beck's outrage "one of the best rants ever!" Beck then retweeted the video.
Beck spoke about the Hilary Clinton emails, which was the subject some Republicans were focused on when the FBI seized troves of classified documents from former President Donald Trump's Mar-a-Lago residence last August. The FBI launched an inquiry into the way Clinton handled her personal email when she was secretary of state.
During her tenure as secretary of state, Clinton reportedly used a private email server for official public communications instead of using official State Department email accounts. Whether or not the emails contained classified documents was the focus of the years-long FBI investigation. James Comey, the FBI director at the time, said in 2016 that no criminal charges would be brought against Clinton, according to The Washington Post. Clinton, who wasn't charged, complied with investigators who found no classified documents. In 2015, she tweeted that she welcomed her emails being released to the public.
"Now she can take confidential top secret emails and put them on her server at her home. Something you and I would go to prison for. We would be in prison for the rest of our lives," Beck said about Clinton in the video.
The conservative media personality also spoke about the "Russian collusion," which The New York Times and The Washington Post reported about in 2018. An investigation was launched after Trump's campaign was accused of conspiring with Russia in an attempt to influence the 2016 presidential election when Trump was running against Clinton.
Beck also mentioned the Hunter Biden laptop scandal, which reportedly contained information about his business dealings overseas. Beck also targeted teacher unions and the Black Lives Matter (BLM) movement, which he called a "corporation." In the video, he expressed his opposition towards critical race theory (CRT) being allegedly taught in schools and his frustration over the Department of Justice (DOJ).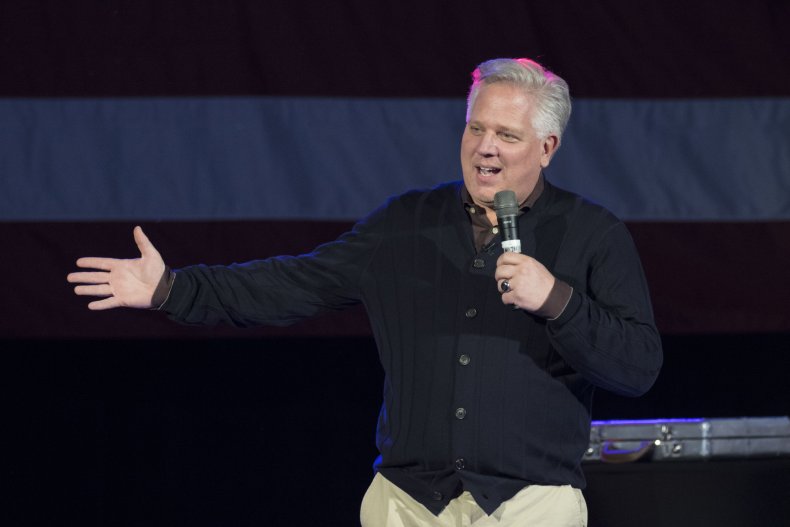 "The scandal of our Justice Department….the corruption of our media. Our media telling us to deny our own eyes…good has been made evil and evil is made good. They ask you now to not believe your own eyes, believe us," he said.
While some Twitter users backed Beck's remarks, others disagreed with him.
"Glenn Beck is a modern day Howard Beale. He's a self-aggrandizing 'recovering' drug addict nut. You don't get to pretend to be the arbiter of who is and who isn't a real American. The country is full of real Americans and they're not all white Christians," wrote Twitter user @PLSgetserious.
In addition, Twitter user @taradublinrocks wrote, "hey @glennbeck none of this is true & screaming yourself into a having a stroke won't make Donald Trump any less guilty, you Qrazy insane hack loser #LouderThanMAGA."
Newsweek reached out to Beck via email for additional comment.