Dramatic footage purportedly shows troops from a Ukrainian corps fighting Russian soldiers in close combat.
The video apparently shows the exploits of the "Da Vinci Wolves", a battalion of the Ukrainian Volunteer Corps which is integrated into the Ukrainian army.
The caption at the start of the 11-minute clip says "Defending Ukraine's 'Road of Life', the last road out of Bakhmut," a route that goes to nearby Chasiv Yar and is a critical supply route for Ukraine's troops and supplies.
To the sound of gunfire with smoke visible in the distance, a soldier's helmet-cam shows him moving into a bunker where other troops are waiting. "What's up guys?" he asks.
The cameraman is believed to be the squad leader codenamed 'Tihiy" and he is told that one of their comrades had been killed. "Rest in peace,'" he tells his squad mates, who respond by saying, "Yes brother, that's how it is in war."
The video then shows a grenade going off nearby and a soldier called Lekha being blasted off his feet and falling onto his stomach. Lekha lets his comrades know he is uninjured as his unit gets out of the bunker and into position.
In the next frame, someone shouts, "the orcs have jumped into the trenches," using the derogatory term from The Lord of the Rings to describe Russian soldiers. The video then shows the soldier jumping out and apparently firing at the enemy.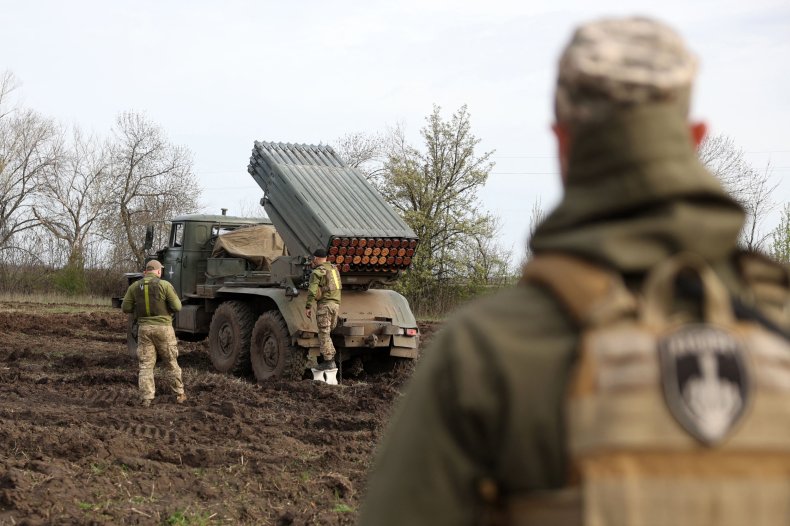 With seemingly little cover, they fight back the advancing Russians on the battlefield, taking positions around the bunker and gunning down targets. "I've killed all the orcs, take the positions outside," one of the troops is heard saying.
Artillery shells explode at several points. A Russian soldier throws a grenade at the trench, and Ukrainian soldiers respond with gunfire while other Russian troops crawl away. A Russian soldier can be seen rolling on the ground, appearing injured.
The undated video spurred praise for the unit's leader. "He instantly reacts and moves. His aggression takes down the initial enemy charge, and then he leads his men into proper defensive action," one social media user wrote under the clip which had received 716,000 views on YouTube as of Saturday.
Along with the video, Twitter user NOËL, who tweets about the war, wrote, "HONOR company, part of the Da Vinci wolves battalion at work. Literally all Russian assault infantry men were destroyed. West of Bakhmut. Ukrainian troops completely outskill Russian troops."
Russia is said to have suffered huge losses in the battle for the Donetsk town which has been ongoing for months. On Saturday, Russia's Defense Ministry, which Newsweek has contacted for comment, said its forces had captured another three districts in the town.