Ukrainian troops have prepared "holiday gifts" for Russian forces to mark Orthodox Easter celebrations, according to Kyiv's military.
Ukrainian fighters have painted ammunition, including grenades, in Ukrainian national colors, with many decorated to look like Easter eggs, Ukraine's Operational Command North wrote on its Facebook page.
On Sunday, Orthodox Christians, including many in Russia and Ukraine, observe Orthodox Easter. Approximately 78 percent of Ukraine's population identified as Orthodox Christian in 2019. Meanwhile, Ukraine's Orthodox Church has officially split with Russia, although controversy has continued to surround its alleged links to Moscow.
Early on Sunday morning, Russian President Vladimir Putin attended a midnight service observing Orthodox Easter in Moscow. Patriarch Kirill, who heads up Russia's Orthodox Church, has previously voiced his support for the Kremlin's invasion of Ukraine.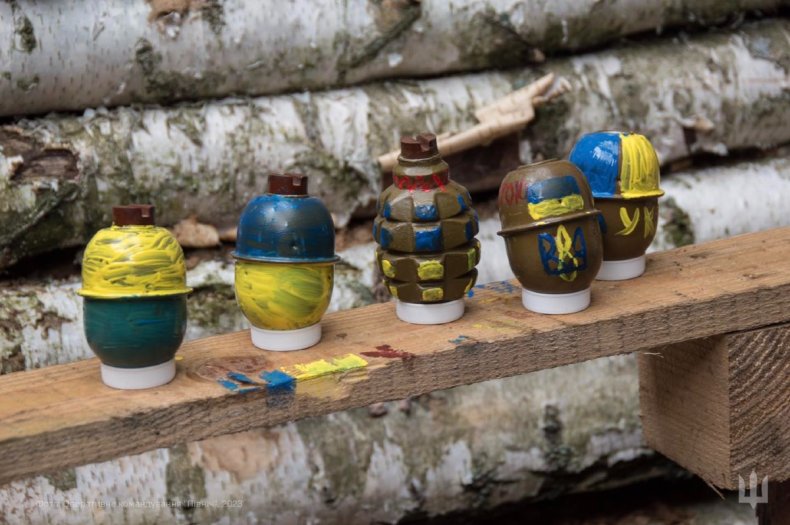 In a message broadcast on Russian state television before the start of the service, Kirill appeared to refer to the Ukraine war as "grave events taking place on our Russian historical land," according to the Associated Press. This falls in line with official Kremlin rhetoric, which frequently denies Ukraine's existence as a separate country.
Coinciding with Orthodox Easter, the Wagner Group, a Russian paramilitary unit, released around 100 Ukrainian prisoners of war (POWs) back into Kyiv's hands, Reuters reported. Writing on Telegram, Ukrainian President Volodymyr Zelensky's chief of staff, Andriy Yermak, said on Sunday that 130 Ukrainian fighters had returned in "several stages" over the previous few days. Ukraine's General Staff of the Armed Forces said the oldest of the POWs was 58, with the youngest just 21 years old.
Yermak called the return of Ukrainian prisoners of war "the Great Easter Prisoner Exchange," although he did not say whether, or how many, captured Russian fighters had been returned to Moscow.
Last week, the Washington-based Institute for the Study of War (ISW) suggested Putin could use the holiday to propose a ceasefire with Kyiv in a bid to stop a planned Ukrainian counteroffensive.
This was quickly dismissed by the Kremlin, however, with spokesperson Dmitry Peskov saying it "has not been proposed by anyone, it has not been put forward." Moscow had previously called for a ceasefire to mark Orthodox Christmas in early January, which was rejected by Kyiv. Fighting continued over the proposed 36-hour ceasefire period.
In an address on Sunday morning, Zelensky marked the second Orthodox Easter celebration since the start of the full-scale war last February.
"Today, we celebrate the holiday of the Resurrection of the Lord," he said. "Its main symbol is victory: the victory of good, victory of truth, victory of life. We celebrate Easter with unshakable faith in the irreversibility of these victories."
In his own Easter address, Putin said the "wonderful, beloved Easter holiday gives believers hope, inspires good thoughts and deeds, and serves to affirm high moral ideals and values ​​in society."
Newsweek has reached out to Russia's defense ministry for comment via email.