Slovakia said all the MiG-29 fighter jets it had pledged to Ukraine have been transferred to the country.
The announcement came a day after Russia said it had captured control of territory in Bakhmut.
Ukrainian President Volodymyr Zelensky has made repeated appeals to Western allies for fighter jets.
The official website for Ukraine on Monday thanked Slovakia for sending all the MiG-29 "Fulcrum" fighter jets it had pledged to provide to Ukrainian President Volodymyr Zelensky's forces.
The news of the Fulcrum transfer comes after Russia's Defense Ministry on Sunday announced that the Wagner Group of Russian mercenaries had taken control of territory in the northwestern and southeastern parts of Bakhmut.
Ukrainian President Volodymyr Zelensky has made repeated calls for Western allies to provide fighter jets in order for his military to establish air superiority over invading Russians. Poland was the first nation to offer Ukraine jets, and Germany last week approved Poland's request to re-export five German MiG-29s to Ukraine. So far, 8 MiG-29s have been provided to Ukraine from Poland, The Kyiv Independent reported.
On Monday, Slovak Defense Minister Jaroslav Nad confirmed that his country had transferred 13 MiG-29 fighter jets to Ukraine which Slovakia's Prime Minister Eduard Heger promised in March.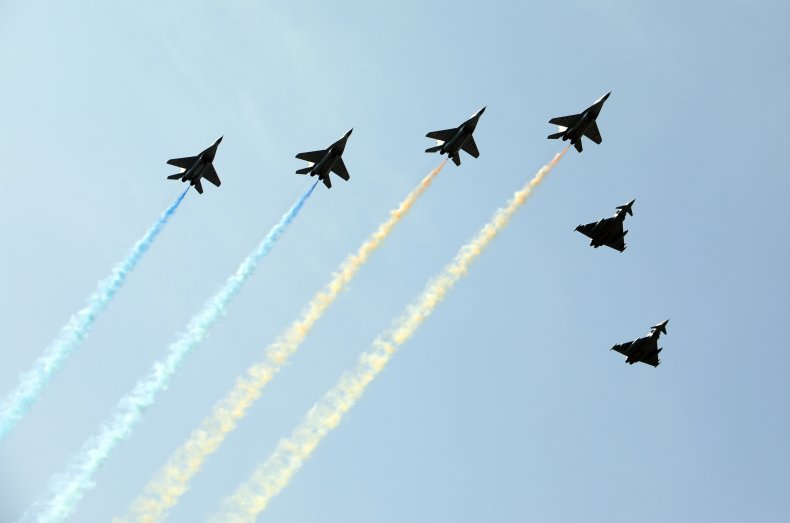 "The transfer was conducted by land to ensure the utmost security. We extend our immense gratitude to all parties involved, as such operations require significant effort and attention to logistical detail," Nad said.
In response to the announcement from Slovakia, Ukraine.ua—the official website for Ukraine—thanked the neighboring country on Twitter, writing: "We are grateful to Slovakia for standing with Ukraine. MiG-29 fighter jets will make the Ukrainian sky safer."
While Zelensky has continued to lobby for more Western jets, the United States has thus far resisted sending F-16 "Fighting Falcons." Despite that reluctance, NBC News reported in March that two Ukrainians were "undergoing an assessment" in the U.S. to see how long it would take them to complete training on aircraft including F-16 fighters.
The arrival of aircraft to Ukraine also comes as Russia is reportedly shifting more responsibility for its offensive operations in Ukraine to Russian airborne troops. The United Kingdom's Ministry of Defense (MOD) reported on Sunday that airborne commander Colonel General Mikhail Teplinsky was reinstated to a major role in Russian President Vladimir Putin's military command, which suggests Moscow may rely more on its air forces in Ukraine.
A Sunday assessment from the Institute for the Study of War (ISW) think tank also said Teplinsky's reappointment may mean that "the Russian military command is likely seeking to place an increased emphasis on the role" of airborne troops in the war.
Currently, Russia's airborne units "are actively engaged along critical sectors of the front in Luhansk Oblast and near Bakhmut and have recently received TOS-1A thermobaric artillery systems," the ISW wrote.
Newsweek reached out to the Ukrainian Ministry of Foreign Affairs via email for comment.