Ukraine repelled more than 80 Russian attacks in a single day, its military said on Sunday.
The General Staff of the Armed Forces of Ukraine wrote in their Sunday operational update on Facebook that Russia launched several attacks against key Ukrainian cities, including Limansky, Bakhmutsky, Avdiiv, Maryinsky, and Shakhtar. However, many of these attacks failed, with Ukrainian troops blocking 83 Russian advances on Saturday.
The repelled attacks are the latest indication of Russia's stagnating war since Russian President Vladimir Putin launched his "special military operation" on Ukraine last February. Despite initial concerns that Ukraine would quickly fall, its troops responded with a stronger-than-expected defense effort, blunting Russian military gains.
After more than a year of the conflict, fighting remains concentrated in the easternmost regions of the Eastern European country. Military analysts have pointed to a lack of motivated troops and chain of command issues within Putin's forces as reasons as to why its invasion has floundered.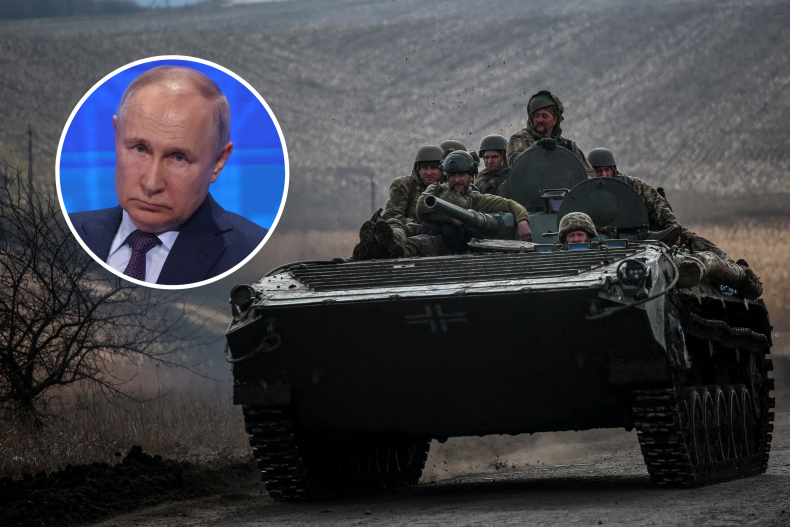 Ukraine on Sunday touted its military allegedly repelled a significant number of troops from making progress in key areas, including Bakhmut, which has seen some of the most intense fighting of the war.
"Despite human losses, the Russian Federation continues to lead the aggressive war. The opponent's main efforts are focusing on attempts to complete capture of Donetsk and Luhansk regions. In order to achieve its goals, offensive actions continue on the Limansky, Bakhmutsky, Avdiiv, Maryinsky and Shakhtar directions. During the past day, 83 attacks were repelled by our defenders in this area of the front. The epicenter of the fighting remains Bakhmut," the post reads.
Russia has not confirmed these blocked attacks, and Newsweek was unable to independently verify Ukraine's claims. Furthermore, it remained unknown exactly how many total offensives were taken by Russian soldiers and how many were successful.
The General Staff further reported that Russia launched 11 missile strikes, four of which targeted civilian infrastructure in Zaporizhzhia, home to the largest nuclear power plant in Europe. Russia also conducted 16 airstrikes and 99 shelling from jet-fire systems, according to Ukraine.
In addition, Ukraine said it shot down 10 "strikes in the areas of the occupiers' concentration," including at least one Shahed-136 drone, a weaponry provided to Russia by Iran, one of its closest allies amid the widely-condemned invasion.
Ukraine War Updates: Analysts Say Russia's Bakhmut Offensives Slowed
Ukraine's claims come after analysts have said Russian offensives in Bakhmut this week slowed. Both militaries have engaged in an intense battle for control of the Ukrainian city, which some say would offer Russia more of a symbolic than strategic victory. Russia has touted its progress in the city amid reports of struggles elsewhere, and it has fought alongside the paramilitary unit, the Wagner Group.
Bakhmut was one of the cities where Ukraine claimed to successfully block some Russian advances over the weekend.
The United Kingdom's Ministry of Defense on Saturday wrote that Russian soldiers have made their lowest number of offensives in the city since January, pointing to a temporary depletion of "deployed formations' combat power to such an extent that even local offensive actions are not currently sustainable."
Newsweek reached out to the Russian Ministry of Defense for comment via email.