A Ukrainian official recently shared a video showing a stockpiled "drone army" amid the ongoing war with Russia.
Mykhailo Fedorov, the Ukrainian deputy prime minister for innovation, education, science, and technology, wrote in a translated Telegram post: "Powerful drones are our competitive advantage over the Russians. 'Birds' change the course of war and save the lives of soldiers."
He said: "During the nine months of the UNITED24 project, the Drone Army contracted 3,200 UAV complexes for over UAH 4 billion (over USD 100 million). The doctrine of the use of UAVs was completely transformed. [Over 7,000] military personnel have been trained as drone operators."
According to The Kyiv Independent, the "drone army" is a combined project between the Ukrainian digital transformation ministry and the United24 organization. The project helps to supply Ukrainian soldiers with drones, as well as train them on how to use them, the newspaper reported.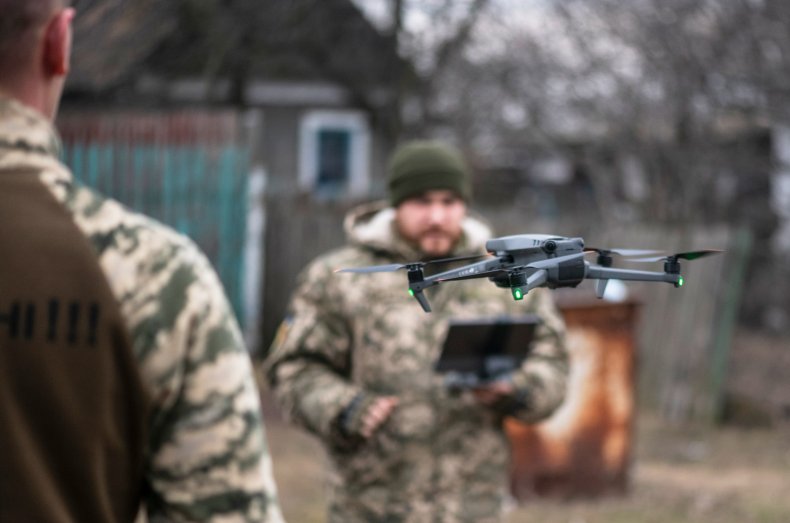 The post from Fedorov comes as the war continues to rage between Ukraine and Russia after President Vladimir Putin announced the "special military operation" last year. The use of drones has been highly publicized in the conflict.
The U.S. has continued to supply Ukraine with assistance throughout the war, which includes drones. In February, the U.S. announced a $2 billion security assistance package to Ukraine, which included drones as well as weapons to combat the drones used by Russia.
Speaking with Newsweek in February, Anton Gerashchenko, an adviser to Ukraine's minister of internal affairs said that drones "are the super weapon here."
"We will win faster and with fewer losses, if we have tens of thousands, hundreds of thousands of reconnaissance and combat drones," Gerashchenko told Newsweek. "We need combat aviation which has been discussed a lot recently. And also, as I say often—this war is a war of drones, they are the super weapon here."
On the other side of the war, Russia has reportedly been using Iranian-made Shahed-136 drones. The U.S.-based think tank, the Institute for the Study of War, recently reported that Russian Foreign Minister Sergey Lavrov met with Iran's Foreign Minister Hossein Amir-Abdollahian where they likely discussed a deal to acquire more drones.
Iran had initially denied supplying Russia with Shahed-136 drones but later confirmed that it had provided a "small number of drones," to Russia prior to the start of the war.
Lt. Gen. Serhiy Nayev, of the Command of the United Forces of the Armed Forces of Ukraine, said earlier this month that the use of machine guns has been "effective" in combatting the Shahed-136 drones.
Newsweek reached out to the ministries of foreign affairs in Ukraine and Russia via email for comment.