Blockading Crimea from Russian aggression rather than Ukrainians attempting to overtake the territory is a better option as both countries are likely on the verge of launching new offensives, according to a former U.S. diplomat.
Crimea has been a focal point of tension between both nations since the territory was annexed by Russia in 2014. Russia has since occupied four additional territories—Donetsk, Kherson, Luhansk and Zaporizhzhia—in Ukraine since the most recent invasion on February 24, 2022. The latest annexations were declared illegitimate by Ukraine and its allies in the West.
Last month, Russian President Vladimir Putin said that a full-scale invasion of Ukraine was not on the table nine years ago because he and other top Russian officials thought any regional upheaval could be solved "absolutely peacefully."
In an op-ed published April 8 in The Moscow Times, an independent English- and Russian-language online publication based in Amsterdam, co-authors William Courtney and Scott Savitz of the nonpartisan RAND Corporation wrote that recovering the peninsula connected to Ukraine by a narrow isthmus militarily is a difficult prospect as Russian forces "can fortify it at will."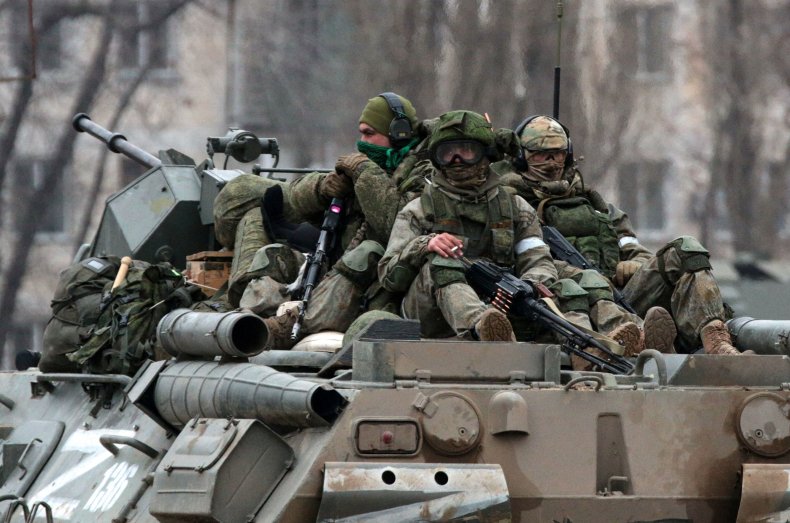 "Ukraine does not, however, need to drive occupying forces out of Crimea to render it less hospitable to Russia's purposes," said Courtney, a former ambassador to Kazakhstan and Georgia, and Savitz, an engineer. "Combinations of modern technologies could enable Ukraine to blockade and barrage Russian operations."
They cited retired U.S. Army Europe Commander Ben Hodges' call for Kyiv's forces to "isolate" Crimea using long-range precision strikes.
"Drive Black Sea Fleet from Sevastopol with daily precision strikes. Ditto for Russian Air Force at Saky, etc," Hodges tweeted in February, adding not to allow sanctuary for drone launches while employing land forces later.
Ukrainian neutralization could also include the use of explosive uncrewed surface vessels (USVs), which are low-cost options for swarm attacks, against Russian warships based at Sevastopol.
"The concept is simple: camera-studded, low-profile USVs laden with explosives are directed toward targets," they wrote. "This emerging technology can sink warships and destroy maritime infrastructure."
Ukrainian President Volodymyr Zelensky has been vocal about his nation's intention to reoccupy Crimea.
"This war, which began with Russia's occupation of our Crimea, with an attempt to seize Donbas, must end precisely there—in the liberated Crimea, in the liberated cities of Donbas, with our troops reaching the state border of Ukraine," Zelensky said in August following a Ukrainian counteroffensive in Russian-occupied Kherson. "We have always kept this goal in mind. We do not forget about it."
Zelensky has made repeated statements in the months since, including that Kyiv can never be free from the threat of Russian aggression if Crimea belongs to the Kremlin.
American Foreign Policy Council President Herman Pirchner Jr., who has visited post-Soviet nations, including Ukraine, more than 70 times, told Newsweek following a visit in January "that there's a feeling…that Crimea is something that could be taken by Ukrainian forces."
The annexation of Crimea was initially praised, with a poll conducted at the time showing support from nine out of 10 Russians. An independent survey conducted in 2021 found that 86 percent of respondents supported the annexation while 71 percent of them did not view it as illegal, according to The Moscow Times.
Newsweek reached out to Courtney by phone and email for comment.