The Vatican's Easter procession attempted to "equate the victim and the aggressor," Ukraine's foreign ministry said after representatives of both Ukraine and Russia were included in the same section of the key religious event.
A symbolic part of the annual Good Friday "Way of the Cross", or "Via Crucis" procession, "distorts the reality in which Russia plunged Ukrainians," Oleg Nikolenko, a spokesperson for Kyiv's foreign ministry, wrote on Facebook on Saturday. The head of the Catholic Church, Pope Francis, typically presides over the procession, although the pontiff was absent from this year's evening Colosseum procession after a hospital stay for bronchitis.
During the holy procession, 14 stations mark different stages of what many Catholics believe to be Jesus' journey to entombment after his crucifixion. The 10th station represents Jesus being stripped of his clothes, although the annual procession customarily adjusts the texts read to observe the stations to reflect current affairs. This year's prayers were under the theme of "voices of peace in a world at war."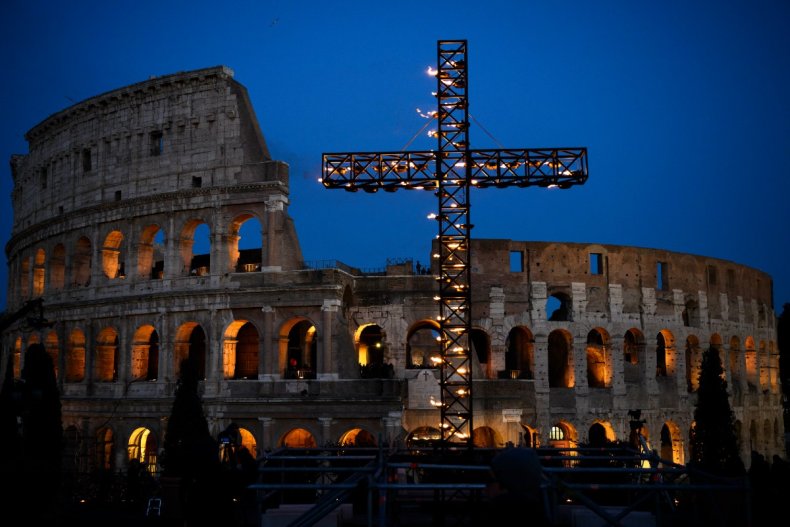 Marking the 10th station, texts recounting the experiences of a Ukrainian teenager who fled the now Russian-controlled city of Mariupol, and a Russian boy with relatives fighting on the Kremlin's behalf in Ukraine, were both read during the procession.
Ukraine's foreign ministry was "disappointed" that the procession's meditations "did not take into account the arguments of the Ukrainian side about the offensive nature of such a gesture," Nikolenko said.
"The joint participation of a Ukrainian and a Russian distorts the reality in which Russia plunged Ukrainians," he added in the post. Ukraine's ambassador to the Holy See, Andrii Yurash, also condemned this year's 10th station testimonies before the procession got underway.
Newsweek has reached out to the Vatican for comment via email.
Similar issues arose around last year's Easter procession, which again featured both Ukrainian and Russian testimony. Ahead of the "Via Crucis" procession in 2022, Ukrainian religious leaders called on the Vatican to rethink the event.
"I consider such an idea inopportune, ambiguous, and such that it does not take into account the context of Russia's military aggression against Ukraine," the head of the Ukrainian Greek Catholic Church, Major Archbishop Sviatoslav Shevchuk, said last year.
After Kyiv's protests, the texts that were to be read during the procession were axed, although Ukrainian and Russian representatives both took part in the "Via Crucis."
In late August 2022, the Vatican said in a statement that Pope Francis' comments regarding Russia's invasion of Ukraine should "be interpreted as a voice raised in defense of human life and the values associated with it, and not as a political stance."
But the pontiff's "interventions are clear and unequivocal" in condemning Moscow's invasion as "morally unjust, unacceptable, barbaric, senseless, repugnant and sacrilegious," the Vatican added.