The United States is expediting training of Abrams tanks for Ukrainian fighters as key territory in Ukraine has been claimed by Russian forces, U.S. Defense Secretary Lloyd Austin III said on Friday.
In January, the U.S. announced it was sending 31 M1 Abrams tanks after donations of Leopard tanks to Ukraine were made by NATO allies Germany, Canada, Poland and Portugal.
Russian state-owned news agency TASS reported earlier this week that the Wagner Group, a paramilitary unit headed by Yevgeny Prigozhin and working alongside the Russian military, has overtaken 90 percent of the eastern industrial city of Bakhmut.
Meanwhile, additional Russian state media reports in recent days have also claimed that the Leopard tanks provided to Ukraine within the last three months have had no real impact due to lack of inspections before arrival and being "kept unused at warehouses for years."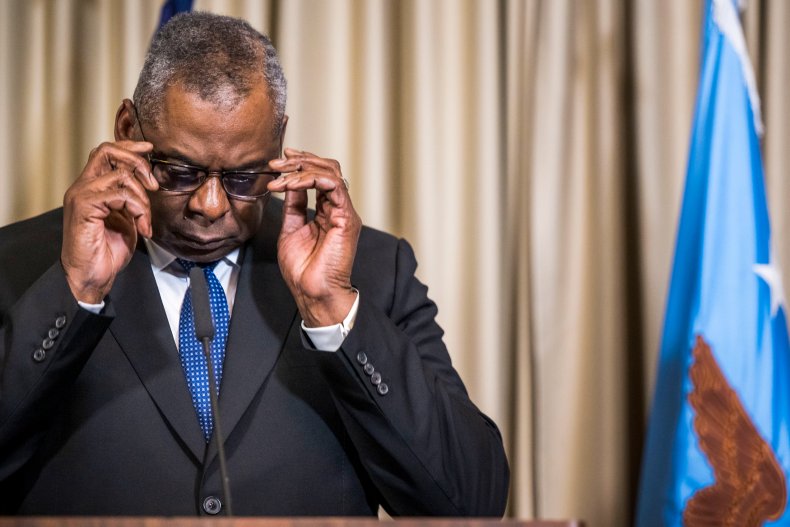 The reported advances in Bakhmut arrive as Russian President Vladimir Putin visited two different occupied regions in Ukraine that Moscow has claimed to have annexed. The Kremlin said it had annexed Kherson, Zaporizhzhia, Luhansk and Donetsk in the fall, although Kyiv and Western allies, including the U.S. have called the move illegitimate.
"The M1s that the Ukrainians will use for training will arrive here in Germany in the next few weeks," Austin said Friday during a joint press conference at Ramstein Air Base in Germany, held with Joint Chiefs of Staff Chairman General Mark Milley. "And all of this is huge progress, and I am confident that this equipment and the training that accompanied it will put Ukraine's forces in a position to continue to succeed on the battlefield."
It will set Ukraine on a path to generate combat power and combat capability, he added.
Milley told gathered media that he believes the M1 is "the best tank in the world," adding that crews will utilize non-combat capable training tanks to learn how to shoot, maneuver and provide maintenance. Refurbished tanks will then be sent at a later date.
All 31 M1 Abrams tanks will arrive at Grafenwoehr Training Area in Germany at the end of May, according to the Associated Press, with training commencing about two weeks later. The total training period is expected to last 10 weeks.
Air defense provided to Ukraine by the U.S. is still not on the table, however, in a position consistently held by President Joe Biden and Austin.
"Right now, what we all believe is what Ukraine needs most urgently is ground-based air defense capability," Austin said Friday. "That is what has enabled them to prevent the Russian air forces from having a meaningful impact in this fight. And so you've heard us say that for the last several months."
He continued: "We will continue to say that because that is what is most important in the current—in the future of fight, the immediate future. We have to make sure that the Ukrainians have the ability to protect their infrastructure, protect their citizens, but also protect troops that the troops are maneuvering."
Meanwhile, Slovakia's defense ministry sent four MiG-29 fighter jets to the war-torn country in March, ultimately sending 13 jets in total. Poland has already delivered four aircraft to Ukraine. After receiving German approval last week, which is required due to the Polish fleet previously belonging to Germany, another five jets will be sent at a future date.
Retired U.S. Air Force Colonel Jeffrey Fischer is among former U.S. officials supporting the sending of F-16 fighter jets to Ukraine.
"It's hard not to advocate airpower when you see what happened in Serbia or Desert Storm," Fischer previously told Newsweek. "When you can fly at your own will, you provide maneuver space and top-cover protection and take away from the enemy. I believe air superiority for Ukrainians is instrumental for bringing a rapid conclusion to this war."
Newsweek reached out to the Ukrainian Defense Ministry via email for comment.