Two residents of New York City were arrested on Monday morning on federal charges related to allegations that they operated a "secret police station" in the city on behalf of the Chinese government.
The two suspects, 61-year-old Lu Jianwang, and 59-year-old Chen Jinping are accused of setting up and operating a police outpost in an office building in Manhattan's Chinatown neighborhood, working on behalf of the Chinese government's Ministry of Public Security (MPS), according to the Department of Justice (DOJ).
Dozens of such unsanctioned outposts are in operation around the globe, including in countries like Canada, Ireland and the Netherlands, working to advance Chinese interests abroad. The arrests were the result of a joint investigation into the outpost by the FBI and the U.S. Attorney's Office for the Eastern District of New York in Brooklyn.
"This prosecution reveals the Chinese government's flagrant violation of our nation's sovereignty by establishing a secret police station in the middle of New York City," U.S. Attorney Breon Peace said in a statement.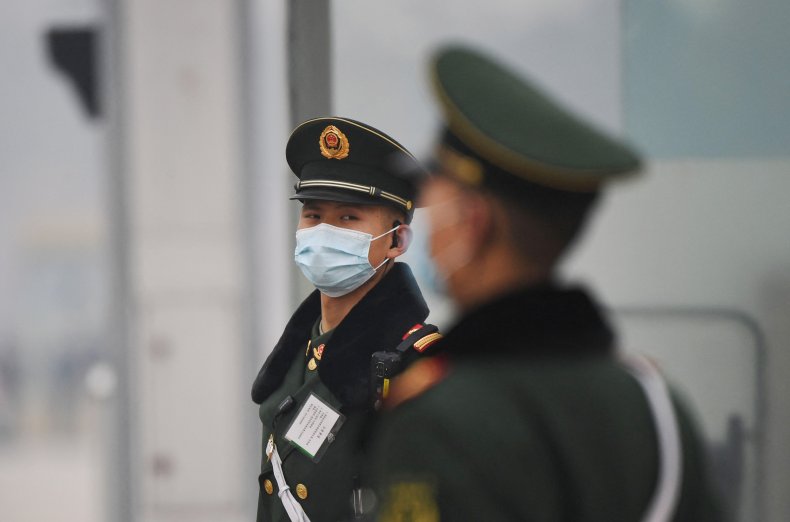 At the behest of the MPS, Lu and Chen allegedly worked to intimidate Chinese dissidents living in the United States, to spread pro-China propaganda, and to undermine faith in American democracy. Lu, in particular, is accused of trying to convince a pro-democracy dissident living in California to return home to China, by means of threats and harassment.
Lu and Chen also admitted to authorities that they deleted numerous communications after becoming aware of the investigation into their actions. As a result, they have also been charged with obstruction of justice.
Lu is a naturalized American citizen living in the Bronx and goes by the name "Henry Lu," according to information obtained by The New York Times. Tax records from 2018 listed Lu as the president of America Changle Association NY, a non-profit organization based in the same Chinatown office building as the secret outpost.
Details about Chen's citizenship and profession remain unclear at this time, though the Times was able to confirm that he resides in Manhattan.
"It is simply outrageous that China's Ministry of Public Security thinks it can get away with establishing a secret, illegal police station on U.S. soil to aid its efforts to export repression and subvert our rule of law," Kurt Ronnow, acting assistant director of the FBI's Counterintelligence Division, said in a statement.
"This case serves as a powerful reminder that the People's Republic of China will stop at nothing to bend people to their will and silence messages they don't want anyone to hear."
In another complaint unsealed on Monday, the DOJ also charged 33 officers working for China's MPS to intimidate dissidents and "official PRC government propaganda and narratives to counter the pro-democracy speech of the Chinese dissidents."
Reports of the Chinese government's expanding influence and presence in the United States and beyond have been steadily growing. A Newsweek report from December found nine "suspect Chinese proxy police stations and courts" in cities like New York, Los Angeles, and San Francisco, as well as nine "Chinese Support Centers," which are operated by the Chinese Communist Party's "domestic and international influence apparatus."
Newsweek reached out to the Chinese embassy in New York City via email for an official comment.