The decision to not place former President Trump in handcuffs during his Tuesday arrest has sparked a discussion over whether he is receiving preferential treatment.
Some people on social media argued that most people of color are not given an option in regard to handcuffs when they are arrested.
Other people have argued that the decision shows how unnecessary handcuffs are in many arrests, especially when the defendant turns themselves in to authorities.
A discussion was started on Tuesday over the decision to not place former President Donald Trump in handcuffs during his arrest Tuesday in New York City.
Trump surrendered himself over to the Manhattan District Attorney's Office Tuesday afternoon following his indictment last week. The indictment came after an investigation by New York County District Attorney Alvin Bragg into an alleged hush money payment made by Trump to former adult film star Stormy Daniels before the 2016 election. Trump pleaded not guilty plea to the charges and has denied an affair with Daniels as well as any wrongdoing in the case.
Joe Tacopina, Trump's attorney, said before his client's arraignment that he had been informed handcuffs would not be used. While some people on social media felt this decision made sense given Trump is not a likely flight risk and turned himself in, others have argued he's receiving preferential treatment not offered to most citizens.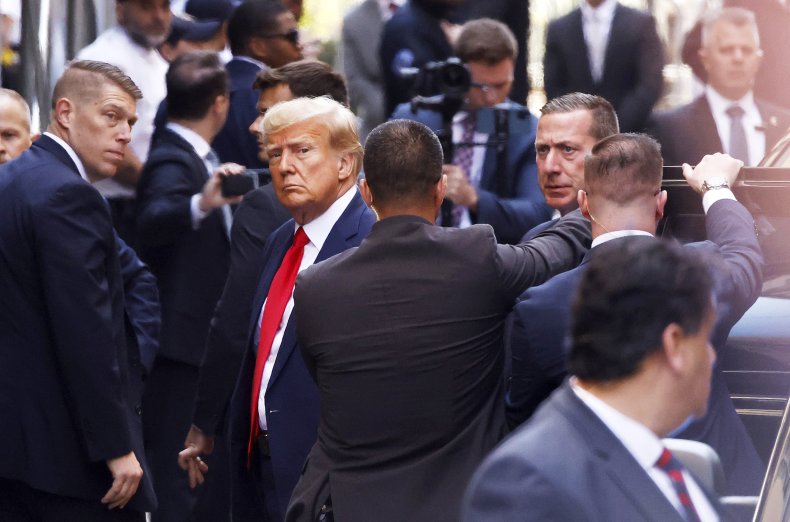 Civil rights attorney Scott Hechinger tweeted that "the fact that Trump is not being put in handcuffs, held in a cell, or otherwise violently & unnecessarily abused by police & court officers is a good thing. We should all demand the unnecessary violence of shackling & caging people before arraignment be limited."
In an email that further elaborated on his tweet, Hechinger told Newsweek his statement reflects how people of color often receive harsh treatment by the justice system.
"When we call for greater harshness for those we may despise, we endorse and further entrench harshness for all. And that's disproportionately Black and brown people, and people historically marginalized," he wrote.
Kurt Bardella, publisher of the country music website The Morning Hangover and former Republican congressional staffer, voiced his displeasure that Trump wasn't cuffed. Though his stance differed from Hechinger's, he also argued that people of color receive harsher treatment when in similar circumstances.
"The fact that Trump won't be put in handcuffs, placed in a jail cell or subjected to a mug shot seems like special treatment…doubt any people of color are ever afforded such courtesy…if they even make it that far into the process and aren't murdered on site," Bardella tweeted.
Writer Cathy Reisenwitz also argued about the necessity of handcuffs and other measures taken during arrests. She wrote on Twitter, "Manhattan DA Alvin Bragg isn't making Trump walk into the courthouse in handcuffs, take a customary mugshot, get swabbed for DNA, or wait hours for his case to come before the judge. Why does anyone have to do all that, then?"
Democratic strategist Max Burns also covered the topic in a Tuesday post on his Substack.
"Trump may be a former president, but he's also just another private citizen facing 34 felony charges. You wouldn't know it to look at the ways Trump has already turned the justice system on its head," Burns wrote. "Bragg's rule-bending is designed to make the arraignment process less of a humiliating spectacle for Trump, a view that is admittedly tough to square with the idea that justice should be equally applied to all citizens."
Meanwhile, Gothamist spoke with some people who were present at the Manhattan Criminal Court on the same day as Trump. A woman identified as Shawnell Martinez said she was upset that Trump would not be handcuffed, but her son—who was at court for an unspecified charge—was not given a choice.
"[Trump's] not special. He did crime, he should be treated the same way," Martinez told Gothamist said. "If he did something wrong, he should be handcuffed going inside the courthouse."
Others voiced the same stance on Twitter, including stand-up comedian Dante.
"How come Trump will not get a Mugshot or be handcuffed? I guess the rest of us are trash? Why does he get different treatment? Because he was a former president? But he's a felon. I've never been a felon. I pay more in taxes than Donald Trump. Shouldn't I be treated better?" Dante wrote.
Alana Moceri, an international relations professor at the Universidad Europea and the IE School of Global and Public Affairs, wrote on Twitter that handcuffs would not be practical given the situation. She said that putting such restraints on Trump was "[n]ot necessary" and would be logically difficult given the presence of Trump's Secret Service detail.
Moceri added that "this whole thing is hard enough!"
The conservative commentary Twitter account Politique Republic shared its take on the debate, arguing that Trump is different than many other defendants.
"Democrats are livid that Trump is getting 'special treatment' in not having to be handcuffed, fingerprinted, and photographed. Those things are designed to ensure prosecutors have the 'right' defendant. Everyone knows who and where Trump is at all times," Politique Republic tweeted.
Newsweek reached out to the Manhattan District Attorney's Office via email for comment.