Donald Trump has mocked Ron DeSantis and his White House ambitions amid continuing speculation that the Florida governor will confirm he is running for president in 2024.
In a post on Truth Social, the former president said that DeSantis has "zero chance" of gaining the White House, despite the governor attempting to increase his name recognition with appearances across the country over the past few months.
The attack from Trump came as it was widely reported that DeSantis will file paperwork to formally declare his presidential candidacy on May 25. A public announcement is expected to take place days later.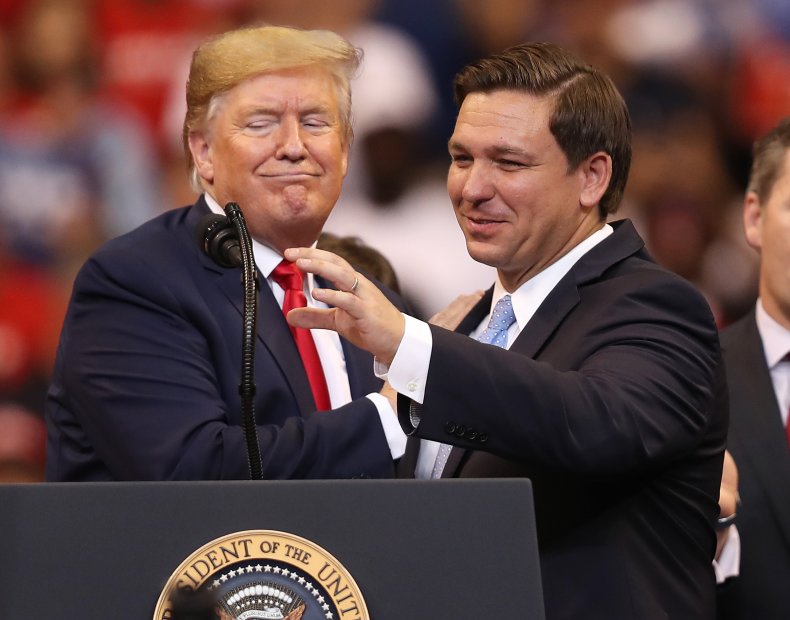 "After campaigning for five months, and going nowhere but down, it looks like Ron DeSanctimonious will soon be entering the race. He has ZERO chance, and MAGA will never forget!"
DeSantis has long been considered the potential main challenger to Trump for the GOP nomination in 2024, with the former president frequently insulting and attacking the Florida governor. A poll taken exclusively for Newsweek shows Trump's support appears to be increasing.
Trump and his endorsed candidates were widely blamed for the GOP's poor performance in the 2022 midterms. Bookmakers and numerous polls then suggested that Republican voters believed DeSantis should be the one to lead the party in 2024.
However, DeSantis appears to have lost momentum for his 2024 campaign before it has officially begun, with surveys now showing Trump increasing his lead to all-time highs.
Trump has managed to increase his support in the GOP primary race, despite becoming the first U.S. president to be charged with a crime over falsifying business records allegations. He pleaded not guilty in April.
One month later, a Manhattan jury found him liable for sexually abusing former Elle columnist E. Jean Carroll at a Bergdorf Goodman department store in New York City in the 1990s. He was also found liable for defaming her character while denying the accusations.
According to a Redfield & Wilton Strategies poll of 1,500 people taken on May 17 and conducted exclusively for Newsweek, Trump leads a hypothetical Republican primary with 77 percent of the vote, with DeSantis a distant second on 8 percent.
The poll survey shows that Trump has increased his lead over DeSantis by 15 points from a previous poll on 24 April. That was prior to the Carroll civil trial ruling, but after the former president pleaded not guilty to the 34 felony offenses against him.
"The legal troubles Donald Trump faces have evidently proved even more problematic to Donald Trump's Republican primary opponents," Philip van Scheltinga, director of research at Redfield & Wilton Strategies, told Newsweek.
"Many of Trump's 2016 and 2020 voters, the very voters a primary challenger needs to win over, believe that the legal troubles are the result of politically motivated attacks. Therefore, for a Republican primary opponent, to criticize the former president now is to risk associating oneself with his Democratic enemies or with Republican Never Trumpers, both reviled by most Republican voters.
"At the same time, the clock is ticking for would-be challengers to make an early mark on the race and give their campaign much-needed momentum and airtime. If those investigating, prosecuting, or suing Donald Trump wanted to help him win the party's nomination, their strategy is working."
Newsweek has contacted DeSantis' office for comment via email.