Donald Trump called out President Joe Biden on Saturday for not attending King Charles III's and Queen Camilla's coronation, saying that the people of the United Kingdom are "insulted" by his absence.
King Charles III and Queen Camilla were crowned at Westminster Abbey in a coronation ceremony that was watched by millions of people in the U.K. and around the world. Charles III became head of state following the death of his mother, Queen Elizabeth II, last September. This coronation ceremony is the first held in the U.K. in 70 years.
Biden did not attend the ceremony, but first lady Jill Biden was present, along with her 22-year-old granddaughter, Finnegan.
While speaking on his social media platform, Truth Social, the former president called out Joe Biden saying, "Joe Biden should have been at the Coronation of King Charles III. Is that really so much to ask? The people of the U.K. are greatly insulted. No wonder we are losing support all over the World. MAKE AMERICA GREAT AGAIN!!!"
In an earlier post on Saturday to Truth Social, Trump also wished the king and queen best wishes, writing, "Good Luck and Best Wishes to the wonderful new King and Queen of The United Kingdom. You are two very Special People. May your Reign be a Long and Glorious One. GOD BLESS YOU BOTH!!!"
Nile Gardiner, foreign policy analyst and former aide to British Prime Minister Margaret Thatcher, also called out Biden on Twitter for his absence, tweeting, "Leaders from across the world are attending today's Coronation of King Charles III. Even the French President is there. Notably absent is Joe Biden, who could not be bothered. What message does this send to America's closest ally? Biden is a petty, arrogant, sneering disgrace."
Political analyst Craig Agranoff told Newsweek on Saturday, "It's worth noting that Trump also did not attend the coronation of King Charles III. In fact, no sitting United States president has ever attended a British coronation. So, while Biden's decision may not be popular with everyone, it's not unprecedented."
Jill Biden attended the coronation with her granddaughter wearing blue and yellow, the colors of the Ukrainian flag. The day before, the first lady was also photographed with Olena Zelenska, Ukraine's first lady, at a reception hosted by Kate Middleton at Buckingham Palace.
Meanwhile, Anton Gerashchenko, adviser to the Minister of Internal Affairs of Ukraine, highlighted the importance of Jill Biden's outfit on Twitter, writing on Saturday morning, "The language of colors."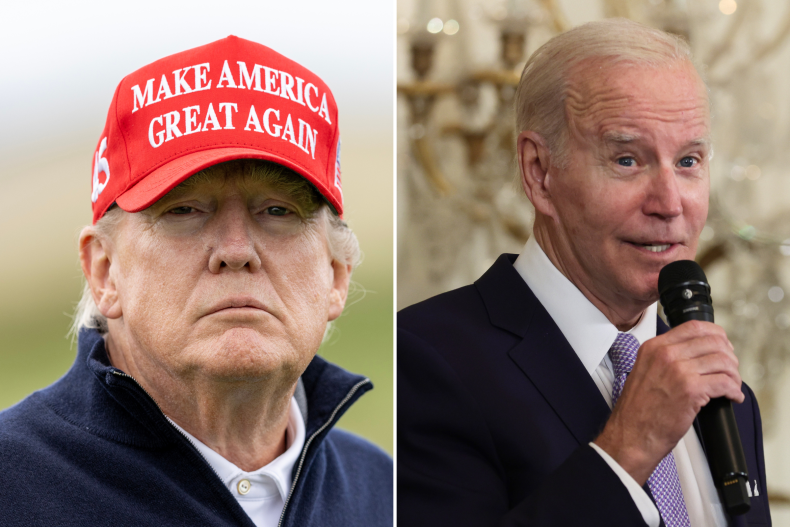 Also, notably absent at the coronation ceremony was Meghan Markle, wife of Prince Harry, the Duke of Sussex, the second son of King Charles III and Princess Diana, and brother to future king Prince William. Markle remained in California with her and Harry's children.
Update 5/6/2023, 1:02 p.m. ET: This article has been updated with comment from Craig Agranoff.