Donald Trump pleaded not guilty to criminal charges stemming from an alleged $130,000 hush money payment during his 2016 campaign.
The arraignment was met with a large crowd of vocal supporters and protesters in front of the building, prompting the NYPD and Mayor Eric Adams to increase law enforcement around the city.
Former President Donald Trump has pleaded "not guilty" to the criminal charges he's facing in Manhattan for the alleged $130,000 hush money payment made to adult film actress Stormy Daniels during his 2016 campaign.
On Tuesday, Trump appeared at the New York City Criminal Court for his arraignment. It was already expected that he would enter a "not guilty" plea, as his lawyers had made clear he planned to fight the charges, but the 34 charges against Trump were revealed for the first time. Because the indictment was sealed, the charges had not previously been public.
Speaking to the court, New York Supreme Court Judge Juan Merchan announced that Trump had been with 34 counts of falsifying business records in first degree.
Even before he was indicted by a grand jury last week, Trump has continued to deny any wrongdoing and maintained that he never had an affair with Daniels. The Manhattan District Attorney's office has been investigating the alleged payments for years, probing as to whether Trump falsified business records in order to pay the hush money agreement, which is not illegal.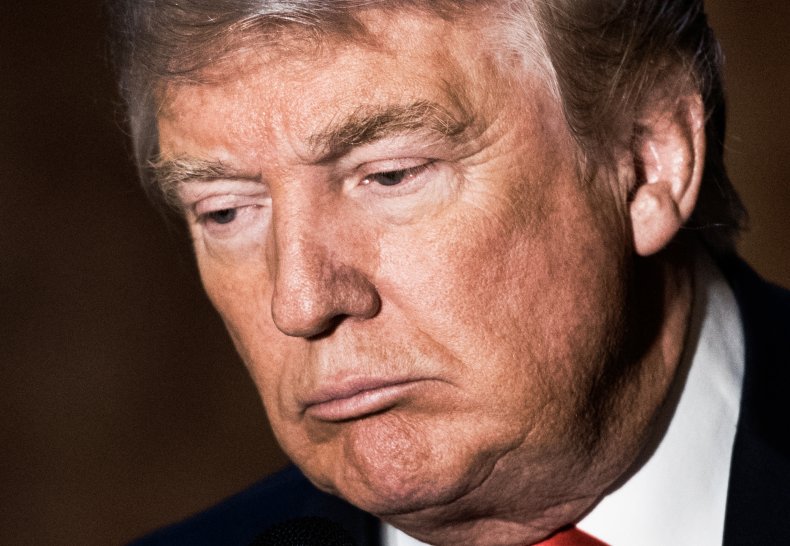 Trump will be released on bail and return to his Mar-a-Lago home in Florida, where he is expected to deliver remarks this evening addressing the indictment.
Outside the courthouse, vocal supporters both in favor and against Trump's indictment gathered. Separated by barricades and heavy New York Police Department (NYPD) presence, protesters and counter-protesters held large flags, reading "Trump or Death" and "Trump Lies All The Time," and still managed to get into a number of tense altercations.
Shouting across the NYPD fences, anti-Trump protesters questioned Trump supporters about their vaccine statuses, descending into arguments over COVID-19 deaths and socialism. Others got close to one another's faces, accusing one another of being "fascists" and "racists."
"Three years ago…Nazism was knocking on my door," one protester, who was wearing a jacket with Trump's head photoshopped onto the body of a matador, shouted at members of the press. "I speak for freedom and I stand for the world."
The theme of distrust reverberated across the chaotic scene that unfolded Tuesday morning. A number of Trump supporters declined interviews with the "left-wing media" and several known provocateurs, like Michael Picard who's known to antagonize rallygoers at Blue Lives Matter events, were in attendance pretending to be a fan of the former president.
Among the crowd at Collect Pond Park—which is located directly across from the front entrance of the building—were some of Trump's staunchest allies, including Bikers for Trump founder Chris Cox, and several protesters who spoke with Newsweek a day earlier in front of the Trump Tower. The former president arrived at his property in midtown Manhattan on Monday afternoon.
A number of well-known Republicans were also spotted in the area earlier in the morning. Representative Marjorie Taylor Greene of Georgia spoke at an event that lasted less than 10 minutes across the street from the court, and Representative George Santos of New York was followed by reporters and hecklers as he walked in front of the building.
In response to the planned protests and events, the NYPD and New York City Mayor Eric Adams have beefed up law enforcement around the city and warned possible "rabble-rousers" to "control yourself."
Ahead of his plea, Trump called Manhattan a "VERY UNFAIR VENUE" for his arraignment and said that it should have been moved to State Island which "WOULD BE A VERY FAIR AND SECURE LOCATION."
"THE HIGHLY PARTISAN JUDGE & HIS FAMILY ARE WELL KNOWN TRUMP HATERS," the former president wrote on Truth Social. "HE WAS AN UNFAIR DISASTER ON A PREVIOUS TRUMP RELATED CASE, WOULDN'T RECUSE, GAVE HORRIBLE JURY INSTRUCTIONS, & IMPOSSIBLE TO DEAL WITH DURING THE WITCH HUNT TRIAL."
Judge Merchan was heavily involved in the negotiations that led to the Trump Organization's finance chief Allen Weisselberg's guilty plea last year, and he is also presiding over the lawsuit against Trump ally Steve Bannon.