Digital World Acquisition Corp. (DWAC) shares dropped 8 percent Tuesday after former President Donald Trump's arrest and arraignment in New York.
Meanwhile, the DOW dropped .81 percent at the same time.
Trump's arraignment caused other Trump-associated stocks like Phunware and Rumble to also drop.
DWAC has experienced both ups and downs since its founding in 2021, and the company has been impacted by the controversy surrounding Trump.
Shares of the Donald Trump-aligned Digital World Acquisition Corp. (DWAC) dove more than 8 percent as of 3 p.m. Tuesday after the former president was arrested and arraigned in New York.
The stock tumbled shortly after Trump appeared for his arraignment following a grand jury's indictment that was announced last week. Meanwhile, the DOW was down .81 percent at the same time.
Trump made history last week, when on Thursday he was indicted by a Manhattan grand jury in connection with an alleged payment made to silence former adult film star Stormy Daniels before the 2016 election. Trump denies any wrongdoing in the case, including Daniels' claim that they had an affair.
Drama surrounded Trump's arraignment, when supporters and protesters gathered outside New York City Criminal Court, where his arraignment was held. The DWAC price dive was a stark contrast to the stock's 10 percent rise Friday morning after Trump was indicted, according to CNN.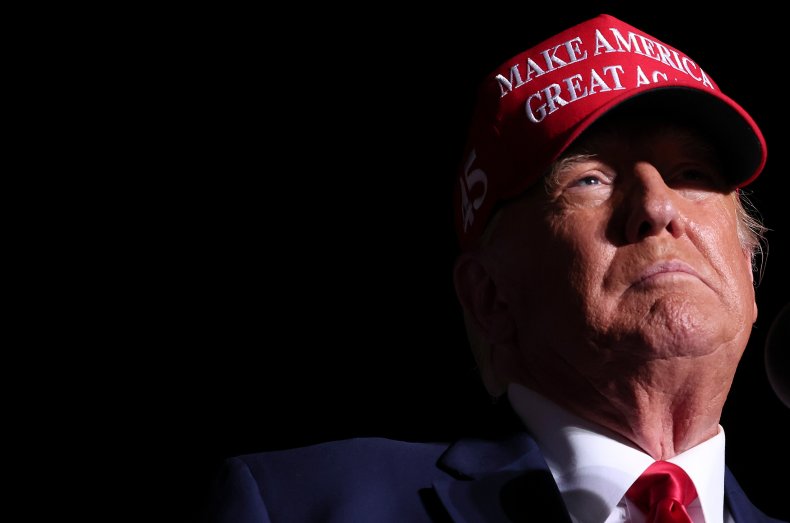 DWAC, along with other Trump-associated social media stocks like Phunware (PHUN), which developed the 2020 Trump campaign mobile app, and Rumble (RUM), a video platform often used by conservative politicians partnering with Truth Social, also rose Friday.
On Tuesday, PHUN had dropped by a little more than 5 percent and RUM was deemed volatile after Trump announced he would deliver live remarks from Mar-a-Lago in Florida on Tuesday night that would be aired on Rumble.
After Rumble announced the news at 11:45 a.m. ET on Twitter, its shares spiked to $9.66 per share before dropping to $9.26 per share by 3 p.m. Tuesday.
Trump, who arrived in New York on Monday afternoon, was released before traveling back to his Mar-a-Lago resort in Palm Beach.
DWAC has encountered ups and downs the past few weeks as Trump faces growing legal challenges. On March 20, DWAC trading was halted for volatility after it jumped 15 percent by 2 p.m. The stock was halted for roughly 10 minutes. The swing occurred just days after the stock sank to its lowest point since its founding in 2021.
After its founding, it climbed to its highest value of $97.54 in February 2022 before gradually sinking to its current value of $14.19.
DWAC is a special purpose acquisition company (SPAC) that merged with Trump's social media company Trump Media & Technology Group (TMTG) in 2021 to bring the company public. It has faced growing scrutiny, as the Securities and Exchange Commission launched an investigation into trading that preceded the merger.
Newsweek previously reported that DWAC announced it could be "adversely affected" by the controversy surrounding Trump. DWAC published the announcement in August 2020, just months before Trump lost the election to President Joe Biden.
"If President Trump becomes less popular or there are further controversies that damage his credibility or the desire of people to use a platform associated with him, and from which he will derive financial benefit, TMTG's results of operations, as well as the outcome of the proposed business combination, could be adversely affected," a statement said.
Newsweek reached out to DWAC by email for comment.