The recusal of one of Donald Trump's lawyers in the Mar-a-Lago classified documents case is being called "a clear harbinger of charges" by one legal expert.
According to a Saturday report from The Washington Post, Evan Corcoran, one of the top lawyers working on behalf of Trump, recused himself from representing the former president in the classified documents case. This came after he spoke before a federal grand jury last month.
The Department of Justice (DOJ) and special counsel Jack Smith are leading the investigation into Trump's alleged mishandling of classified documents after he left the White House in 2021. Last August, the FBI executed a search warrant at Trump's Mar-a-Lago residence in Florida, finding numerous classified materials kept in substandard conditions. It was also later found that Trump had failed to return the documents despite multiple requests from the government. The former president has maintained his innocence in the case, claiming that he had the right to retain the documents and that many had been declassified.
Following the news of Corcoran's recusal from the documents case, numerous legal experts and analysts took to social media and said that the move was a clear sign that charges will soon be leveled. This, they said, is because Corcoran would have to recuse himself if he was expected to be called as a witness at a future trial.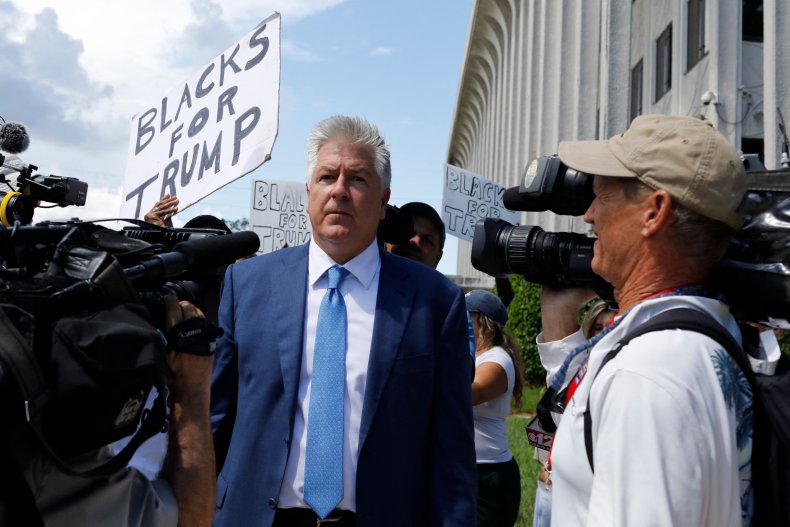 "BIG sign today that the Mar-a-Lago case is headed toward indictments and trial: Trump lawyer Evan Corcoran is recusing himself from representing Trump in the case," Tristan Snell, a lawyer and analyst for various news networks, wrote in a tweet on Saturday evening. "Why is that important? Because a lawyer cannot rep a client at trial if they will likely be a WITNESS at trial."
"Was waiting for this – a clear harbinger of charges coming down the pike; you cannot be a lawyer and a witness on a case," veteran DOJ attorney Andrew Weissman tweeted, to which fellow lawyer and constitutional scholar Laurence Tribe responded, "Uh Oh!"
"This is a long overdue step," former U.S. Attorney Joyce Vance said during an appearance on MSNBC. "It's been very puzzling to see Evan Corcoran, who knows better, continuing to represent the former president of the United States in a criminal where Corcoran is a material witness. Their interests are adverse. He shouldn't be working for Trump in that case and this reflects the reality of his situation."
Meanwhile, Corcoran will continue to represent Trump in other cases, including the DOJ probe into his alleged hand in fomenting the January 6, 2021, riot at the U.S. Capitol.
In a statement made to Newsweek on Sunday, a spokesperson for Trump dismissed the reports about Corcoran and the "unnamed sources" that they cited, claiming that they "have no idea what's actually going on."
"These unnamed sources have no idea what's actually going on and are peddling disinformation," the spokesperson wrote. "It is sad, pathetic, and morally corrupt. They should go back to being bottom feeders instead."
Updated, 04/16/2023, 4:38 p.m. ET: This article has been updated with comment from Trump's team.