A lawyer representing Donald Trump in a different legal case was confronted on Sunday about the former president's online attacks against Manhattan District Attorney Alvin Bragg.
Bragg, following a lengthy investigation by himself and his predecessors, issued 34 felony charges against Trump for falsifying business records last week, the first criminal indictment ever issued for a former president. The charges stem from accusations that Trump unlawfully altered records to hide a payment made by his former lawyer, Michael Cohen, to adult film star Stormy Daniels to keep her quiet about an affair the two allegedly had. Trump has insisted that no affair ever took place and dismissed the validity of Bragg's case, and in the wake of his historic indictment, he has taken to social media to attack the district attorney.
In various posts made to Truth Social, Trump attacked Bragg as politically motivated and "a Soros-funded animal," the latter evoking both racist language and antisemitic conspiracy theories. George Soros is a European businessman of Jewish descent, noted for his many contributions to left-wing political causes. Trump, at one point, also shared an altered image that depicted himself wielding a baseball bat against Bragg, which he later deleted.
These posts raised alarm among many observers, some of whom accused Trump of attempting to incite violence against an official investigating his conduct. Several of his lawyers have also been confronted about the posts and how they might harm Trump's case. On Sunday, attorney Jim Trusty was asked a similar question on ABC News's This Week about the former president's "aggressive" posts. Trusty is representing Trump in the Mar-a-Lago classified documents case being handled by the Department of Justice (DOJ).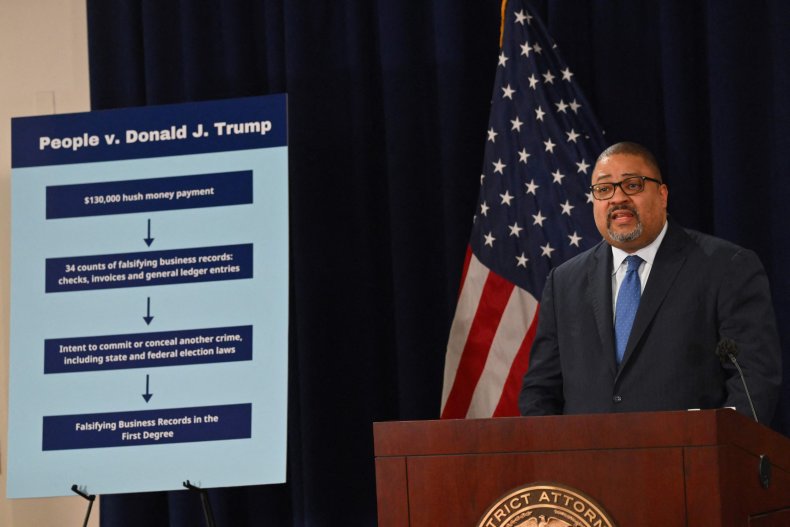 In response to the host's question, Trusty insisted that he worked in the "legal lane" and not the "political lane," then echoed accusations made against Bragg from other Republicans, including that he has been politically motivated in pursuing the charges against Trump and that Cohen was not credible as a key witness.
"It is an absurd situation that multiple prosecutors passed by this rancid ham sandwich of an indictment and Alvin Bragg suddenly decides to do it," Trusty said.
Trusty was confronted with a similar question on Fox News last weekend, with host Shannon Bream, a lawyer herself, stating that she would not want a client behaving as Trump has been on Truth Social.
"Well look, the [former] president's a big believer in free speech, as you know, he's got strong opinions," Trusty said. "I think he's very frustrated for some of his very loyal employees being caught up in the machinery of persecution, and so he feels strongly about it."
Newsweek reached out to the Manhattan district attorney's press office for comment.