One day after he was arrested and arraigned on 34 counts of falsifying business records, Donald Trump is calling for Republicans to "defund" the FBI and Department of Justice (DOJ).
Trump on Tuesday became the first former or current U.S. president to face criminal charges. He is alleged to have falsified records related to hush-money payments to former adult film star Stormy Daniels and former Playboy model Karen McDougal prior to the 2016 election.
Hours before he appeared in a Manhattan courthouse, the former president suffered a legal hit in another case when he lost an attempt to keep former aides from testifying to a grand jury as part of Special Counsel Jack Smith's probe into his alleged involvement in the January 6, 2021, U.S. Capitol riot.
"REPUBLICANS IN CONGRESS SHOULD DEFUND THE DOJ AND FBI UNTIL THEY COME TO THEIR SENSES," Trump wrote Wednesday morning on Truth Social. "THE DEMOCRATS HAVE TOTALLY WEAPONIZED LAW ENFORCEMENT IN OUR COUNTRY AND ARE VICIOUSLY USING THIS ABUSE OF POWER TO INTERFERE WITH OUR ALREADY UNDER SIEGE ELECTIONS!"
Smith is reportedly nearing the final stages of his investigation, legal analyst Harry Litman, a former U.S. attorney and deputy assistant attorney general, told MSNBC's Morning Joe on Tuesday.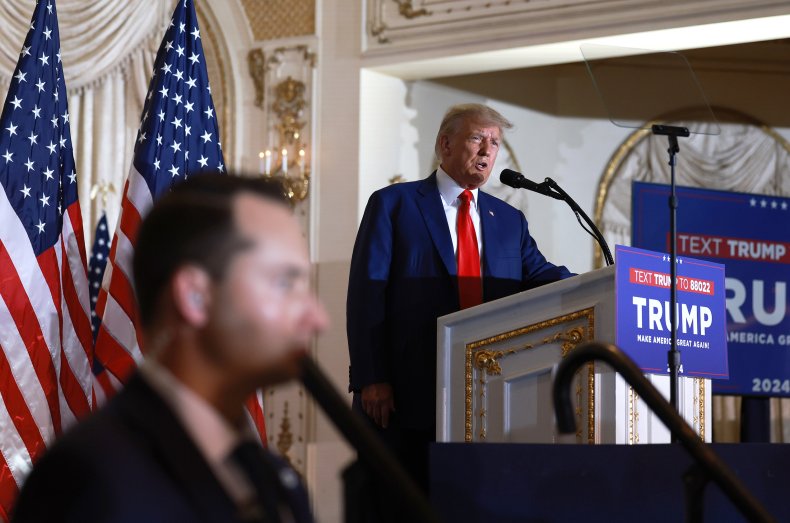 Trump's call to defund federal agencies is antithetical to the long-held GOP view that police departments should receive more money, not less, for the hiring of officers to deter crime.
Those who have pushed for the defunding of police have called for eliminating entire departments, or to reshuffle funds to disproportionately affect the number of the officers and their functions.
But Trump's calls have recently been adopted by others in the GOP, including close Trump ally Representative Jim Jordan of Ohio.
"We control the power of the purse, and we're going to have to look at the appropriation process and limit funds going to some of these agencies, particularly the ones who are engaged in the most egregious behavior," Jordan told Fox News' Maria Bartiromo on Sunday Morning Futures after being asked what his committee can do against the alleged "weaponization of government."
The chairman of the House Judiciary Committee previously rebuked calls for defunding following the police killing of George Floyd in Minneapolis in 2020, and in January condemned defunding police departments by discouraging individuals who want to become officers and aid the public.
"My principal reaction to these transparently performative and manifestly unconstitutional calls to take down all the remaining federal checks on criminal abuses of power by Trump and his unprincipled followers is that they signal desperation as the rule of law that Trump, Jordan, [House Speaker Kevin] McCarthy, [Representative Marjorie Taylor] Greene, and their tawdry band fail to appreciate closes in on the leader of their gang," Laurence Tribe, professor emeritus at Harvard University, told Newsweek via email.
"For any of that mob to pretend they object to 'weaponizing law enforcement' after what they cheered on Bill Barr for doing is not just rich, it's laughable," Tribe added.
David Kwok, associate law professor at the University of Houston, told Newsweek via phone that Trump seems "frustrated" and there are "perhaps some questions about the interplay of politics and the legal sphere."
Kwok said that most white-collar defendants are "risk averse" and when dealing with litigation want to resolve in master settlements as a preferred resolution path. In Trump's case, he is a current candidate for president and though his criminal legal liability is independent of his political future, the electorate will have opinions.
"The former president's priorities must be the legal priority….I think the priority is getting attorneys to represent him that have the reputation and the experience and are trusted by these other jurisdictions that are investigating him," Kwok said.
Andrew Lieb, a New York-based attorney, told Newsweek via email that the irony of the "law and order party" that previously mocked Democrats about defunding law enforcement is "astounding."
"Additionally, let's all understand that our criminal justice system is flawed and there are times, like when Jack Smith just won a battle with Trump over executive privilege being overcome in forcing former aides to testify, that we learn that the system is perfect for everyone, as a whole, while it often feels imperfect for anyone, as an individual," Lieb said.
"We need reforms, but reforms don't require tearing down the entirety of our system or undermining its legitimacy. Instead, all politicians [future, current and past] need to support the bedrocks of our system and all need to be forceful in their response to Trump's current nonsensical call to defund the DOJ and FBI."
James Brosnahan, a California-based attorney with 60 years of experience and involvement in jury trials, told Newsweek via phone that Trump's continued use of social media while already arraigned is "unusual," in his experience.
"Usually, when people are actually in court and so forth, there's something that comes over them….Is he helping his case with a jury? I have to say no, he's not helping his case," Brosnahan said. "But is he doing something else? Is he getting ready to have a third party? Is he again going to claim he is being cheated out of something?"
Trump's calls, such as those for protests or "death and destruction," might help with a couple of jurors, Brosnahan said. "But making comments like that in a place like New York is risky legally.
"This is gonna hurt him with certain jurors and most people are not anxious to jump over the barricades in America at the moment. It's not wise."
Update 4/5/23, 4:48 p.m. ET: This story was updated with comment from James Brosnahan.