An influential evangelical leader suggested Donald Trump is harming his 2024 chances by softening his stance on abortion while criticizing the former president for his "disastrous" CNN town hall comments on restricting the procedure.
Bob Vander Plaats, CEO of the Iowa-based Family Leader organization, was discussing whether the GOP needs to "turn the page" on Trump over claims he is alienating the conservative pro-abortion community during an appearance on NewsNation's The Hill.
Plaats suggested that the first-in-the-nation Republican presidential primary caucus in Iowa next February has been "flung wide open" as Trump fails to provide a hardline view on bringing in further restrictions against abortion after the Supreme Court voted to overturn Roe v. Wade last June.
Platts also condemned Trump for dodging a question on whether he would try to introduce a federal abortion ban if reelected to the White House during his recent CNN town hall appearance.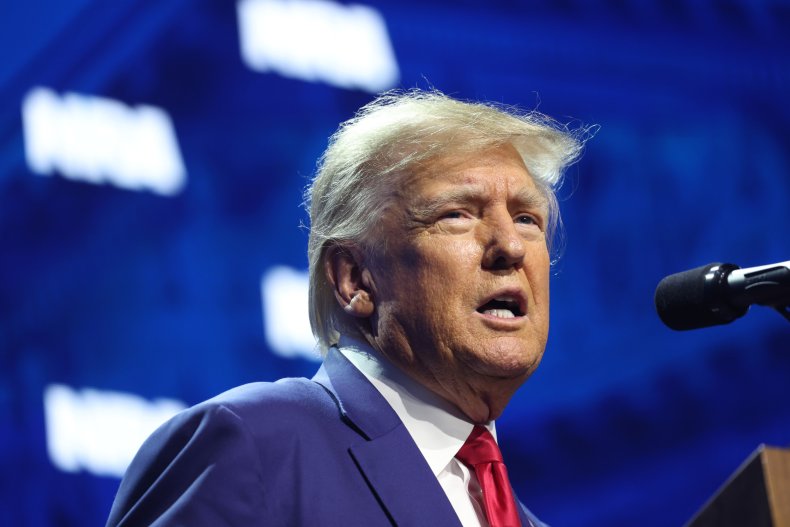 In the wake of the 2022 midterm election, Trump blamed the "'abortion issue,' poorly handled by many Republicans" for the reason the GOP underperformed and failed to retake control of the Senate and only achieve a marginal majority in the House rather than the predicted "red wave" of congressional victories.
Trump also appeared to blame evangelicals and conservatives who "pushed so hard, for decades, against abortion," who then "just plain disappeared" after Roe v. Wade was overturned.
In a recent interview with The Messenger, Trump also said the recent bill signed into law by Governor Ron DeSantis—widely expected to be the former president's main challenger in the 20204 GOP primary—banning abortion after six weeks was "too harsh."
"The former president could take a victory lap by just saying, 'Hey, look at I'm the guy who gave you three Supreme Court justices that overturned Roe v. Wade. But instead, he then alienates himself from the pro-life community by saying you're the reason we didn't do better in 2022," Plaats said.
"Then just recently saying that Ron DeSantis, who signed a heartbeat bill in the state of Florida, that that was too harsh. The pro life community expects better than that," Plaats added. "I thought his answer to the pro-life issue on the CNN town hall was a disaster as well. That's why I think the Iowa caucus door has flung wide open for people to take a look at who should be our nominee."
During the May 10 CNN town hall, moderator Kaitlan Collins repeatedly tried to get the Republican to state whether he would bring in a federal abortion ban if elected president, which he didn't give an accurate answer to.
"President Trump is going to make a determination what he thinks is great for the country and what's fair for the country," Trump said. "We are in a very good negotiating position right now, only because of what I was able to do.
"You have people on both sides of an issue. But we are now in a very strong position. Pro-life people are in a strong position to make a deal that's going to be good and going to be satisfactory for them."
Evangelical Republicans, who are a key demographic for Trump and were crucial to his 2016 election victory, will continue to be pivotal to the former president as he attempts to fend off DeSantis in the GOP primary.
Elsewhere, Plaats was asked on NewsNation about his previous comments suggesting the 2024 GOP nominee should not be someone whose "entire focus is pay back for what happened in 2020" and if this means it should be "anybody" but Trump.
"Well, I stand by that comment," Plaats said. "I think we're gonna have a conversation about what happened in the past or vengeance about what happened in the past versus about a compelling vision for the future, we're gonna get beat in 2024.
"America is exhausted, [voters] are tired of it. I think they want to turn the page to the next generation leader, someone who's got a compelling vision that might unite America," Plaats added.
Newsweek has contacted Trump's office for comment via email.