The attorney representing Donald Trump in a probe by the Manhattan District Attorney over his alleged involvement in hush money payments made to Stormy Daniels could be facing a conflict of interest after it was revealed that the former adult film star had approached him to represent her after the allegations were originally made public.
In a Friday afternoon tweet, Ryan Goodman, a former special counsel with the Department of Defense, noted that Trump attorney Joe Tacopina had previously admitted on national television to having a prior attorney-client relationship with Daniels, and, therefore, attorney-client privilege.
"I can't really talk about my impressions or any conversations we'd had because there is an attorney-client privilege that attaches even to a consultation," he told CNN's Don Lemon in a 2018 interview.
Under New York State ethics law, lawyers are forbidden from sharing any details of conversations relating to a client's case, even if they ultimately decline to represent them. In this instance, Tacopina could allegedly use insight from meetings he admitted they'd had to help bolster his new client's case against her in what observers call a clear violation of New York's ethics laws.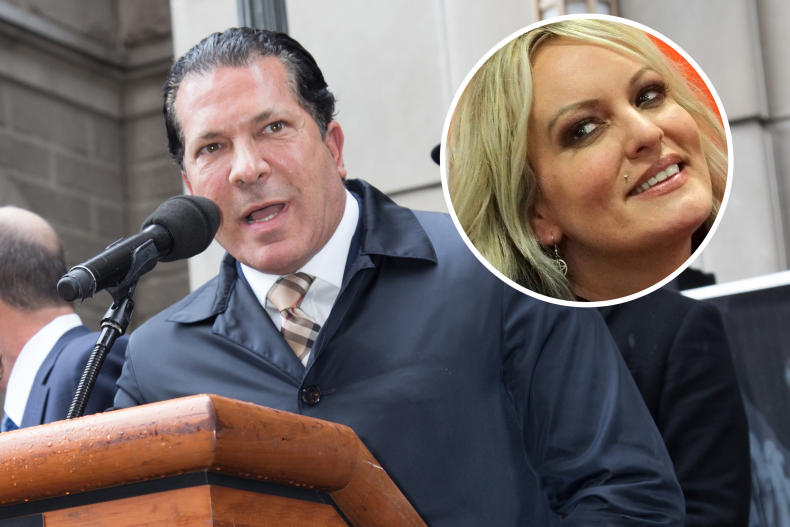 "If an attorney had even preliminary but protected communications with Ms. Daniels about the Trump payment matter, that attorney would very likely have a conflict of interest in later representing Trump in the same matter or involving the same issues," former federal prosecutor Michael McAuliffe told Newsweek. "The attorney could not ethically use any information obtained during privileged communications against a former client."
"Joe Tacopina will have a difficult time explaining how he can't reveal his prior discussions with Ms. Daniels because they are protected by the attorney-client privilege, but he can know the information obtained from Daniels and still represent Trump," he added. "The two assertions appear incompatible both under the ethics rules and using common sense."
Newsweek reached out to Tacopina's law firm for comment.
The revelations come amid increasing speculation Trump could potentially be indicted by Manhattan District Attorney Alvin Bragg over his role in allegedly directing his former associate Michael Cohen to deliver Daniels the payments during the 2016 election cycle.
On Friday, NBC News cited five senior officials who said that local, state and federal law enforcement officials were already preparing for the possibility Trump could be indicted as early as next week following the former president's invitation to testify before a grand jury this month. It's what some have described as the "last stop" before a criminal indictment.
Tacopina has downplayed the potential charges against his client, saying they were "much ado about nothing."
"It's just another example of them weaponizing the justice system against him," Tacopina said earlier this month. "And it's sort of unfair."
If Trump were to successfully argue that case, he'd likely have to do it without Tacopina—particularly given his prior relationship with one of the key witnesses in the Manhattan District Attorney Alvin Bragg's case against him.
"If Daniels did consult with Trump's lawyer, and if she did seek legal advice or provide confidential information, then the attorney-client privilege attached and there is an actual conflict of interest," Neama Rahmani, a former federal prosecutor, told Newsweek.
"Daniels would be a witness, maybe the key witness, in a criminal case brought by the Manhattan District Attorney's Office," he added. "Trump's lawyer would have to withdraw from representing Trump, and if he did not voluntarily do so, Daniels or prosecutors could file a motion to disqualify him."