A judge appointed to the bench by Donald Trump took issue with wording used by the House Judiciary Committee's legal team in a case brought against committee Chairman Jim Jordan by Manhattan District Attorney Alvin Bragg.
U.S. District Judge Mary Kay Vyskocil asked committee attorney Matthew Berry if Jordan's description of Bragg's investigation of Trump needed to be described as "politically motivated," according to a Twitter thread by Law & Crime Managing Editor Adam Klasfeld.
Kay reportedly asked, "Doesn't it politicize it on your side as well?"
Bragg filed a suit last week against Jordan and other Republicans on the Judiciary Committee, arguing that they were trying to interfere in his prosecution of Trump for political reasons. In early April, Bragg charged Trump with 34 felony counts of falsifying business records in connection with his alleged role in a hush money payment to an adult film star just before the 2016 election. At his arraignment, Trump pleaded not guilty to the charges and has denied any wrongdoing in the case.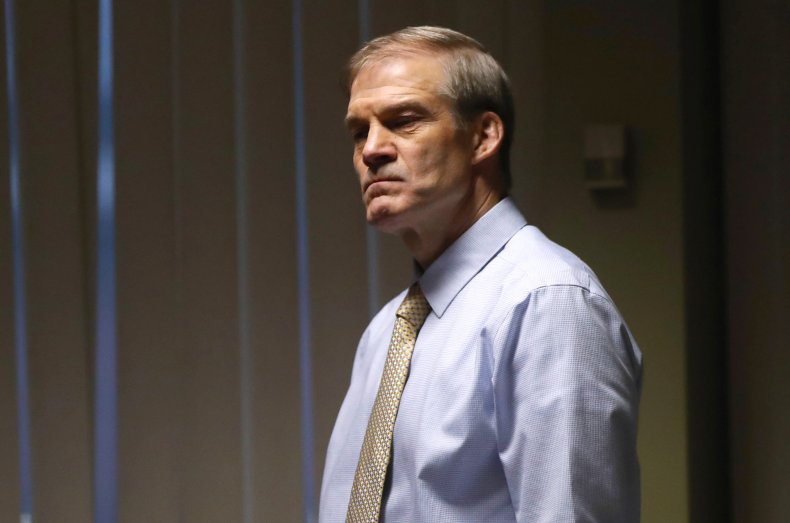 Jordan has subpoenaed a former New York prosecutor who was involved with Bragg's investigation to testify before the Judiciary Committee. Bragg's lawsuit seeks to block that subpoena, saying that it's an "unconstitutional attack" on his ongoing investigation.
Klasfeld later wrote on Law & Crime that Vyskocil interrupted Bragg attorney Theodore Boutrous "repeatedly throughout" the hearing and accused him of "playing politics."
However, Berry "didn't have an easy reception either," according to Klasfeld.
Vyskocil reportedly asked how the House Judiciary Committee could be arguing for an investigation regarding Bragg's case when it had already introduced a bill.
"If you already introduced the bill, why do you need testimony?" Vyskocil asked Berry.
Klasfeld also reported that Vyskocil told Berry that he had to admit that it was "somewhat unusual" for Congress to conduct oversight of a local prosecutor.
In 2018, Trump appointed Vyskocil to the U.S. District Court for the Southern District of New York, and the Senate confirmed her in 2019. Before the appointment, Vyskocil served as a bankruptcy judge.
She previously oversaw a case involving Karen McDougal, a former Playboy model who has said that she had a sexual affair with Trump, which he denies. McDougal sued Fox News for defamation over a 2018 show in which host Tucker Carlson accused her of extorting Trump. Vyskocil sided with Fox News in the case, ruling that Carlson's remarks were protected by the First Amendment.
Wednesday's hearing ended after an hour without a ruling, but Vyskocil said she would publish a decision "as promptly as I can."
Newsweek reached out to Berry and the Manhattan District Attorney's Office via email for comment.