Arrest warrants have been issued by the International Criminal Court (ICC) for three Russian individuals who allegedly committed war crimes during the 2008 Russo-Georgian War, the court announced Thursday.
The three suspects—Lieutenant General Mikhail Mindzaev, Gamlet Guchmazov and David Sanakoev—reportedly served in the government of the Russian-backed self-declared republic of South Ossetia. Mindzaev and Guchmazov held the top positions at the Ministry of Internal Affairs of South Ossetia while Sanakoev served as the region's presidential representative for human rights, the Associated Press reported.
The announcement came one day before the ICC issued arrest warrants against Russian President Vladimir Putin and Maria Alekseyevna Lvova-Belova, the commissioner for children's rights in Putin's office, both for their purported actions involving the war in Ukraine.
"This is a big day for the many victims of crimes committed by Russian forces in Ukraine since 2014," Balkees Jarrah, associate international justice director at Human Rights Watch, told Newsweek. "With these arrest warrants, the ICC has made Putin a wanted man and taken its first step to end the impunity that has emboldened perpetrators in Russia's war against Ukraine for far too long.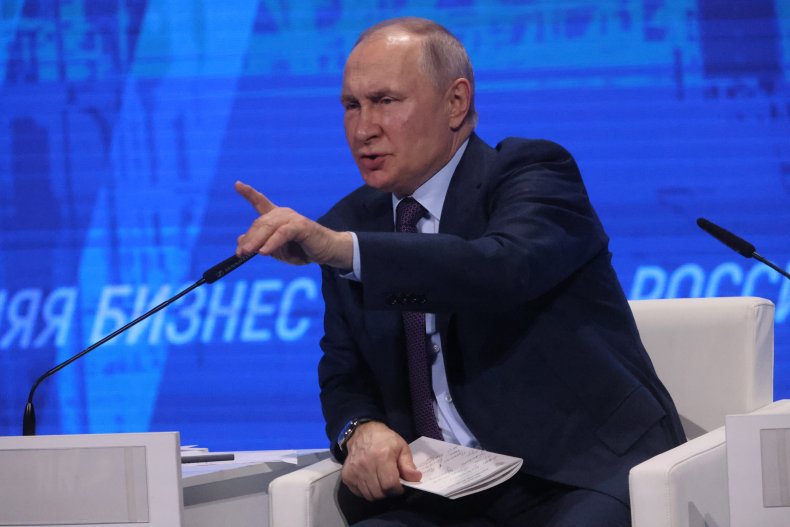 "The warrants send a clear message that giving orders to commit or tolerating serious crimes against civilians may lead to a prison cell in The Hague. The court's warrants are a wake-up call to others committing abuses or covering them up that their day in court may be coming, regardless of their rank or position."
Mindzaev and Guchmazov face charges of unlawful confinement, torture and inhuman treatment, outrages upon personal dignity, hostage-taking, and the unlawful transfer of civilians. The alleged crimes took place between August 8 and 27, 2008, the ICC said.
The investigation into the three men's alleged crimes began in 2016. A ruling was ultimately made by ICC judges on June 24, 2022, before going public on Thursday with the conclusion that there were "reasonable grounds to believe that each of these three suspects bears responsibility for war crimes."
"There are reasonable grounds to believe that civilians perceived to be ethnically Georgian were arrested in the South Ossetian part of Georgia, and subsequently detained, mistreated, and kept in harsh detention conditions," the Hague-based court said in a statement.
"The 2008 conflict over South Ossetia took a terrible toll on civilians, many of whom continue to pay the price," Rachel Denber, deputy director of the rights group's Europe and Central Asia Division, told the AP.
"The ICC warrants are an important step, which has been a long time coming, to hold individuals implicated in the campaign of violence that forced nearly 20,000 ethnic Georgians from their homes to account."
The United Nations High Commissioner for Refugees said several hundred people died during the five-day conflict in 2008, while another 120,000 were displaced. It began when fighting broke out between the neighboring countries in northern Georgia's contentious South Ossetia territory.
Putin is allegedly responsible for the war crime of the unlawful deportation of children from occupied areas of Ukraine to the Russian Federation, which was allegedly committed since the war began on February 24, 2022.
"There are reasonable grounds to believe that Mr. Putin bears individual criminal responsibility for the aforementioned crimes: for having committed the acts directly, jointly with others and/or through others; and for his failure to exercise control properly over civilian and military subordinates who committed the acts, or allowed for their commission, and who were under his effective authority and control, pursuant to superior responsibility," the court said in a statement.
Lvova-Belova is also accused of the unlawful deportation and transfer of children from Ukraine's occupied areas into Russia.
On Thursday, the Independent International Commission of Inquiry on Ukraine issued a new report alleging that "Russian authorities have committed a wide range of violations of international human rights law and international humanitarian law in various regions of Ukraine, many of which amount to war crimes."
Such alleged crimes include attacks on civilians and energy-related infrastructure; willful killings; unlawful confinement; torture, rape and other sexual violence; and the unlawful transfers and deportations of children, as described by the ICC.
The commission said it visited 56 locations and interviewed 348 women and 247 men as part of its investigation.
"Evidently, ensuring justice through international justice mechanisms is neither fast nor straightforward—particularly when there is no simple way of enforcing such decisions by the ICC," Denis Krivosheev, deputy regional director of research at the Eastern Europe and Central Asia Regional Office of Amnesty International, told Newsweek.
"However, history does not end here," he added. "In fact, today's decision by the ICC to issue [an] arrest warrant against Vladimir Putin makes history. We will watch intently to see what it means in terms of justice for war crimes, past and present, but I am sure that from today we are one step closer to it."
There have thus far been 31 cases before the court, with some cases having more than one suspect.
According to the ICC, 31 war crimes cases have appeared before the court and 38 arrest warrants have been issued. Of those, 21 individuals have been detained and appeared before judges while 14 remain at large.
Charges were dropped against five individuals due to their deaths. Along with the issuance of nine summonses for individuals to appear, judges have issued 10 convictions and four acquittals.
Newsweek reached out to the ICC via email for comment.
Update 3/17/23, 3:14 p.m. ET: This story was updated with comment from Human Rights Watch.