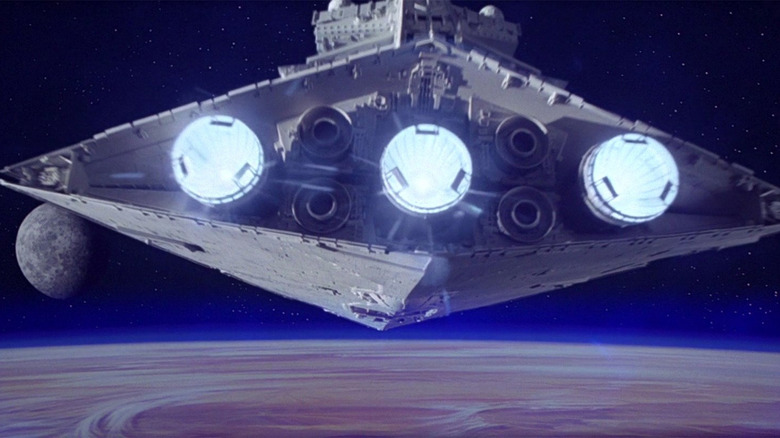 Lucasfilm
John Williams began his film composing career in 1958, working on Lou Place's J.D. film "Daddy-O." He was credited as "Johnny Williams," and he was only 26. From there, Williams — a Juilliard graduate — began a prolific, decades-long life of music that included writing hundreds of film scores and TV themes, as well as conducting concerts and making some of the most memorable music in the history of filmed media. He has worked for Don Siegel, Frank Sinatra, Irwin Allen, Gene Kelly, Clint Eastwood, Steven Spielberg, John Frankenheimer, Richard Donner, George Miller, Barry Levinson, Oliver Stone, John Singleton … and dozens of other notable filmmakers besides. Indeed, introducing Williams at all seems a churlish exercise, as some his scores and themes have become hummable, eternally recognizable elements of the pop consciousness.
Williams is responsible for the main theme for George Lucas' 1977 film "Star Wars," handily one of the most popular films of all time. Williams' broad, easy-to-absorb orchestral style stood in direct contrast to synthesized and electronic music that was frequently heard in the sci-fi genre. Williams didn't employ keyboards or theremins, but trumpets and kettle drums. It was a score of fanfares, threats, and victories. Indeed, there are few moments of true silence in "Star Wars," with Williams' score dictating much of the film's emotions. Indeed, clever amateur editors have removed Williams' music from key scenes in "Star Wars," just as an aesthetic experiment, and the newfound awkwardness is palpable. The music was essential.
In a recent interview with CNN's Chris Wallace, Williams, 91, revealed that he tends to compose the music for films backwards. The body of the film comes first, he said, with the "heraldic theme" written at the very end. So it makes sense that the opening "Star Wars" fanfare was the last piece he put together for the movie.
Working backwards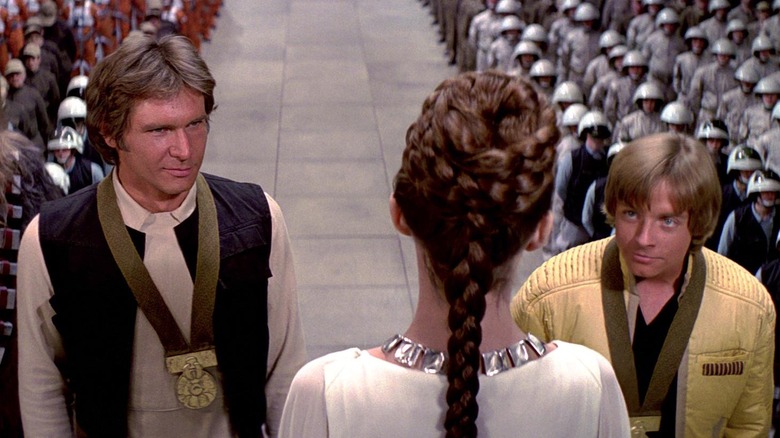 Lucasfilm, Ltd.
It seems that working backwards is Williams' usual way of composing. He will score the more action-forward scenes first, finding the characters' theme within. He will then backward engineer all the music he already wrote into a theme that encapsulates the tone of the film in question. While he doesn't always work this way — he composed the "Hedwig's Theme" for the Harry Potter movies more or less as a demo — it certainly aided him in creating the heroic opening to "Star Wars." He said:
"I really work backwards. Because this piece is the last piece I wrote in the process of writing and hour and a half of music. I couldn't seem to get a sort of heraldic theme that had the heroic aspect of it that the orchestra could present in a short period of time. We didn't have two hours to play a symphony and have a finale to it. And I finally, in desperation really, just worked out this thing which jumps a fifth "do, so," then jumping up to "do" again and octave higher. If I had a piano I could show you."
Williams has re-used that same theme for nine additional "Star Wars" movies, and the heroic "do so" combination plays right at the head of eight of them (it was not part of Ron Howard's 2018 film "Solo: A Star Wars Story" or "Rogue One"). Williams conducted the "Star Wars" score with the London Symphony orchestra, and he, perhaps modestly, gives most of the credit to the orchestra's primary trumpet player, name unrevealed, who actually performed the notable fifth. Starwoids the world over will happily claim that Williams' fifth is burned into their brains.
The heroic principal trumpet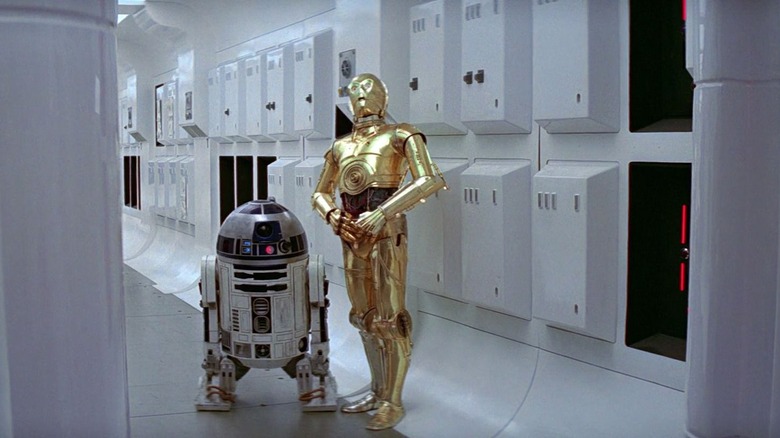 Lucasfilm, Ltd.
As it so happens, the London Symphony Orchestra's principal trumpet player for the "Star Wars" recording was named Maurcie Murphy, and "Star Wars" was his very first day on the job. In the original 1977 movie, it will be the late Murphy's solo that you are hearing. Williams is on record praising Murphy, who also performed for Williams on five additional "Star Wars" movies, as well as 1978's "Superman," and 1981's "Raiders of the Lost Ark." Murphy also performed for the films "Alien," Danny Elfman's "Batman," and "Gangs of New York."
Williams was sure to give the trumpeter due credit, feeling that he was a little out of place conducting the London Symphony Orchestra. Going back to the details of the theme, Williams said:
"That seemed to me to be a direct, strong, heroic, clear, sonorous sound from the orchestra. And I smile when I hear it. There's just an "inside thing," and it is a particularly electrifying brass interpretation. I don't know how much credit I can take for that, but the great brass section of the London Symphony excited over … maybe not me not me conducting, but the arrival of the new principal trumpet in this heraldic phrase."
Williams previously said that the score for the upcoming film "Indiana Jones and the Dial of Destiny" was to be his final film score, and that he was interested in working more on orchestral work for the rest of his career. He recently walked that back, however, keeping the window open for additional opportunities to work with Steven Spielberg, the director he has worked with most heavily since around 2001. Williams may be 91, but he seems eager to keep on inventing new heroic fifths.