One Texas nursery is feeling the brunt of America's crime surge – Garden Seventeen in Austin, Texas has suffered from four separate robberies in two months, amassing to $49,000 in stolen goods.
BUSINESSES TAKE DRASTIC ACTION TO PROTECT AGAINST RAMPANT SHOPLIFTING, ORGANIZED CRIME THEFTS
"It's been really difficult. Everything from product disappearing to damage to our store itself. Each time he seems to get a little bit more maybe aggressive or brazen in his actions. It's been pretty difficult," owner Rodney Stoutenger explained during his appearance on "Mornings with Maria," Friday.
Garden Seventeen's fourth robbery took place on February 20th – and the owner is firm that the string of robberies points back to a single perpetrator.
"It is the same person, like you can see in some of the videos there, it's the same guy over and over again. And he's able to, you can see in a few of the videos he's got very distinctive tattoos on his neckline and baseline and such. And each time it's the same," he explained to host Maria Bartiromo.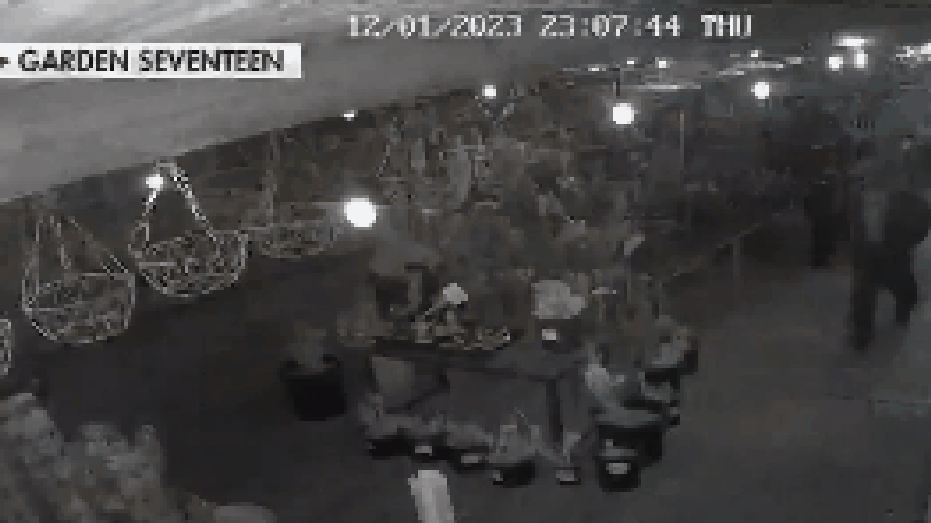 The store owner continued, noting that some surrounding local businesses have helped Garden Seventeen in providing their security resources to help pinpoint the likely repeat offender.
NYC WALGREENS STORE KEEPING ICE CREAM IN CHAINED FREEZER, LOCKING UP CANDY AMID ONGOING SHOPLIFTING FRENZY
"There's a few other local businesses with us who we've all kind of shared our security footage together as well, and we've been able to identify him in their spaces as well. So, you know, I'm really hoping that this is this just comes to an end soon," he said Friday.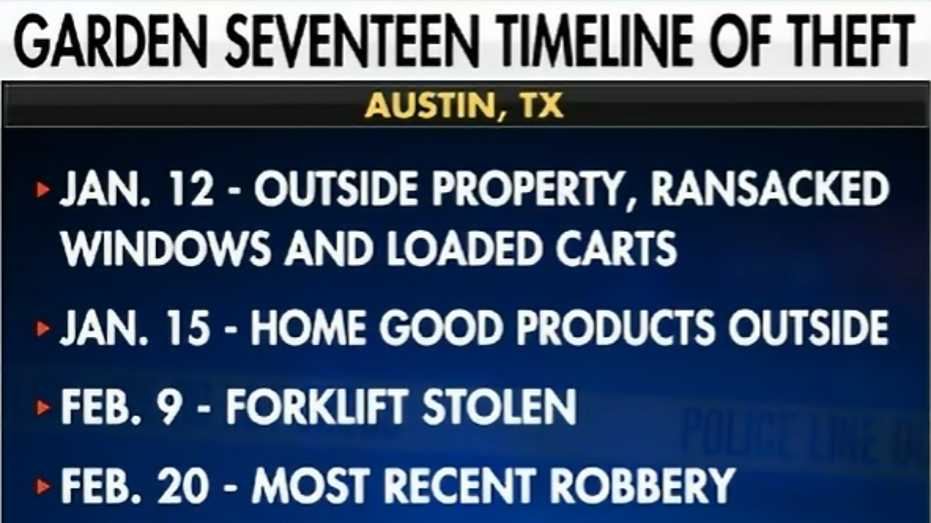 In an effort to further prevent routine theft, Garden Seventeen owner is doing "everything" he can to ward off criminals, including adding additional lighting and surveillance cameras around his business property.
"Unfortunately, we're having to break down displays and put them inside, which means labor to re-set them up the next day," the store owner said Friday.
AS WALMART CEO WARNS OF CRIME WAVE'S IMPACT ON RETAIL, REPORTS SHOW HOW THIEVES BRAZENLY RIP OFF STORES
"We're doing things like adding additional lighting along our perimeter, hoping that that will deter him. We've gotten, you know, about six additional cameras added in At this point. We're… planning to add about another 6 to 8 on the property as we continue to learn areas of vulnerability for us."
Stoutenger concluded, remarking that with Garden Seventeen's ongoing security adjustments and repairs, the financial retribution for the crimes has risen to "about $54,000."
"We've calculated up to about $49,000 at this point due to the most recent one just a couple of days ago. As we continue to make those adjustments and repairs, I would say we're up to about $54,000 at this point, unfortunately. And, you know, it's a difficult one hopping around. We're still waiting on insurance reimbursements and such and being a small business, being out that much cash is really difficult for a small business like us," Stoutenger said.
CLICK HERE TO READ MORE FROM FOX BUSINESS