A ruling by a district judge suspending approval for America's most commonly-used abortion pill is based on safety concerns about the drug raised in a lawsuit brought by "doctors and national medical associations that provide healthcare for pregnant and post-abortive women and girls," it says. But other doctors have spoken out against the judge's decision, claiming the pill is safer than many over-the-counter medications.
On Friday, Matthew Kacsmaryk, a Texas-based judge appointed by former president Donald Trump, ordered a hold on the approval of mifepristone by the Food and Drug Administration (FDA), despite the medication having federal approval since 2000. The decision was met by an opposing ruling by another district judge in Washington, and the federal government has vowed to appeal the decision.
The ruling is the latest in an ongoing nationwide debate about abortion rights that the U.S. Supreme Court reignited last year with its decision to overturn Roe v Wade, allowing individual states to choose their own legal status on the issue. While anti-abortion groups welcomed the decision, many medical professionals and abortion rights activists have spoken out against it.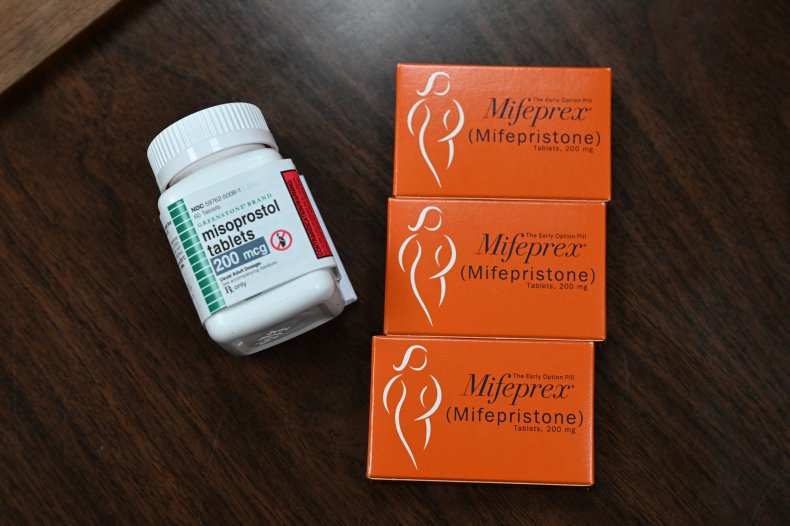 "This decision is not based in medicine or science—it's based in political ideology," Dr. Smita Carroll, an OBGYN in New Mexico and a Physicians for Reproductive Health fellow, told Newsweek. "It's clear that the decision that's attempting to be made is to ban abortion care. That's always the route of anti-abortion extremism… and so this is one part of that same goal."
Dr. Jennifer Lincoln, an OBYGYN and author, described Kacsmaryk as a "coward" for waiting until a Friday before a holiday weekend to submit his decision.
Newsweek reached out to Kacsmaryk and the U.S. District Court for the Northern District of Texas via email for comment on Saturday.
Mifepristone has been widely available in the U.S. as one of two Food and Drug Administration (FDA) approved pills for medical abortions. Misoprostol is the other.
In his decision, Kacsmaryk said that the FDA had "stonewalled" previous challenges over its approval of the drug, which had led to the lawsuit – which remains ongoing – that prompted his decision.
It cited concerns about the pill's adverse effects by the American Association of Pro-Life Obstetricians & Gynecologists and Christian Medical & Dental Associations, both plaintiffs, and figures produced by the House Subcommittee on Criminal Justice, Drug Policy, and Human Resources in 2006, which said mifepristone had been associated with 8 deaths, 9 life-threatening incidents, and 232 hospitalizations.
Kacsmaryk wrote that the plaintiffs "allege FDA's chemical abortion regimen 'caused' intense side effects and significant complications for their patients requiring medical intervention and attention," adding that "a favorable decision would likely relieve Plaintiffs of at least some of the injuries allegedly caused by [the] FDA."
"Mifepristone is an exceptionally safe medication, as is the process of a medication abortion," Carroll said. "There's been research before and then over the 20 years since the FDA approved mifepristone; we know that it's a safe and effective way to manage medication abortion."
Meanwhile, Dr. Jennifer Gunter, an OBGYN and New York Times columnist, wrote on Twitter that the pill was "the safest drug" yet "has the most regulation." She noted that mifepristone had a mortality rate of 0.65 people per 100,000, while phosphodiesterase inhibitors such as Viagra had a mortality rate of 4 people per 100,000.
Kellen Squire, an ER nurse in Virginia, said that he had not seen a patient with complications due to the drug in his 12 years of service, adding: "I've seen a couple dozen from Viagra! But never—NEVER—mifepristone."
Dr. Ryan Marino, a medical toxicologist, agreed with Gunter's figures, noting that "all available, real-world data has proven mifepristone is actually even safer than many over-the-counter medicines. To say it doesn't pass muster to be approved for human use is to deny objective reality."
Dr. Celine Thum noted that "more people die from acetaminophen," otherwise known as paracetamol or Tylenol. According to the National Library of Medicine, Tylenol is responsible for around 500 deaths in the U.S. each year and 2,600 hospitalizations.
The U.S. has an exceptionally high maternal mortality rate among developed nations, and studies have found that abortion bans and restrictions on abortion healthcare can increase that maternal mortality rate.
In his 67-page ruling, Kacsmaryk cited Wikipedia for definitions of "disease" and "pregnancy," and claimed that mifepristone "halts nutrition, and ultimately starves the unborn human until death."
"That is false," Carroll said. "Ultimately, that sort of language and narrative is intended to perpetuate shame and stigma on the people who are seeking abortion care, as opposed to speaking with the facts of what mifepristone does."
The National Library of Medicine states that mifepristone works by supressing progesterone, a hormone that prepares the uterus for implantation and increases prostaglandins, which can induce menstruation and help dilate the cervix.
However, it is just the first stage of a medication abortion; misoprostol is the second pill, a synthetic prostaglandin, which among various medical treatments can be used to induce cramps that expel the pregnancy.
Contemporaneously to Kacsmaryk's decision, U.S. District Judge Thomas O. Rice, a Barrack Obama appointee, ruled the opposite way in Washington, ordering authorities not to implement any changes that would restrict access to the drug. Democrats had mounted lawsuits to protect access in at least 17 states, according to the Associated Press.
The conflicting judicial decisions leave FDA approval of the drug in uncertainty and are likely to place the issue on a direct path to the U.S. Supreme Court.
The Justice Department has already announced it would be appealing the Texas judge's decision and would seek a stay pending that appeal. It would also be reviewing the decision by the Washington judge.
The FDA is also appealing the decision. In a statement to Newsweek, a spokesperson said the agency "stands behind its determination that mifepristone is safe and effective under its approved conditions of use for medical termination of early pregnancy."
On Friday, Erik Baptist, senior counsel for the Alliance Defending Freedom, a faith-based organization that brought the lawsuit, claimed the FDA "never had the authority to approve these hazardous drugs" and that it was "high time the agency is held accountable for its reckless actions."
The decision was also welcomed by Jeanne Mancini, president of the anti-abortion March for Life, who told the Associated Press on Friday: "The court's decision today is a major step forward for women and girls whose health and safety have been jeopardized for decades by the FDA's rushed, flawed and politicized approval."
Carroll, though, described the decision as "unethical and outrageous," adding: "The intent of this decision is to try to ban access to mifepristone entirely—and that is outrageous because we know mifepristone is a safe medication that is a part of standard care for medication abortions."