A GOP state representative in Texas is facing calls from members of his party to resign following allegations of inappropriate conduct.
Bryan Slaton, who represents the 2nd District in Texas' House of Representatives, is under investigation after an internal complaint was filed alleging that he has been having an inappropriate relationship with a Capitol intern, according to The Texas Tribune.
The complaint followed an alleged incident in which the 45-year-old lawmaker invited the intern to his Dallas apartment and offered her alcohol, although the intern is under the state's drinking age, 21. The complaint was filed to the House's General Investigating Committee by a legislative staffer and has reportedly been backed up by another staffer with direct knowledge of the meeting.
In the wake of the allegations against the conservative legislator, two of his Republican colleagues in the House, Briscoe Cain and Steve Toth, have called for his resignation. The Tribune, a news website, said these calls are particularly noteworthy because Cain and Toth are also considered to be staunch conservatives and have a history of voting along the same lines as Slaton.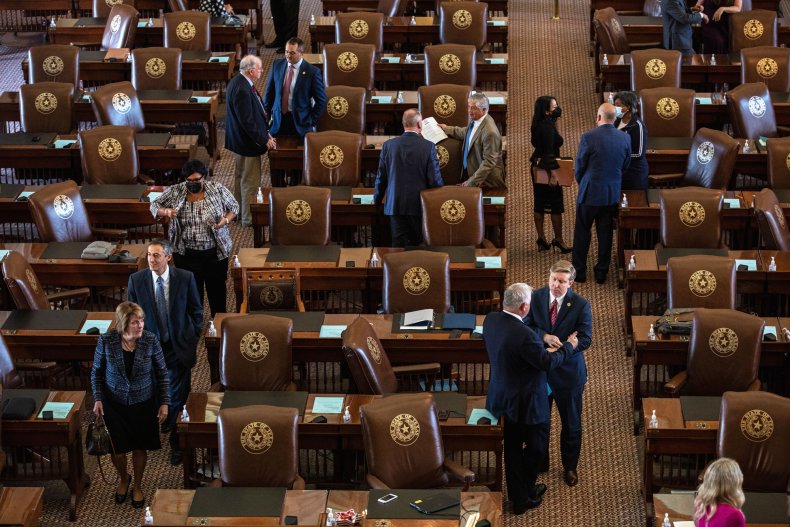 Cain was the first to reference the situation with a tweet this past Friday. While he did not initially name the lawmaker involved, he later confirmed that he was referring to Slaton.
"I am absolutely furious at a Republican whom I believe to be a sexual predator," Cain wrote. "I've never been so ticked off at another legislator."
Toth added his opinion with a post on Tuesday morning, explicitly calling for Slaton to resign. In an interview later in the day, he said that the allegations had humiliated Slaton's wife and that he needed to step down to focus on his family.
"The past few days in the Texas House screams of everything that's wrong with a small segment of its elected officials," Toth wrote. "Unfortunately calling the behavior of @BryanForHD2 'inappropriate' is a gross understatement. He needs to resign."
In addition to the two Republicans, Democratic state Representative Ana-Maria Ramos has called for Slaton to resign.
Slaton dismissed the allegations as "false and outrageous," according to the Tribune. He has yet to comment on the growing calls for him to step down.
Newsweek reached out via email to an attorney working with Slaton for further comment.
In addition to the allegations about the meeting at Slaton's apartment, the complaint says he showed the intern fake emails relating to the encounter a few days after it occurred. This was done as some sort of loyalty test for the intern, according to the complaint. Slaton then asked that the intern not speak about the situation to anyone.
A representative for the intern has been advised to not speak about the matter at this time, according to the Tribune.