Two moose have been captured on camera paying an unexpected visit to a homeowner in Spokane, Washington.
In the clip, captured on a Ring doorbell cam, the two moose can be seen walking towards the front door, with one standing near to the entrance while the other waits just behind. The positioning of the two animals makes it appear as if they are paying a visit to the homeowners inside, but moose are not the kind of house guests anyone should be welcoming in.
As of 2015, the Washington Department of Fish and Wildlife estimated that the state was home to around 5,000 moose. While the Shiras moose of Washington may be physically smaller than those found further north in America, they are still intimidating enough. Adult Shiras moose tend to measure nearly 6 feet at the shoulder, with bulls weighing up to 1,100 pounds and adult females 800 pounds. A bull's antlers, meanwhile, tend to boast a spread range between 35 and 45 inches.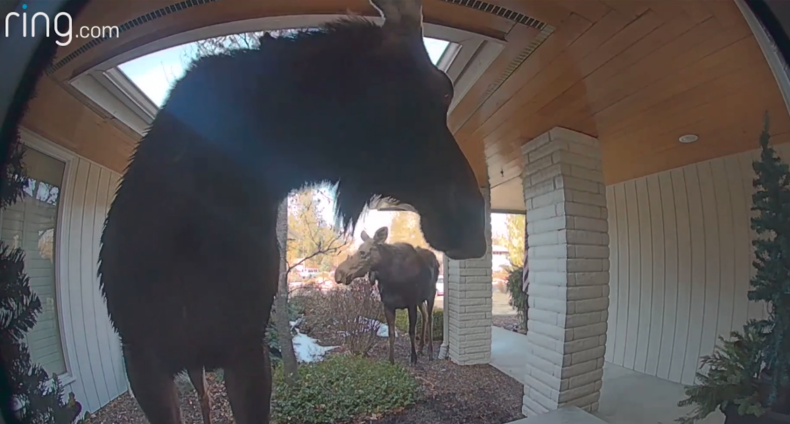 Regardless of the differences in size, moose should be watched from a distance as any encounter at close range could result in serious injury.
"Even if moose seem quiet and gentle, they can change their disposition rather quickly," the Washington Department of Fish and Wildlife says. "Moose often lay down in the shade of buildings and trees to rest and cool down. If approached repeatedly, even by the best-intentioned onlookers, it may become stressed and aggressive."
Brady, the homeowner who captured this particular encounter on camera, told Ring that he was stunned when he saw who was at the front door.
"I was talking to my wife on the phone (I was away flying) and we wondered who would be at the door. I went to the Ring app and almost fell off my chair," Brady said. "I was in Hawaii when we were speaking and watched the whole thing [via the app]. She [Brady's wife] looked out the window."
This isn't the first time that Brady and his family have been visited by a moose, and he doesn't think it will be the last time either.
"We have pictures from the other three visits," Brady said. "There was a baby out in the snow with Momma sleeping outside our window. The other was just another random visit. For some reason, they seem to like our house. Don't know why. I am sure they will be back."
Do you have funny and adorable videos or pictures of animals you want to share? Send them to life@newsweek.com with some details.