Justin Jones, a Democratic lawmaker who was recently expelled from the Tennessee House of Representatives, said on Sunday that Republicans' decision to remove him and his colleague has backfired as it led to a movement of young people who want to "build a multi-racial coalition."
Jones and Representative Justin Pearson, also a Democrat, were expelled on Thursday, a week after they breached decorum by speaking out of turn and repeating a chant in support of gun control as a youth-led protest was taking part outside the chamber. In addition, Democratic Representative Gloria Johnson was also involved in leading hundreds of protesters onto the Tennessee House floor on March 30 after a demonstration led by young people pushed for stricter gun control measures.
The demonstrations came in light of the fatal mass shooting at The Covenant School in Nashville, Tennessee, four days prior when 28-year-old Audrey Hale, a former student at the school, shot and killed three 9-year-olds and three adults before she was killed by police.
In response to their involvement in the protest, three Republican lawmakers filed resolutions to expel their colleagues, claiming that the Democratic representatives had engaged in "disorderly behavior."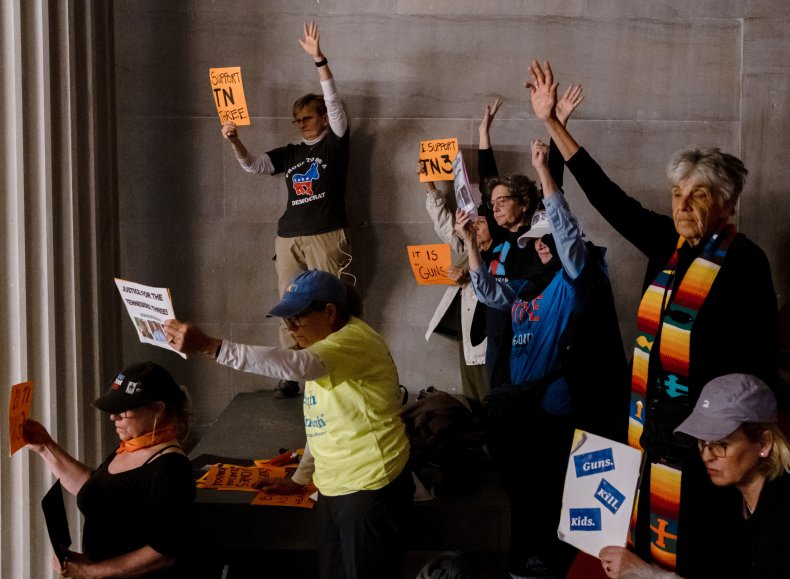 However, an effort to remove Johnson, who is white, failed by one vote. Johnson told reporters afterward that she and her fellow colleagues may have had differing outcomes because of "the color of our skin." However, Reuters reported on Friday that Johnson may not have been removed because, unlike her two fellow Democratic colleagues who are Black, she did not use a megaphone to lead chants during the protest.
According to Reuters, the House, which is controlled by Republicans, voted 72-25 along party lines to remove Jones and 69-26 to remove Pearson. When it came time to expel Johnson, the vote was 65-30. Sixty-six votes are needed for expulsion.
Jones and Pearson both made an appearance on NBC News' Meet the Press on Sunday when host Chuck Todd asked Jones about a recent meeting he had with President Joe Biden and Vice President Kamala Harris.
"I think the most resounding message we're hearing from the White House, and across the world, and people across this nation is that this attack on democracy will not go on unchallenged, that the Tennessee House Republicans' attempt to crucify democracy has instead resurrected a movement led by young people to restore our democracy, to build a multi-racial coalition," Jones responded.
Pearson, who represents Tennessee's 86th District, including part of Memphis, said that he takes "full responsibility and accountability" for violating decorum, according to a letter he wrote to his fellow House members on Monday. However, he also explained that "it was impossible to sit idly by and continue business as usual" amid the youth-led protest.
In a fiery speech he gave ahead of the House vote on his expulsion, Pearson criticized the decision to remove him and defended the right to protest.
"We, and you, are seeking to expel District 86th's representation from this House in a country that was built on a protest," he said. "In a country that was built on a protest. You, who celebrate July 4, 1776, pop fireworks and eat hot dogs, you say to protest is wrong, because you spoke out of turn."
Pearson added: "Because you spoke up for people who are marginalized. You spoke up for children who won't ever be able to speak again. You spoke up for parents who don't want to live in fear, you spoke up for Larry Thorn, who was murdered by gun violence. You spoke up for people that we don't want to care about. In a country built on people who speak out of turn, who spoke out of turn, who fought out of turn to build a nation."
Larry Thorn, Pearson's former classmate, who worked for the Memphis-Shelby County School District, was fatally shot earlier this year, according to local news station WMC-TV.
The Tennessee Republicans who voted to expel the Democratic lawmakers were accused of racism by some, but GOP Representative Bryan Richey defended the vote, saying that race wasn't a factor in the decision.
Richey, who voted to expel Jones, but not Pearson or Johnson, told Newsweek in an email on Friday that he and Jones spoke in his office and suggested that it seemed that Jones wanted to be removed.
"I shared with him that I was in favor of them staying," Richey said. "He communicated that he was receiving a lot of national attention and that the members of Metro Council said they planned on reappointing him. He shared that he didn't care if I did vote yes because he was coming back. Throughout this conversation it felt like this is what he wanted to happen."
Meanwhile, Jones on Sunday confirmed that the Republicans' decision to expel him and Pearson is not the end and that accountability is yet to come.
"We are in the midst of a third Reconstruction here, beginning here in Nashville. And I think the message is that we will continue to resist, that this is not the end. That their decision to expel us is not the ultimate authority, but that the people will hold them accountable both at the county level, and in the special election, and going forward through our legal processes," he said.
A plan to reinstate Jones was announced by the Nashville Metropolitan Council who told NBC News on Friday that 23 of its 40 members will vote to bring Jones back to the Legislature. The council is expected to meet on Monday to discuss an interim to take Jones' seat.
Meanwhile, Shelby County Commission Chairman Mickell Lowery did not immediately respond to a request by NBC News related to the process for possibly replacing or reinstating Pearson.
Pearson and Jones told Todd on Sunday that they are willing to accept a reappointment or run in a special election to regain their seats.
Newsweek reached out by email to the director of communications at the Tennessee House of Representatives for comment.