Senator Susan Collins issued a dire warning in 2019 about Judge Matthew Kacsmaryk, who on Friday temporarily halted the use of mifepristone, a pill used to terminate pregnancies.
Kacsmaryk, appointed by former President Donald Trump to the United States District Court for the Northern District of Texas, is a conservative judge who has previously spoken out against abortion rights. On Friday, he ordered the Food and Drug Administration (FDA) to void its decades-long approval of mifepristone, which is commonly referred to as the abortion bill.
The ruling comes at a critical point for abortion rights in the United States. The Supreme Court last June overturned Roe v. Wade, the landmark decision that guaranteed abortion rights across the country, ruling that states can make their own laws surrounding the medical procedure. Following the decision, Republican-led states quickly moved to ban abortion, rolling back the right for millions of women.
Kacsmaryk's stance on the ruling sparked a warning from Collins, a centrist Maine Republican who supports abortion rights, during his confirmation hearing in 2019. Collins was the only GOP senator to vote against his confirmation.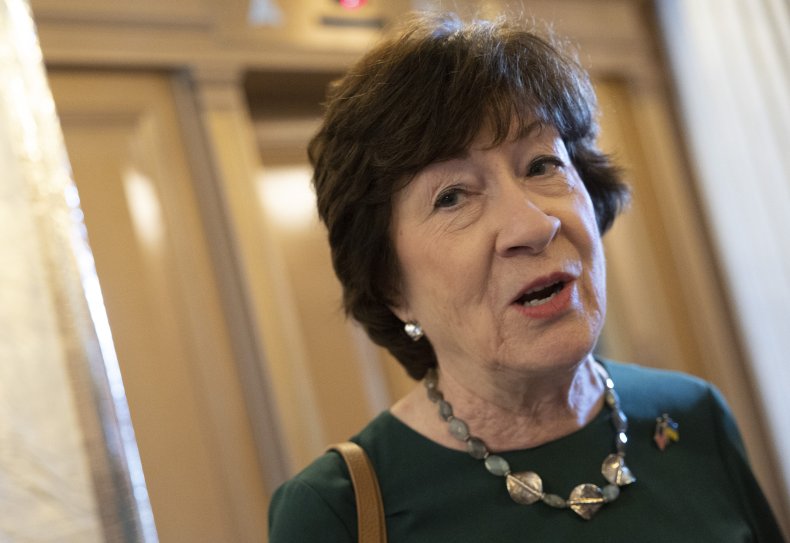 She raised concerns about his "alarming bias against LGBTQ Americans and disregard for Supreme Court precedents," according to The Washington Post.
Specifically, Collins warned about Kacsmaryk's stance on reproductive rights in her explanation as to why she would buck her party and vote against his nomination.
"Mr. Kacsmaryk has dismissed proponents of reproductive choice as 'sexual revolutionaries,' and disdainfully criticized the legal foundations of Roe v. Wade," Collins said in a 2019 statement. "Such extreme statements reflect poorly on Mr. Kacsmaryk's temperament and suggest an inability to respect precedent and to apply the law fairly and impartially."
Kacsmaryk's ruling on the abortion pill, which was approved by the FDA in 2000, quickly sparked outrage and concern from reproductive rights advocates, who warned it will make it more difficult for women nationwide to obtain mifepristone.
Collins said in a statement to Newsweek on Saturday morning that she disagrees with Kacsmaryk's ruling.
"In 2019, I voted against Judge Kacsmaryk's confirmation, and I disagree strongly with his decision in this case. Mifepristone is an FDA-approved drug that has been on the market for more than two decades and extensively studied," the senator said.
Biden Administration Responds to Mifepristone Ruling
President Joe Biden wrote Friday night that the ruling would "prevent women across the country from accessing the medication," doubling down on his administration's commitment "to protecting a woman's right to an abortion."
Meanwhile, the Justice Department announced it would appeal Kacsmaryk's ruling. Attorney General Merrick Garland said his department "strongly disagrees" with the decision.
Also on Friday, Judge Thomas O. Rice, who was appointed by former President Barack Obama, ruled the opposite way in a separate case out of Washington state. He ordered authorities to not make any changes to restrict access to the drug. It remains unclear exactly how the dueling decisions would affect the fate of mifepristone.
Kacsmaryk ruled on a case brought before the organization Alliance Defending Freedom, which challenged the safety and approval process of the drug, arguing there were insufficient studies in its approval process and that the FDA did not adequately consider the pill's safety when used by girls younger than 18.
The FDA has warned that banning the pill would cause harm by forcing women to have surgical abortions and face further wait times at abortion clinics.
Alliance Defending Freedom, however, celebrated the ruling on Friday night.
"By illegally approving dangerous chemical abortion drugs, the FDA put women and girls in harm's way, and it's high time the agency is held accountable for its reckless actions," the organization's senior counsel wrote in statement posted to Twitter.
Update 4/8/2023, 11:03 a.m. ET: This story was updated with statement from Senator Collins.