A middle-school teacher in Kentucky has been suspended after allowing a student to dress up in a Ku Klux Klan costume for a history assignment.
The teacher at Southern Middle School in Somerset gave the student permission to dress up as Nathan Bedford Forrest for an assignment on historical figures, Patrick Richardson, the superintendent of Pulaski County Schools, told local news station WKYT.
Forrest was a Confederate general, slave trader and the Ku Klux Klan's first grand wizard.
A video showing the student dressed in the costume on a school bus sparked outrage after it was posted on social media.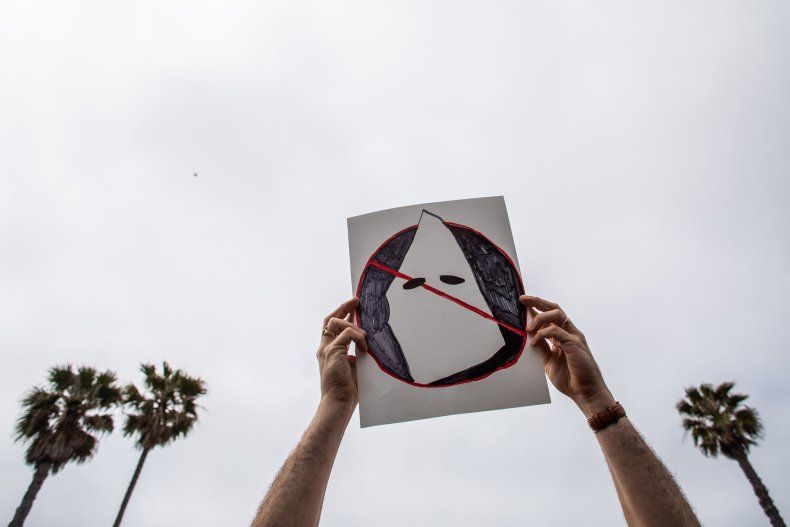 "What is your definition of hero or historical figure?" Whit Whitaker, of the Lexington-Fayette branch of the NAACP, said.
"Would he have done the same thing if he wanted to come as Charles Manson or Hitler?"
Whitaker told the station that such incidents have become too common across the country.
"This is nothing new," Whitaker said. "This is stuff the country endorses. It has happened in Pittsburgh schools, happened in California, happened in Texas."
Richardson said the teacher will be suspended pending a personnel investigation and the incident will be reported to the Educational Professional Standards Board.
"First and foremost, I am extremely disappointed and embarrassed by this incident," Richardson in a statement to LEX 18.
"I would hope our school and community realize that this does not represent the character of our students and staff at Southern Middle School or our district as a whole."
Richardson also said that a video circulating about the incident has the wrong teacher's contact information.
"She is completely innocent in this matter and deserves to be treated as such," he said. "I am deeply apologetic for this situation and I am taking immediate steps to address the matter."
Newsweek has contacted Richardson and the Lexington-Fayette NAACP via email for further comment.
The incident comes after a student sparked outrage by wearing a KKK costume to school in California in October 2021. The student reportedly made it through four class periods at Pittsburg High School before he was reprimanded.
The following month, a Black teenager in Woodsboro, Texas, said he was shot with a stun gun by classmates dressed in KKK outfits on Halloween.
"We're not talking about high school hijinks—we're talking about a very metered and intentional decision to do something that you know is terrorizing," Matt Manning, the teenager's attorney, told Newsweek at the time.