Retired Supreme Court Justice Stephen Breyer is facing backlash over his defense of his former colleague, Justice Clarence Thomas.
On Thursday, Breyer described Thomas, who has recently been the center of a luxury gift scandal, as a "man of integrity," saying he never saw his fellow judge act dishonestly over nearly 30 years shared on the Supreme Court.
"As far as I'm concerned, I sat next to him on the bench for 28 years. I like him. He's a friend of mine. I've never seen him do anything underhanded or say anything underhanded," Breyer, who retired last year, said from a conference in Boston. "My personal point of view is he's a man of integrity."
His remarks sparked ridicule online as Twitter users called out his comments as being exemplary of the problems with the Supreme Court itself.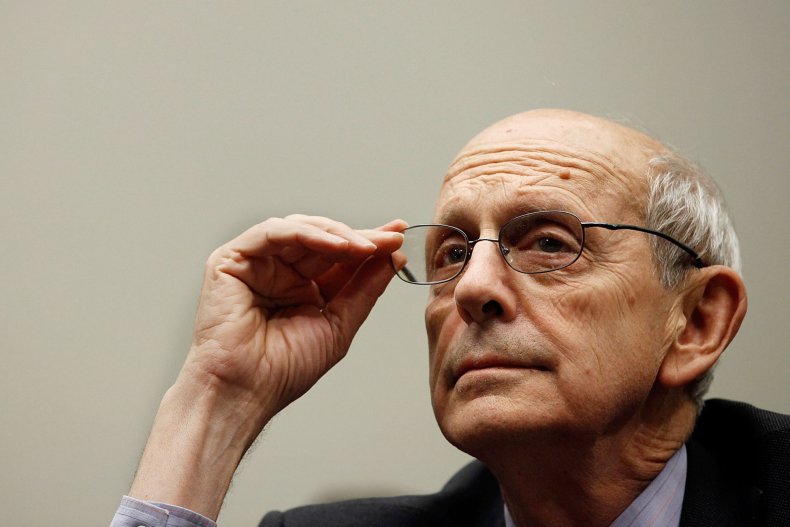 "Justice Breyer explains with eloquence why the Supreme Court should not be self-regulating its ethical standards. Friends regulating each other leads to bad results," user @lawprofblawg wrote Friday afternoon.
Meanwhile, Twitter user @nycsouthpaw wrote that Breyer's comments strengthened suspicions that there's corruption within the Court and that Americans "should be prepared to learn that other Justices have corrupt arrangements with the plutocratic class."
Newsweek reached out to Breyer via email for comment.
Earlier this month, ProPublica reported that Thomas accepted luxury trips and a Georgia property from GOP mega donor Harlan Crow that Thomas failed to disclose on reports.
The revelations have prompted calls for an investigation into the Court's most senior associate justice, fueling the growing distrust that the American public has in the Supreme Court.
A Gallup poll conducted last September found that trust in the judicial branch has fallen to historic lows, with only 47 percent of U.S. adults agreeing that they had "a great deal" or "a fair amount" of trust in the courts. The survey also found a record-high disapproval rating, with 58 percent saying they did not agree with the way the Supreme Court is handling its job.
On Friday, Vox senior correspondent Ian Millhiser wrote on Twitter that the power of the justices flows from a "false perception" that the high court is a "noble institution that isn't run by partisan hacks."
Supreme Court Chief Justice John Roberts has repeatedly defended the independence of the institution amid scrutiny surrounding the Court's ability to monitor ethical conflict. On Thursday, Breyer echoed those remarks, saying that "whatever applies to all the judges applies to me."
However, some pointed out that Breyer made his own mistakes that he should have faced consequences for.
"A reminder that, while on the court, Breyer was one of three justices to trade individual stocks," MSNBC columnist James Downie tweeted. "Even Thomas doesn't do that, so far as we know. And Breyer failed to recuse himself in multiple cases where he owned stock in one of the parties."
The Nation's justice correspondent Elie Mystal also called out Breyer, tweeting that just because the retired justice had never seen misconduct, doesn't mean it never happened.
"You know, and this is a true story, I sat next to Mike Tyson at dinner one night and… he never PUNCHED ME IN THE FACE. So, as far as I'm concerned, Tyson cain't [sic] fight," Mystal tweeted.