A woman's decision to fire her friend from bridesmaid duties after she disclosed her diagnosis at a bachelorette party has left the internet torn.
In a viral post shared on Reddit's Am I The ******* page, user Pattiesni explained she is getting married in three weeks and had a bachelorette party over the recent Easter weekend.
She recounted how one of her bridesmaids took her aside during the party and revealed she had been diagnosed with fetal alcohol syndrome three months earlier and that that knowledge had changed her relationship with her mother.
The revelation ultimately led the woman to skip going to a bar in the limo she had hired as her friend was upset.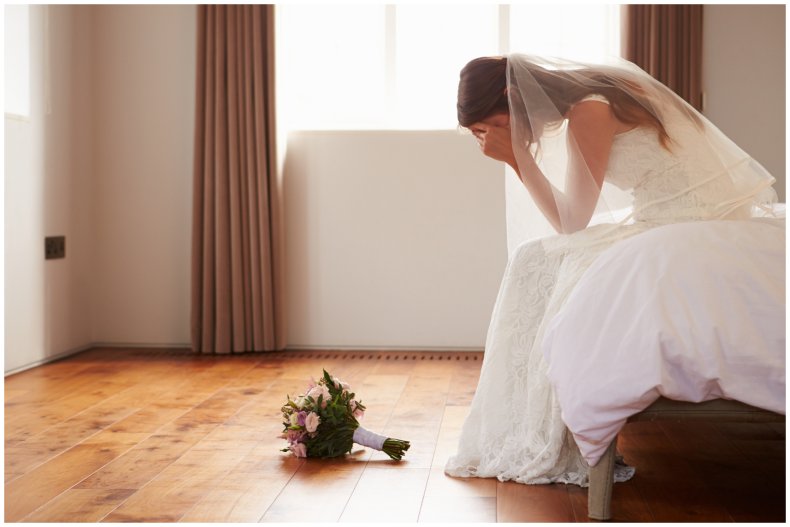 Explaining how the incident made her feel, the Reddit user said: "I felt really hurt that she did that, and told her that I didn't want to have her in my wedding if that's how she's going to treat me at a time where the focus was supposed to be something good in my life instead of something sad in hers.
"She could have waited a few more weeks until after the wedding if she wanted to have this conversation. She's still invited to the wedding but I don't want her to be a bridesmaid after this. I was just texting my cousin (my maid of honor) and she disagreed with me doing this."
In an update, the Reddit user said she had later called her friend to ask why she hadn't told her before about her condition, even though they had met twice since she was diagnosed.
The woman added: "I asked why she hadn't told me before and she said she was still trying to process when I had previously seen her. She didn't realize she was going to cry so much and distract everyone and ruin the mood.
"She said she felt really horrible about doing that and that she hadn't meant to ruin the evening. I apologized for acting on my own hurt feelings and asked if she'd be willing to consider still being a bridesmaid.
Wedding expert Zoe Burke, editor of Hitched.co.uk, told Newsweek: "When you've been looking forward to an event for so long—no matter what it is—it can be hugely frustrating and upsetting when it doesn't go to plan.
"The bride removing her bridesmaid from her wedding party was disproportionate, but it sounds like she has recognized this and resolved the issue with her friend."
What Are Fetal Alcohol Spectrum Disorders?
According to the Centers for Disease Control and Prevention, fetal alcohol spectrum disorders (FASDs) are a group of conditions that can happen in someone who was exposed to alcohol before birth.
"Alcohol in the mother's blood passes to the baby through the umbilical cord," the CDC said.
"There is no known safe amount of alcohol during pregnancy or when trying to get pregnant. There is also no safe time to drink during pregnancy.
"Alcohol can cause problems for a developing baby throughout pregnancy, including before a woman knows she's pregnant. All types of alcohol are equally harmful, including all wines and beer.
"To prevent FASDs, a woman should avoid alcohol if she is pregnant or might be pregnant. This is because a woman could get pregnant and not know for up to 4 to 6 weeks," it added.
Online Reaction
Since being shared on Monday, April 10, the post has attracted an estimated 9,600 upvotes.
Many of those who commented on the post were torn about whether the bride-to-be had made the right decision.
Forsaken_Distance777 explained: "Probably hard not to think about her FASD when alcohol is involved though."
AstronautFluffy8710 added: "There's a difference between finding out a week ago and finding out 12 weeks ago."
While d1rkgent1y, whose comment was liked 7,100 times, said: "People saying YTA (you're the *******) because a woman wanted to have a good time at her bachelorette party aren't people I want to go to social functions with.
"I'm not going to take someone's birthday celebration and start describing what it was like to see my mother dead on a table in a morgue, or dumping other trauma on people. There's a time and a place for things. And kicking the friend out of the bridal party entirely is also an asshole move."
Burke told Newsweek that weddings can cause tension between friends and family and that people should recognize this and amend if you overreact ahead of their big day.
She added: "I would say it's really important to take the time to choose who is in your wedding party. It can be so tempting to ask people straight away whilst you're still on the high of getting engaged, but being in a wedding party is a role that comes with a lot of commitments and expectations, so you need to be sure you're picking the right people for the job.
"Assess what you need from your wedding party—do you want lots of help and input, or would you prefer to be more hands-on? Then choose the friends that fit with your expectations and needs. If there's anyone you're really close to who you're not including, it would be polite to let them know and perhaps give them another role in your wedding such as being a witness or giving a reading, if you're worried they may feel hurt."
Newsweek has contacted Pattiesni for comment via Reddit.
Have you had a similar dilemma? Let us know via life@newsweek.com. We can ask experts for advice, and your story could be featured in Newsweek.