Ryan Reynolds' Wrexham Association Football Club (AFC) secured its return to the English Football League on Saturday following a victory against Boreham Wood.
The victory came two years after actors Reynolds and Rob McElhenney completed their purchase of the Welsh football club in February 2021 and 15 years after it fell out of the Football League in 2008. Wrexham, which was founded in 1864, is the third oldest professional football club in the world.
The actors' purchase of the football club delivered it new star power and worldwide attention through a sponsorship deal with social media platform TikTok and an FX sports documentary series Welcome to Wrexham.
The stakes were high on Saturday, as Wrexham needed to prevail over either Boreham Wood at The Racecourse Ground, or for second-placed Notts County to lose at Maidstone to win both the National League and an automatic promotion to the football league.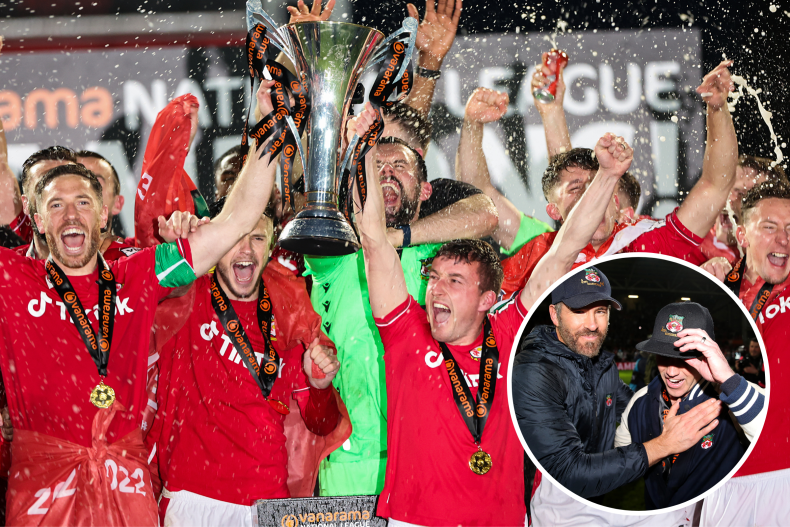 After a rocky start to the game, Wrexham managed to prevail 3-1 against Boreham Wood, giving the club its Hollywood ending. The promotion also comes with more sponsorship opportunities and access to the League Cup, which could result in fixtures against the Premier League's top teams such as Manchester City and Arsenal.
Wrexham AFC posted a video to its official Twitter account celebrating the victory.
"FEARLESS IN DEVOTION, RISING TO PROMOTION!!!!!!!" the tweet reads.
Fans also took to social media to celebrate the club's win.
"All that's good about sports: Wrexham return to big leagues after 15 long years of toil. Reynolds and McElhenney have shone Hollywood's spotlight on the proud town in such a thoughtful, joyous and humble way, making collective memories for generations," tweeted podcaster Roger Bennett.
Meanwhile, a video showing Reynolds and McElhenney's emotional reaction to their club's victory was viewed more than 200,000 times Saturday afternoon.
"I'm not sure I can actually process what happened tonight. I'm still speechless," Reynolds said in an interview following the match. "One thing that's running through my head over and over again is people said at the beginning, 'Why Wrexham? Why Wrexham?' This is exactly why Wrexham, happening right now is why."
McElhenney said: "I think this is a moment of catharsis for [Wrexham] and celebration. For us to be welcomed into their community and to be welcomed into this experience has been the honor of my life."
Wrexham is based out of Wales, but competes in the English leagues alongside other Welsh clubs including Cardiff and Swansea. In addition to its rise in popularity, the club has broken records for the most league wins and points in the National League since its low point 15 years prior.
Newsweek reached out to Wrexham AFC via email for comment.