Moscow media mouthpieces often refer to history books when they talk about Russia's invasion of Ukraine but one Kremlin propagandist decided to turn to the Bible.
During a monologue on Solovyov Live, host Roman Golovanov said Ukrainian President Volodymyr Zelensky is among those who have used the Old Testament story of David versus Goliath as a parallel for the war in Ukraine, in which Russia is portrayed as the larger adversary.
However, Golovanov said that the perennial tale of the underdog triumphing should be flipped around and that Russia "was in fact the David" because "at least 50 countries are against us with all of their weapons" supplied to Kyiv.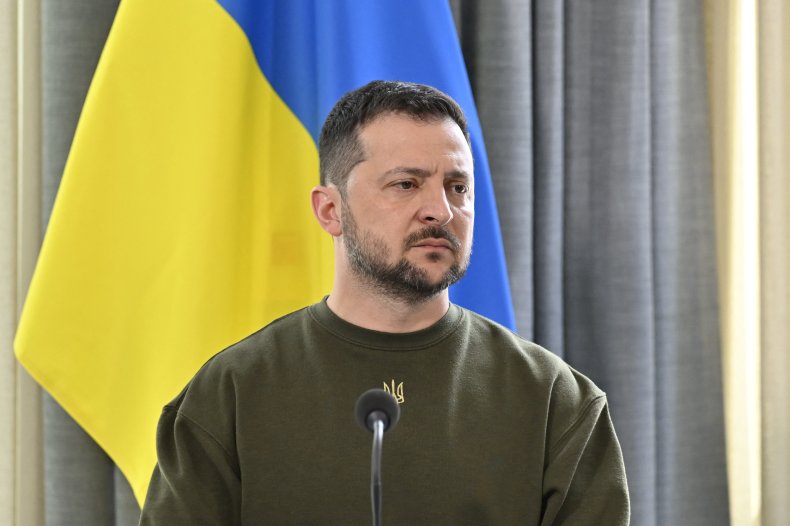 He even said that the battle outlined in the Book of Samuel offered a good guide as to what kind of punishment should be meted out to Zelensky.
Noting how Goliath's forehead was pelted by rocks before falling down, Golovanov said the heroic protagonist snatched his sword and "cut off his head" before displaying the spoils of his victory to Jerusalem and King Saul.
"In the same way, the head of this tiny druggie Goliath will also be carried away. There is no other way out of this," said Golovanov, who described the Ukrainian leader at the start of the monologue as a "legitimate target for us."
Golovanov then went on to describe a purported attack on the Kremlin on Wednesday in which Russia has claimed the footage showed two drones targeting the top of the Kremlin building in Moscow's Red Square.
Russia has said it was an assassination attempt against Vladimir Putin. Moscow has vowed to retaliate for the incident. Zelensky has strongly denied Ukrainian responsibility.
"Every such strike is a serious challenge for us," Golovanov said, pointing out the war was not something taking place far away but something that everyone in Russia "is taking part in."
He said Ukrainian "terrorists" should be destroyed, as should people here "who are waiting and believing that Ukraine will come well, it will and we'll be defeated, they should also be annihilated." Newsweek has contacted the Ukrainian Foreign Ministry for comment.
The clip was tweeted by Russian watcher and journalist Julia Davis who wrote how Golovanov argued that Zelensky "should be beheaded and anyone in Russia who is rooting for Ukraine should be killed," sparking a lively comment thread.
"Ukraine is Goliath and Russia is David? (Alice had not the slightest idea what Latitude was, or Longitude either, but she thought they were nice grand words to say.)" wrote Konstantin Sonin, a Russian-born economist at the University of Chicago. "The world upside down," wrote former U.S. General Barry McCaffrey.