Russian forces lost 21 tanks in a single day, Ukraine's armed forces said on Sunday.
Writing on Facebook, the General Staff of Ukraine's Armed Forces said an additional 23 armored personnel carriers and eight artillery systems had been taken out over the previous 24-hour period.
By Ukraine's count, this brings Russia's total tank losses to 3,532. The Kyiv authorities have repeatedly shared footage on social media of Russian tanks being destroyed.
Many estimates vary, but Dutch open-source verification outlet Oryx has placed Russia's visually confirmed tank losses at 1,847, as of Sunday. The website lists 1,101 as "destroyed" and 550 as "captured" by Ukrainian forces.
On Sunday, Russia's defense ministry said its forces had destroyed 8338 Ukrainian tanks and armored combat vehicles since February 24, 2022. A combined count of Ukraine's numbers for Russian tank and armored combat vehicle losses brings their total to 10,385 for the same time period.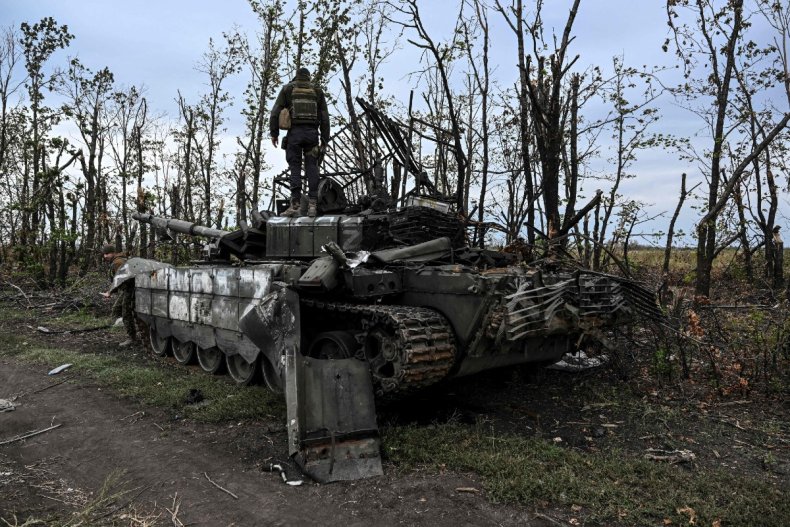 In mid-February, the International Institute for Strategic Studies said Russia had lost up to 50 percent of its key pre-war tank fleet in the first nine months of fighting. Just before this report was released, the Washington-based Institute for the Study of War think tank said Russia likely lost half of the tanks it deployed in the war.
Last month, former Russian President, Dmitry Medvedev, said Russia would be increasing its production of military vehicles, including modern tanks, after Western aid deliveries to Kyiv.
"It is clear that in this case, it is natural for us to increase production of various armaments including modern tanks," he said on February 9.
On February 15, the British defense ministry said Russia's military production was a "critical weakness" worsened by the ongoing war in Ukraine.
"Production is almost certainly falling short of the Russian MoD's demands to resource the Ukraine campaign and restore its longer-term defense requirements," the ministry wrote on Twitter.
Also on Sunday, Ukraine's General Staff said 710 Russian fighters had been killed over the previous 24 hours.
Kyiv's death toll typically comes in higher than Western estimates, and on February 17, 2023, the British defense ministry said up to 60,000 Russian military and mercenary fighters had likely been killed in Ukraine since the start of the all-out war.
Approximate casualties could amount to 200,000 for Russia, the ministry added.
On Friday, the BBC, along with Russian independent media outlet Mediazona, said they had confirmed the deaths of 17,375 Russian soldiers since the beginning of the war last year.
Excluding militia fighters in the Donbas regions of Donetsk and Luhansk, a "most conservative estimate" of Russia's dead in Ukraine would be around 35,000, the BBC said.
A total of 157,500 casualties, including those who had died, gone missing, or been taken out of action, had likely been sustained by Russia, the BBC's Russian service said.
Newsweek has approached Russia's defense ministry for comment via email.