Wagner Group mercenary fighters have taken control of new territory in Bakhmut, according to Russia's defense ministry, as Kyiv reiterates its goal of grinding down Russian forces in the ruined Donetsk city.
Wagner assault groups "liberated" territory in the northwestern and southeastern parts of the embattled eastern settlement, Moscow's defense ministry said on Sunday. However, Ukraine's General Staff of the Armed Forces said that Bakhmut remained at the "epicenter of hostilities" and Ukraine had "repelled" attacks.
Bakhmut has seen months of bitter conflict between Russian and Ukrainian troops, with Wagner Group mercenaries taking a prominent role.
Fighting in and around the city has resulted in heavy casualties on both sides, with General Mark Milley, the chairman of the U.S. Joint Chiefs of Staff, previously calling Bakhmut a "slaughter-fest" for Russian forces.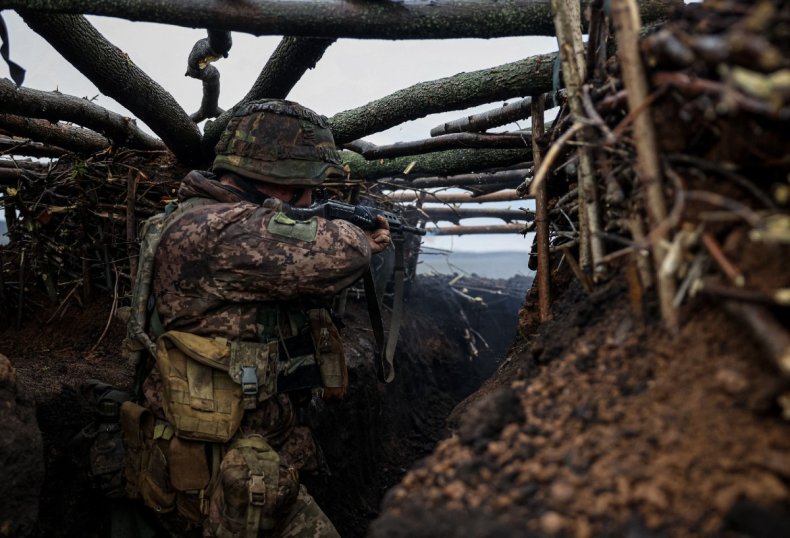 On April 13, an advisor to the head of the Russian-backed authorities in the Donetsk region said Ukrainian fighters in Bakhmut had been "almost sealed off," while Ukraine said that almost 4,500 Russian soldiers had been killed or wounded around Bakhmut in the previous two weeks.
On the same day Russian state media agency Tass reported Yevgeny Prigozhin, the head of the Wagner mercenary outfit, as saying that since fighting began 32,000 enemy fighters had been "eliminated" by his forces in Bakhmut and the nearby settlement of Soledar.
Russia's defense ministry said in its daily update on Saturday that its fighters were engaged in "fierce battles" in the city, but that Wagner "assault troops [had] successfully advanced."
Serhiy Cherevatyi, a spokesperson for Ukraine's eastern command, said that "unprecedented" battles were being fought in Bakhmut's urban area.
Ukraine's soldiers "are doing everything in bloody and fierce battles" to destroy Russia's combat capability "and break its morale," he told Ukrainian television on Saturday.
"They are successfully doing so," he added.
Earlier in April, Russia's defense ministry said elite airborne troops, or VDV fighters, had joined already-deployed Russian forces in Bakhmut.
"Airborne units isolate the enemy on the flanks and support the action of the assault troops to take control over the city," the Russian defense ministry said on Saturday.
This may indicate that Russia's military leadership sees the front line in Bakhmut as "larger than just the immediate Bakhmut area," the Washington-based Institute for the Study of War think tank said on Saturday.
Claims from a Russian "milblogger" suggested that these airborne units are "not necessarily focused" on directly helping Wagner forces encircle and capture Bakhmut, but may be around the city "to prevent possible Ukrainian counterattacks," the think tank said.
Russia's defense ministry also said on Sunday that Ukrainian units were "retreating" from Bakhmut, and "deliberately destroying the city's infrastructure and residential buildings to slow down the advance of Russian troops."
Ukraine has previously accused Moscow of "scorched earth" tactics in Bakhmut, which involves sabotaging remaining infrastructure which could be of use to enemy forces.
Prigozhin said earlier in April that Russian forces controlled 80 percent of Bakhmut. In an update on April 11, Washington-based think tank the Institute for the Study of War put this figure at 76.5 percent.