Florida Republican Governor Ron DeSantis has stayed silent in the ongoing culture war involving the popular beer brand Bud Light and their decision to partner with a transgender individual.
Earlier this month, Dylan Mulvaney, a transgender influencer, posted an Instagram video showcasing a personalized Bud Light can with her face on it. The video was to feature a partnership between the brand and Mulvaney following her "Day 365 Of Girlhood" video series, which has become popular on social media.
"This month, I celebrated day 365 of womanhood, and Bud Light sent me possibly the best gift ever—a can with my face on it," Mulvaney said in the video.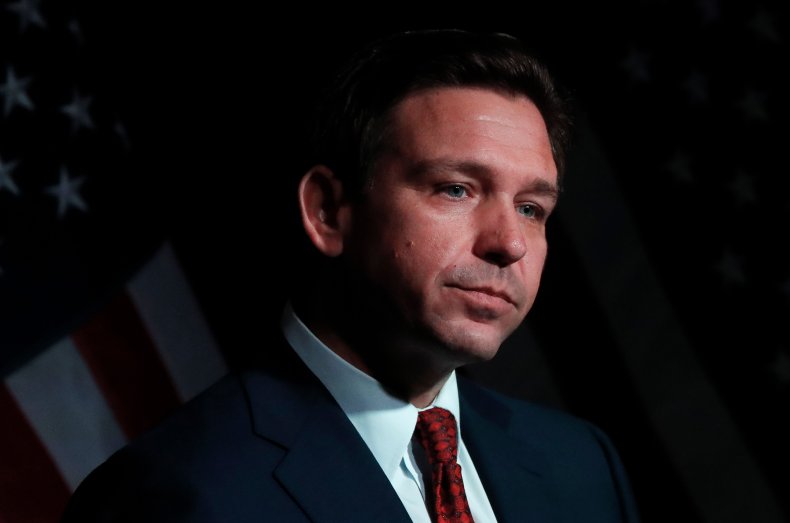 The decision to partner with Mulvaney has sparked many to call for boycotts of Bud Light and its parent company, Anheuser-Busch. Singer Kid Rock recently posted a video where he is seen shooting Bud Light cans and said "F*** Bud Light and f*** Anheuser-Busch."
Conservative commentator Matt Walsh wrote on Twitter, "The good news is that Bud Light tastes like rain water that someone siphoned out of a tin bucket so it should be very easy to boycott."
Bud Light's parent company, Anheuser-Busch, supported the brand's decision, however. Last week, a spokesperson said that it would continue to collaborate with a wide range of influencers to reach diverse groups of customers.
"Anheuser-Busch works with hundreds of influencers across our brands as one of many ways to authentically connect with audiences across various demographics," the spokesperson said in a statement shared with several media outlets.
"From time to time, we produce unique commemorative cans for fans and for brand influencers, like Dylan Mulvaney. This commemorative can was a gift to celebrate a personal milestone and is not for sale to the general public."
Ron DeSantis Remains Silent
While many have criticized Bud Light and Anheuser-Busch, DeSantis has appeared to stay silent on the issue, despite past remarks criticizing gender-affirming care and his passage of Florida's "Don't Say Gay" bill.
In August, DeSantis said that doctors who perform "gender affirming care" should be "sued."
"That's wrong and so we've stood up and said both from the health and children well-being perspective, you don't disfigure 10-, 12-, 13-year-old kids based on gender dysphoria. Eighty percent of it resolves anyways by the time they get older," the Florida governor said in August.
A member of DeSantis's administration, Florida Surgeon General Joseph Ladapo also previously wrote a letter to the Florida Board of Medicine saying "available medical literature provides insufficient evidence that sex reassignment through medical interventions is a safe and effective treatment for gender dysphoria."
According to Transparency USA, in 2021, Anheuser-Busch made donations to DeSantis's campaign, as well as the Republican Party of Florida.
DeSantis has not yet announced an official bid to run for presidency in 2024, but he is widely seen as a top contender to face off in the next election against other Republican presidential nominees including former President Donald Trump and former South Carolina Governor Nikki Haley.
A GOP 2024 primary tracker poll published by Morning Consult found Trump leading all possible Republican candidates with 56 percent. DeSantis currently trails behind Trump at 23 percent.
Newsweek reached out to DeSantis's communications office for comment via email.