Florida Governor Ron DeSantis was accused of "some type of public corruption" over his "war" with Disney by former Florida GOP lawmaker David Jolly on Saturday.
DeSantis announced new legislation targeting Disney World, located near Orlando, earlier this week, his latest move in his long-running feud with the company. Last year, Disney spoke out against Florida's "Don't Say Gay" bill that has restricted the discussion of sexual orientation and gender identity in the state's schools, sparking backlash from the governor.
DeSantis, who is seen as a potential 2024 GOP candidate, has sought to target the Reedy Creek Improvement District, an agreement that has granted Disney the right to self-govern in its theme parks. On Tuesday, DeSantis announced legislation that would revoke the agreement, also quipping that he could build a prison near the parks.
Jolly, who represented a competitive congressional district near St. Petersburg from 2014 to 2017 and left the Republican Party after becoming a vocal critic of former President Donald Trump, spoke out against DeSantis' latest attacks during an appearance on MSNBC's The Katie Phang Show.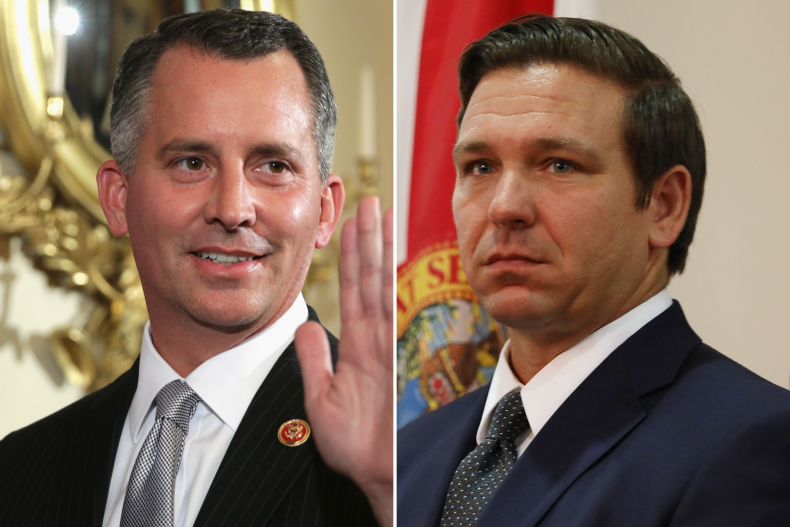 He accused DeSantis of corruption for targeting a specific corporation, though he added that his actions do not constitute the legal definition of public corruption. The governor has defended his stance by saying that Disney should not receive special treatment over other Florida businesses
"Ron DeSantis is somebody who thinks he is the smartest person in the room. Who does not want to be challenged. What we saw in his response to Disney's public criticism of the 'Don't Say Gay' bill is, while not under the legal terms, public corruption—it's some type of public corruption of the governor using the levers of the state to target a specific corporation," Jolly said.
Jolly said he believes DeSantis' anti-Disney positioning is about "vanity and vengeance," and an example of "retribution," adding that the feud is receiving some backlash from Republicans.
"I think you're seeing the cracks now within the Republican party. State legislators are getting tired of the governor's war on Disney. You're seeing Republicans nationally, who are trying to occupy a mains space within the Republican Party, Chris Sununu, Chris Christie, coming out and criticizing DeSantis," Jolly said.
Newsweek reached out to DeSantis' office and Jolly for comment via email.
DeSantis' Disney Attacks Spark Conservative Criticisms
Other conservatives have also condemned DeSantis' Disney attacks.
"DeSantis is now proposing to impose ride-safety regulations on Walt Disney World while exempting Universal, SeaWorld, and other large amusement parks. This has never been about making everyone live under the same laws; it's about targeting one company for political retribution," tweeted former Representative Justin Amash on Monday, who represented the Grand Rapids, Michigan, area in Congress.
Former New Jersey Governor Chris Christie said the attacks show that DeSantis is not conservative.
"I don't think Ron DeSantis is a conservative, based on his actions towards Disney," he told Semafor last week. "I mean, where are we headed here now? That if you express disagreement in this country, the government is allowed to punish you?"
Still, DeSantis has received some support for his anti-Disney position—including from some Democrats. A poll conducted by Harvard CAPS-Harris released earlier in the week found that 42 percent of Democrats supported his position.
Meanwhile, Reedy Creek is set to be dissolved in June, and a five-person board appointed by DeSantis was set to take control of the area, a move that did not go far enough for some conservatives.
Disney has offered little public comment about the dispute. Walt Disney World Resort President Jeff Vahle previously said Disney was "ready to work within this new framework," but the company made a deal with Reedy Creek that would have extended Disney's self-governance for decades.