A strident critic of Florida Governor Ron DeSantis' handling of COVID-19 has accused him of involvement in the arrest of her son over online threats the 13-year-old boy is alleged to have made.
Rebekah Jones provided no evidence for her accusation and DeSantis' spokesman said he had "no idea" about the case. Jones was sacked from her job with the Florida Department of Health in 2020 after clashing with superiors over the presentation of COVID-19 data. "My son has been taken on the gov's orders," she said in her tweet on Thursday.
DeSantis' national profile is growing as the strong second favorite of Republican voters to be the party's 2024 presidential candidate, after Donald Trump. DeSantis achieved prominence by launching an impassioned campaign against what he terms "the woke mind virus," though critics have accused him of undermining free expression and targeting minorities—accusations he rejects.
Jones, who was defeated as a Democrat candidate in last November's congressional elections in a Florida district, tweeted: "My family is not safe. My son has been taken on the gov's orders, and I've had to send my husband and daughter out of state for their safety. THIS is the reality of living in DeSantis' Florida.
"There is no freedom here. Only retaliatory rule by a fascist who wishes to be king."
Jones said her son had been arrested for "digital threats of terrorism," after he was "anonymously reported" to police over a meme shared in a Shapchat group.
The meme, which Jones posted on Twitter, showed a man apparently asleep with the caption "cops in their car waiting for the school shooter to kill himself so they can go in."
Jones didn't provide any evidence to support her assertion that DeSantis played a role in the arrest.
DeSantis' press secretary, Bryan Griffin, said in a message to Newsweek he had "no idea" about the case.
A spokesperson for the Florida Department of Law Enforcement, a state wide agency, told Newsweek they are "unaware of the allegations" Jones made against DeSantis, and are "not involved in this matter."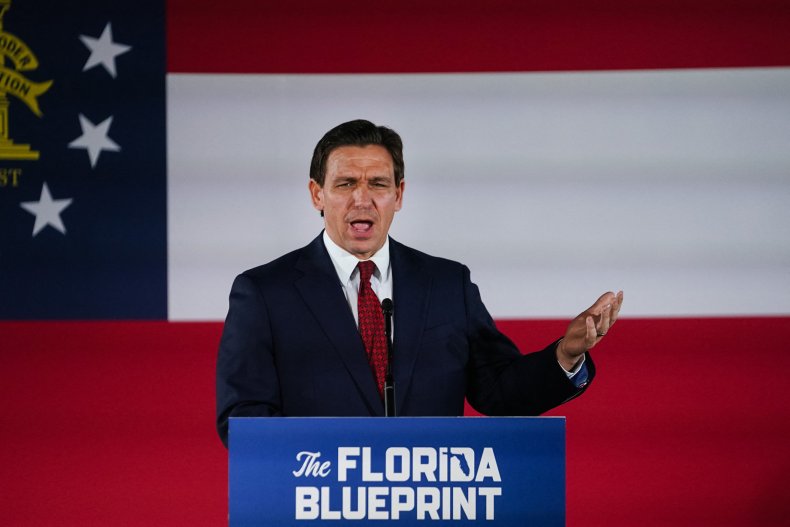 According to an incident report from the Santa Rosa Sheriff's Office, obtained by local newspaper The Pensacola News Journal, Jones' son was reported by a number of students over threatening social media comments he allegedly made.
Newsweek has contacted Jones via Twitter direct message, on which she has previously responded. The son hasn't been named to protect his privacy.
On Thursday afternoon Jones' son appeared before a judge, who concluded there is probable cause in the case and established May 3 as the arraignment date.
Until then, the 13-year-old was released under the condition that he wears a monitor, doesn't possess any offensive weapons, only uses the internet for school purposes and avoids contacting anyone he knows from middle school.
In May 2022, Jones' appeal against her firing by the Florida Department of Health, for insubordination after clashing over coronavirus statistics, was rejected by the Florida Office of Inspector General, with her allegations against officials described as "unsubstantiated" or "unfounded."
In December 2020, Jones' home was raided by police following complaints she had hacked into the Florida Department of Health computer system. She accepted a deferred prosecution agreement for this charge on December 8 2022, under which she admitted guilt and agreed to pay investigation fees, perform community service and regularly see a mental health expert.
Jones was a fierce critic of Governor DeSantis' coronavirus policies, and after she was briefly suspended from Twitter in June 2021 he branded her "the Typhoid Mary of COVID-19 disinformation."
Jones lost to Matt Gaetz in last November's election for Florida's First Congressional District.
In February 2023 Jones announced on Twitter that she would be moving out of Florida.